If the G.O.P. gets its way, party politics could be coming to a pulpit near you.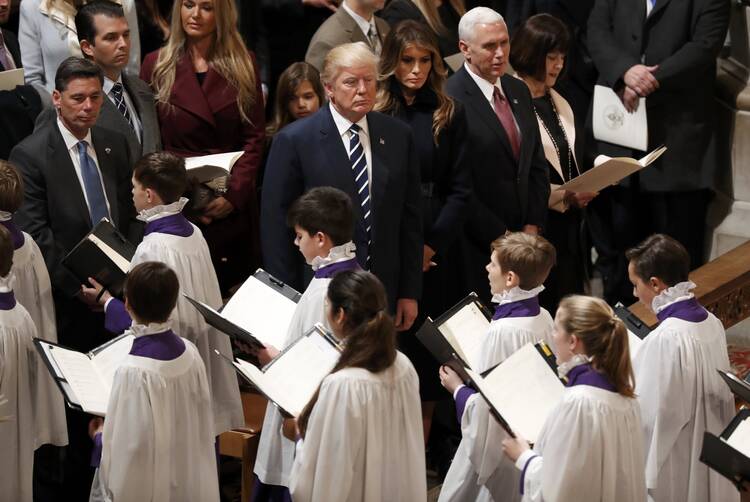 U.S. President Donald Trump watches as young people process while singing alongside his wife, Melania, Vice President Mike Pence and his wife, Karen, during an interfaith prayer service at the National Cathedral in Washington Jan. 21, the day after his swearing-in as the country's 45th president. (CNS photo/Carlos Barria, Reuters) 
On day one of the Republican National Convention, two preachers prayed very different prayers and in the process highlighted a struggle within the Republican Party about the role of religion in public life.
Pastor Mark Burns raised more than a few eyebrows for words that one former G.O.P. faith operative dubbed "a disgusting and disturbing misuse of God's name."
In a preface to his prayer, Burns praised Donald Trump as someone "who believes in the name of Jesus Christ" and called on the Republican Party to unite by remembering that their "enemy is not other Republicans but is Hillary Clinton and the Democratic Party."
Later in the night came a prayer from Msgr. Kieran Harrington, a Catholic priest of the Diocese of Brooklyn. "We ask that you bless and inspire these delegates that their deliberations over these next four days might be earnest and fruitful," he said, before going on to highlight a range of issues such as life, immigration and poverty. He never mentioned by name any candidate, Republican or Democrat.
Aside from the fiery rhetoric, Burns's moment in the spotlight was noteworthy because most preachers try to avoid blatant partisanship, especially on a national stage.
This is in large part because of a 1954 I.R.S. regulation that prohibits churches and other nonprofit organizations from engaging in overt political activity, at the risk of losing their lucrative tax-exempt status.
Harrington's prayer was arguably more traditional when it comes to clerics speaking at political gatherings and was well within the bounds of acceptable speech as far as the I.R.S. is concerned. But if the Republican Party gets it way, prayers like Burns's could be coming to a pulpit near you.
Called the Johnson Amendment, the rule states that most nonprofit organizations are "absolutely prohibited from directly or indirectly participating in, or intervening in, any political campaign on behalf of (or in opposition to) any candidate for elective public office." It also prohibits contributions to political campaigns and public statements "in favor of or in opposition to any candidate for public office."
But it does allow organizations to engage in "voter education or registration activities," so long as they don't appear to support one candidate over another. The U.S. Conference of Catholic Bishops, for example, regularly releases a voting guide highlighting issues important to Catholics. But it stops short of suggesting which candidates Catholics should support.
In recent years, some evangelical Christian groups have urged lawmakers to overturn the amendment, claiming that it infringes on the free speech rights of churches and ministers. A bill has been introduced four times in Congress in the past decade but has never gained enough support to go to a vote.
But this year, G.O.P. presidential nominee Donald J. Trump threw his support behind the repeal effort, lending it some mainstream credibility. And, as Time reported last week, Trump's team pushed the repeal initiative into the party's platform, which was adopted Monday. It says that the G.O.P. supports the "repeal of the Johnson Amendment, which restricts First Amendment freedoms of all nonprofit organizations by prohibiting political speech."
The I.R.S., it says, "is constitutionally prohibited from policing or censoring speech based on religious convictions or beliefs, and therefore we urge the repeal of the Johnson Amendment."
Even if repeal of the Johnson Amendment is unlikely, the platform language has launched a conversation in Catholic circles about what it could mean for the Catholic Church.
"There are some Catholics who are involved in political life, from a church perspective, who would welcome it," Stephen F. Schneck, director of The Catholic University of America's Institute for Policy Research & Catholic Studies, told America, "but overall it would be a huge mistake."
"It's one thing to talk about policy, and I think everyone is in favor of the church having an active role in shaping society," he continued. "But it's another thing to get involved in partisan politics and endorsement of candidates, and this would enable church organizations to do that."
But Keith Fournier, a Catholic deacon and lawyer who heads the Virginia-based Common Good Foundation, said he finds the Johnson Amendment "dangerous" because it gives too much power to the I.R.S. in determining when "moral issues become political issues"—and thus off limits.
"I can't tell you the number of priests and deacons I know of who are afraid of speaking about major fundamental issues of human rights, such as the right to life," he told America, "because they're afraid it's going to be construed as a political issue."
He conceded that the statute only bars endorsements, not speech about issues, but says that the wording of the amendment leaves it open to interpretation and has "a dangerous, chilling effect on the role of the church to speak to the moral issues of our age."
Even if Republicans were successful in repealing the rule, it's unclear if ordained Catholic leaders would engage in the kind of politicking currently prohibited.
The U.S. Conference of Catholic Bishops regularly reminds Catholic parishes, dioceses and nonprofits that they are barred from endorsing candidates or engaging in overt political activity, including earlier this month, when it published the 44-page document, "Political Activity and Lobbying Guidelines for Catholic Organizations."
While the document is driven primarily by concerns about the I.R.S., canon law forbids priests from holding public office, a rule dating back to a time when a Catholic priest served as a U.S. representative from Massachusetts. Some canon lawyers interpret church law to be even broader, preventing clergy from engaging in politics altogether.
The American people seem to support the basics of the Johnson Amendment. According to a 2014 Pew Research Center poll, 63 percent of Americans say churches should not come out in support of a particular candidate. But the country is about split when it comes to houses of worship expressing views on political issues, with 49 percent of Americans agreeing they should.
For his part, Schneck, the Catholic University professor, thinks it's unwise to try to fix something that isn't broken.
"After so many decades, this has proven to be a smart and valuable part of the separation of church and state in the U.S.," he said, "and we'd be making a big mistake to erode that."