The evolution of 'America'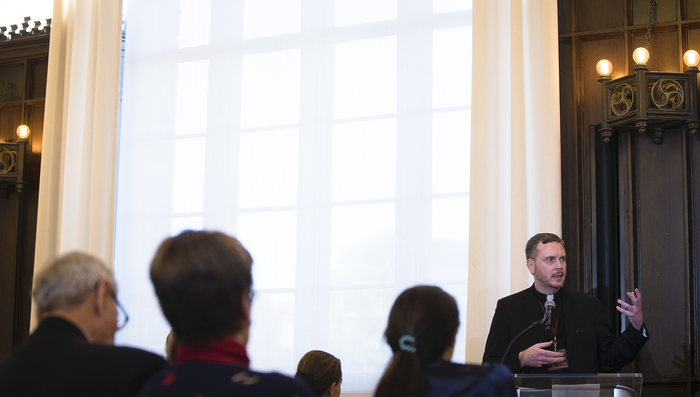 Matt Malone, SJ, president and editor-in-chief of America Media, speaks Oct. 30, 2018, during a town hall on Latinos and Catholic education in the United States held at The Catholic University of America in Washington. America Media and the university hosted the discussion. (CNS photo/Tyler Orsburn)
As hard as it may be to believe, this autumn will mark the eighth anniversary of my editorship of this review. On Oct. 1, 2012, Twitter was only 6 years old. The iPhone was 5 years old. Instagram was 2 years old. And America magazine was 103 years old.
In those first few months, we launched an ambitious, multiyear initiative to transform America into a media ministry that would meet the challenge of the digital revolution and allow America to lead the conversation about faith and culture in a new century. We announced a multiyear strategic plan to take America from a weekly print magazine with little digital presence to a multiplatform media ministry with vital, engaging content well beyond print.
To achieve that vision, America has been steadily growing. In 2012, we had 16 full-time employees. Today we employ 43. Our online readership is nearly 10 times what it was in 2012. We've redesigned and relaunched our print and digital editions, launched a video division, started a media fellowship for young professionals, rebooted the Catholic Book Club, produced award-winning podcasts, and recruited a worldwide network of correspondents and contributing writers. And we have done all of this while maintaining the standard of excellence that is our hallmark.
America now publishes every day, multiple times a day, and even hourly when news is breaking.
I believe that our founder, John Wynne, S.J., would be proud. When he founded America, he told its readers that because the press of events was so great, he dreamed of a day when America could publish daily. Well, I'm pleased to say that this day has arrived. America now publishes every day, multiple times a day, and even hourly when news is breaking.
America's position in relation to the news cycle has not changed. As Father Wynne wrote, our main task is not to be a newspaper but a journal, a forum for commentary and analysis. We continue to report some news, but our main task is to explain what is happening, to put it in context, to analyze what is happening from a Catholic, Jesuit perspective.
And just as Father Wynne did, we are always asking what the best means are for accomplishing those goals of reporting, explaining, discussing and reflecting on events. In 1909, the only means was the printed word. This is obviously no longer true.
What we have discovered during these years of transformation is that reporting, analyzing and discussing events is now best accomplished through digital media, while in-depth reflection and long-form journalism are best accomplished in print. To accommodate that, it is necessary to shift our human and financial resources from print to digital, allowing both platforms to do well what each does best. That also makes sense when you consider that nearly a million people read America online every month, while 70,000 read it in print.
For these reasons, beginning this summer, America will shift to a monthly frequency for our print edition.
For these reasons, beginning this summer, America will shift to a monthly frequency for our print edition. If you are a print subscriber, your current subscription will be automatically extended. A separate communication will arrive with those details. As always, I encourage you to visit our website at americamagazine.org and to sign up for our daily e-newsletter.
In a recent column, I wrote that every crisis is also an opportunity. The Covid-19 crisis has given us an opportunity to work fully remotely and to realize anew the power of a digital-first editorial strategy, its capacity to reach people on a scale our forebears could only dream about. And the economic pressures that have been brought to bear on the media by the pandemic-induced recession have reminded all of us of the importance of being flexible and innovative in order to remain commercially viable.
But let me be crystal clear about two things: First, this is not a fire sale. We are not reducing our frequency in print because we are going out of business. The underlying financials of America Media are strong, stronger than those of many other media organizations, even in the for-profit world. Second, we still believe in the power of the printed word. We believe that print is the best platform for in-depth, long-form reporting, analysis and commentary. A monthly frequency gives us the time and the resources to do that well.
As much as things change, some things stay the same. We remain committed to giving you the news, analysis and spiritual resources you need to make sense of events at the intersection of the church and the world. We renew our promise to you, the same promise Father Wynne made to our readers in 1909: "Neither labor nor expense will be spared to make America worthy of its name."