The World in All Its Richness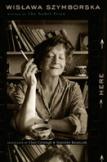 Here
by By Wislawa Szymborska. Trans. by Clare Cavanagh and Stanislaw Baranczak
Houghton Mifflin Harcourt. 96p $22
When the Nobel committee chose the Polish poet Wislawa Szymborska as the recipient of its literature prize in 1996, few in the English-speaking world had ever heard of her, even though American translations of her poetry began to reach the bookshelves early in the 1980s. Fortunately for everyone involved, Szymborska was quickly embraced by American readers, many of whom thought her to be not unlike the great Elizabeth Bishop: reticent in her writing of poems yet deeply humane and keen on rigorous examination of people, including herself, and our tangible and metaphysical surroundings.
Yet judging by the dust jacket that enfolds Here, the 87-year-old Szymborska, who appears with a gentle smile, eyes closed, while sitting at a table with a cup of coffee in front of her and holding a lit cigarette in her hand, should also be viewed as someone deeply engaged with the present moment, the proverbial here and now, where the momentary suspension of the world's tumult not only gives way to far-reaching reflections but also reminds us of the world's wonderfully perplexing richness.
Szymborska's poems belong in the realm of free verse, that great invention of the 20th century. Many if not most of her poems are built around lists or catalogues. It is as if the poet were holding up to the light the objects that make up her surroundings, rotating each one time and again. The outcome is often a mixture of doubt and astonishment, as in the opening title poem, in which the lines "I can't speak for elsewhere,/ but here on Earth we've got a fair supply of everything" give way to musings on things culinary, familial and even intergalactic, among others. What makes the marriage profoundly compelling is the way Szymborska's poem opens onto the world, thus magnifying what most of us hold in our own existential crosshairs ("I know what you're thinking next./ Wars, wars, wars."). But the tone of the poem remains cool and precise, a rare occurrence in our increasingly fragmented and complicated world. The poem predictably ends in the speaker's disarming acceptance of the varied reality of human life, calling it a bargain; and the moment that played host to cool fact-checking remains where we found it—that is, in the here and now, where "the walls reveal no terrifying cracks/ through which nowhere might extinguish you."
The subtle predictability of Szymborska's method, both meticulous and carelessly offhanded, ultimately turns out to be less a handicap than an authentic reproduction of a mind and spirit hard at work. Much of that reinforces the truth that we know less than we think we know not only about ourselves but also about the world at large. Standing on the side of caution allows Szymborska to take up subjects on which most contemporary poets, many of whom seem to find pleasure in glib experiments tangled up in theoretical dismemberment of language and form, have long turned their backs. Take, for example, "Teenager," which opens with "Me—a teenager?" only to end with bewilderment at the continuity of the human experience and memory by way of a scarf left behind by the teen. A scarf "of genuine wool, in colored stripes/ crocheted for her/ by our mother," which like an heirloom the speaker still owns. While some may try to disqualify the poem as an example of the poet barely scratching the surface in her quest for gotcha moments, it is nonetheless impossible to deny that even when Szymborska talks about herself in a voice harnessed to her own singular vision, her conclusions, however fleeting they may be, are relevant to all.
It is hard to believe that no poet has been deemed worthy of the Nobel Prize in Literature since Szymborska—there is something profoundly engaging and long-lasting in the way her poems open up to wide vistas and invite us to do the same. Whether we think about memory as a source of both pain and delight or gaze with admiration at "clouds in progress, ongoing roads," we inhale fresh air and remain "stunned by the world." By tapping into the unpredictability of our experience, regardless of how rooted we might be in a particular place or memory that allows us to connect the dots between our past and future, Szymborska is able to remain above the brooding and the sentimental. Nothing escapes her, no matter how highbrow or lowbrow. This is why in "Metaphysics," the passing of time is punctuated by something as pedestrian as "having a side of fries."
Alas, time marches on. The process of living in the moment, yet expecting each moment to renew itself, is a gift many find too elusive these days. Just in case we are about to become unglued in the face of impermanence, Szymborska reminds us that "The next day/ promises to be sunny,/ although those still living/ should bring umbrellas." It is precisely her ability to live simultaneously in the present and yet be curious enough to explore what good or evil lurks around the corner that makes Szymborska a poet for today, tomorrow and for what is yet to come.
This article also appeared in print, under the headline "The World in All Its Richness," in the February 21, 2011, issue.