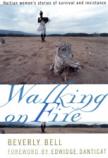 Walking on Fire
by By Beverly Bell
Cornell University Press. 272p $39.95 (hardcover) 272p $18.95 (paper)
As a failed coup attempt in December 2001 delivered yet another wound to Haiti, conventional wisdom again declared the Caribbean nation to be almost an economic and political wastelandracked by violence and devoid of all hope and promise.
But in Beverly Bell's new collection of 38 spoken-word essays, the activist and author shows how the voices of Haitian women deconstruct the myths that conventional wisdom offers about Haiti: intractable poverty, a gridlocked body politic, a nation desperate to be saved by its northern patriarch.
Advertisement
Traversing the spectrum of political and economic power, Walking on Fire: Haitian Women's Stories of Survival and Resistance gives voice to the hope of Haitian women and the depth to which their political and economic savvy shatters the ill-informed stereotypes often used to dismiss them.
The director and founder of the New Mexico-based Center for Economic Justice, Bell delivers gripping accounts of women at the forefront of what is sure to be Haiti's eventual rebirth: the resistance and survival of Haitian women. From her inside role, immersed for more than two decades in the Haitian struggle for democracy and women's rights, Bell's collection of harrowing accounts in the face of rape, hunger, humiliation and repression does more than simply document the struggle of women for daily survival.
In Walking on Fire, Haiti's women point the way out of darkness to a Haiti where the promise of Liberté, Egalité, Fraternité still livesa promise born out of the successful slave revolt that in 1804 made the country the world's first independent black republic.
Bat tenèb, to beat back the darkness, is one of the many traditions in which Haitians turn their meager tools of survivalin this case, cooking spoons and potsinto a mighty form of power. In a daring and deafening act, women in the slums beat against metal to raise their voices against repression, Bell writes. And she pronounces this book to be a bat tenèb.
From the start, Bell knows that authenticity is the heart to any such undertaking. To that end, she meets Haitian women where they are, be it on an open roof in a raging thunderstorm...a voudou temple...[or] a busy coffin-manufacturing shop. The author writes:
Women told their stories in sweltering tin shacks with flies buzzing around our sweat-covered bodies, in dirt yards with goats or chickens, and in an underground organizing center scarred with the broken windows and battered doors of a recent military attack.
Some of the bat tenèb Bell brings forth are extraordinary tales of human triumph in the face of extreme challengeburdens beyond what many, man or woman, could bear, burdens that the women of Walking on Fire had no choice but to carry.
Women like Alina Tibebe Cajuste. Given away by a mother who had no means to support her, Tibebe was raised a child-slavea restavek in Haitian Creoletortured and beaten by her middle-class Haitian caretakers. I was climbing Calvary, she told Bell. Tibebe eventually fled and sought out her mother. Demanding to know the truth, Tibebe learns that her fatherthe son of a wealthy familyraped her mother. And then I was born, Tibebe said. In the end she buries her by-then destitute father, the man largely responsible for her own life of misery. Yet she survives and perseveres. Implicit in the trials of Tibebe and the others is an understanding that the empowerment that is the key to their eventual liberation can be found only in their collective struggle for hope.
For many, the foundation lies in faithCatholic, Voudou or Protestant. If I need to meet Jesus, I meet him in my brothers and sisters, Louise Monfils told Bell. You're taking a better communion that way. It's not opening your mouth and taking the host, answering, Amen' to The Body of Christ' while being mean and a nuisance to your neighbors. Or sending your own kids to school while you keep the little girl you are also raising at home to cook food, clean up the dishes and wash the clothes of your own child, Monfils said. The clarity these Haitian women lay out before Bell goes well beyond their own backyards.
The push for globalization, which has so dramatically affected countries like Haiti through the economic dictates of the World Bank and the International Monetary Fund, is primary for organizers like Yolette Etienne. What I want to believe is that globalization will create more communication, and women will understand that they are not alone, Etienne said in her interview with Bell.
If women could get together, they could change all this. Haitian women could communicate with other poor women in Haiti and in other poor countries, as well as with those in developed countries who believe that women are human beings and must live as whole people, Etienne said.
But beyond even the most compelling political convictions, the true potency of Walking on Fire lies with the courage summoned by the women whose stories are chronicled in its pages.
Claudette Phene, a peasant woman and organizer, tells Bell the story of her encounter with Corporal Dola man who had promised to shoot her. At a roadblock in the coastal town of St. Marc the soldier ordered Phene out of a packed truck she was riding in. Dol told me, Get out of the truck, Claudette.' I said, I won't get down. You need me, you come up here and get me.' I told him, Death today is death, death tomorrow is still death. I'll still be here. If you shoot me, I'll leave behind children who'll leave behind even more children.' Three or four people in the car said, Driver, go!'