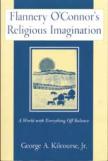 Although she died at age 39, the Catholic writer Flannery O'Connor left a literary legacy that secures her place as a major figure in 20th-century literature. In this carefully researched, well-written study of her fiction, George A. Kilcourse departs from the usual realm of literary criticism to explore the way her imagination theologizes. This critical focus opens up unexplored vistas for the reader. Literary technique is explicated only when necessary to understand O'Connor's religious imagination. Therefore, this volume adds a spiritual dimension to the study of O'Connor's work, just as her fiction contains an added dimension for the reader who understands her theology.
Kilcourse, a professor of theology at Bellarmine College in Louisville, Ky., asserts that O'Connor's work holds an insight for our ongoing renewal as Church. To support this, he explores O'Connor's ability to express her theological beliefs in a metaphorical mode as an illustration of her belief that an impoverishment of the imagination means an impoverishment of the religious life as well. He urges pastors and religious educators to read her stories to gain insights...about the lifelong ongoing conversion process and to sharpen...homiletic skills through appreciation of her powerful storytelling. Good advice.
Advertisement
Skillfully, the author connects O'Connor's letters and essays with her fiction. Her letters comment, usually wryly, about problems she encounters in developing certain characters, misunderstandings of her short stories and revisions of her stories and novels. Her essays, by contrast, expound upon her beliefs. By interlarding O'Connor's words with his analysis of her fiction, Kilcourse enriches our understanding and appreciation of the distinguished Southern writer.
The first chapter, Discovering the Audience, links a key O'Connor themeGod's offering of gracewith her techniques of grotesquerie and distortion. Kilcourse calls O'Connor's imagination superbly ironic and shows how it makes shocking demands on the audience. To help readers understand the mind and heart of the author, he quotes letters and essays that refer to the fiction, weaving a smooth fabric of ideas. He describes these sources as three panels of [a] religious icon, hinged together with an integral unity. He also touches on the craft of writing, again using O'Connor's own definitions and explanations for her techniques.
For persons who do not have the time or inclination to read the vast collection of O'Connor letters (The Habit of Being) or her essays (Mystery and Manners), Kilcourse performs a great service by providing direct links from these to her fiction.
Although it analyzes her fiction, Flannery O'Connor's Religious Imagination makes a contribution to our understanding of the writer's unique theological imagery largely by its explication of her two novels. Kilcourse creates an illuminating frame for his analysis of Wise Blood, O'Connor's first novel, by citing details that mark the superficiality of both American religion and post-World War II American culture at the time (1952) of its publication. He sees Hazel Motes as postmodern man, and Taulkinham as the secular city. He uses Thomas Merton and Abraham Heschel, as well as O'Connor's references to Nietzsche, to sketch the ideological background for Hazel Motes's journey to God.
Further, the author helps the reader to understand the stages of this journey: first, medieval spirituality (the penitential action of rocks in his shoes as a boy); then Romanticism (he could avoid God by avoiding sin); then postmodern nihilism (he has no soul); and finally, the search for a new Jesus, the failure of which leads to his emptying of self and embracing God. Kilcourse brilliantly illuminates a novel that O'Connor called spare and angular.
To lay the groundwork for his analysis of The Violent Bear It Away, Kilcourse summarizes key points in Walter Brueggemann's study of Old Testament prophets. At the heart of the novel is the acceptance or rejection of a divine call to prophecy; this background is essential for understanding young Tarwater's struggle. O'Connor's religious imagination creates symbols and scenes that make the conflict between the words and example of Great-uncle Mason Tarwater and Uncle Rayber's antiseptic way of life real to the young boy, who must choose between them.
Kilcourse probes O'Connor's ability to make such concepts as grace, temptation, pride and spiritual hunger and thirst real to the reader. He calls on Karl Rahner's insights on grace and Roger Haight's analysis of sin and guilt to deepen the reader's understanding of the terrain, while using O'Connor's letters to clear away misunderstandings of the novel.
However, the author's analyses of O'Connor's short story collections, A Good Man Is Hard to Find and Everything That Rises Must Convergewith the exception of the title stories and a few othersoffer no new insights. Still, Kilcourse documents well O'Connor's debt to Teilhard de Chardin.
The chapter The Christic Imagination explores in great detail the writings of Romano Guardini and William F. Lynch, two writers whom O'Connor had read with deep appreciation. According to Kilcourse, they served as implicit dialogue partners to deepen [O'Connor's] understanding of the mystery of Christ. It is an interesting chapter, but I question the extent of their influence on O'Connor's work; it seems clear that she understood deeply the mystery of Christ long before reading these authors. Perhaps they made her (in Robert Frost's words) only more sure of all [she] thought was true.
In her essay The Nature and Aim of Fiction, O'Connor states: For the fiction writer, the whole story is the meaning, because it is an experience, not an abstraction. Kilcourse invokes this statement as a guide to expanding the reader's understanding of meaning through the symbolic language that creates the experience.
Overall, this book succeeds in showing Flannery O'Connor as imaginatively gifted and theologically learned. It succeeds too in demonstrating clearly that this union of imagination and knowledge created extraordinary fiction.