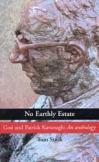 No Earthly Estate
by Edited by Tom Stack
The Columba Press (distributed in the U.S. and Canada by Dufour Editions). 240p $24.95 (paper)
While W. B. Yeats towered over Irish poetry in English from the 1890's to the 1930's, Patrick Kavanagh dominated the period from the 1940's to the 1960's. Kavanagh was a questioning and often querulous writer, relentlessly interrogating the state of his muse, his soul and his recently independent nation. In the process, he made as many enemies as friends, and the nature and stature of his artistic legacy are still being debated by biographers and literary critics today.
In this unusual but immensely rewarding book, Tom Stack combines an anthology of Kavanagh's more religiously inflected poems with a series of informed reflections on the poems' theological implications. He brings to the task his experience as an Irish Catholic priest and as a newspaper columnist, broadcaster and documentary filmmaker.
Advertisement
As Stack notes, Kavanagh's writing career can be divided into three phases. During the first, from the late 1920's until the late 1930's, he farmed a patch of land in County Monaghan and produced lyrical poems in which activities like ploughing and potato spraying were precisely evoked and simultaneously transformed into metaphors for poetic and religious perception. In the second phase, from the late 1930's to the mid-50's, Kavanagh moved to Dublin, where he made his living through often acerbic journalism. The poetry of this phase, including his magnificent longer work, The Great Hunger, is frequently sardonic in tone, mocking what he saw as the shibboleths of Irish literary and national life. The third phase lasted from the mid-1950's until Kavanagh's death in 1967; in the wake of a failed court case and a successful recovery from lung disease, he permitted the tone of his poetry gradually to mellow.
No Earthly Estate includes examples of all three phases: from the first, where the speaker finds a star-lovely art/ In a dark sod (Ploughman) and sees himself driving his horses through/ The mist where Genesis begins (To the Man After the Harrow); from the second, where he finds that the Devil looks equally like a man the world would appoint to a Board, an invitee for a bishop's garden party and an artist (The Devil); and from the third, where he finds, at last, Leafy-with-love banks and the green waters of the canal/ Pouring redemption for me, that I do/ The will of God, wallow in the habitual, the banal,/ Grow with nature again as before I grew (Canal Bank Walk).
One of the epigraphs for No Earthly Estate is taken from T. S. Eliot's essay Religion and Literature, and it claims, Literary criticism should be completed by criticism from a theological standpoint. Eliot's request is faithfully carried out by Stack, who does not wish to explore the literary or historical dimensions of Kavanagh's poetry so much as to comb out from the text a series of topics which accumulate to form a significant body of Catholic belief and practice, that is to say, his focus is more on systematics than aesthetics. In his introduction, Stack acknowledges that poetry does not yield systematic statements, yet in his preface to Kavanagh's long and complex poem Lough Derg, he argues that doctrines concerning penance and guilt, forgiveness and prayer, the interplay between the individual and the community and the timeless nature of the Christian event can nonetheless be extrapolated with a view to examining them systematically as they surface in the poem. So although poetry might not be able to yield systematic statements, theological criticism might. And it must be said that Stack is remarkably successful in showing how Kavanagh's poetry can provide insight into such doctrinal areas as the particularity of incarnation and the sacramentality of material life.
When Stack declares that Kavanagh offers us a uniquely distilled reflection of ourselves as a people and uncovers for us an intriguing spiritual landscape, his use of first-person plural pronouns reveals that the book's primary, imagined audience consists of contemporary Irish Catholics. But this volume provides much for readers in the United States to reflect upon and enjoy too, not only in the poems themselves, which bracingly switch mood from rhapsody to ridicule, from playfulness to plangency, but also in Stack's commentary, which weaves in (lightly but eruditely) myriad relevant theological, philosophical and literary references.
American readers can also profitably eavesdrop upon a question that whispers around the margins of Stack's meditationswhat is the present role and future direction of Irish Catholicism? Stack claims that despite the progressive distancing of Irish people from their traditional rural roots and despite an era of waning religious sensibility, Kavanagh's singular appeal persists among young and old alike and his genius...continues to mine the deepest spiritual seams of our culture. Echoing themes in the work of William Blake, Stack describes Kavanagh's career as a journey, first from pastoral simplicity to the disillusionment and loss resulting from experience, and then onward to a quest for recovery and the achievement of rebirth.' Is it possible to see an analogy here with the latter-day history of Irish Catholicism: a relatively innocent phase, extending from the late 19th century to the 1960's, during which the church's authority was unquestioned; a phase of experience, from the 1970's until the present, during which secularization has been accelerated into disillusionment by revelations of various types of clerical abuse; and an imagined third phase, yet to come, in which there may be some form of recovery?
In reverberating poems like The Great Hunger and Lough Derg, Kavanagh bears eloquent and poignant testimony to the Jansenist tendencies in certain formations of authoritarian Irish Catholicism. Might it be, however, that in a poem like Auditors In this new St. Patrick is actually prophesying a new direction for Irish spiritual life in a new millennium?
I turn away to where the Self reposes
The placeless Heaven that's under all our noses
Where we're shut off from all the barren anger,
No time for self-pitying melodrama...
           ...I am so glad
To come so accidentally upon
My Self at the end of a tortuous road
And have learned with surprise that God
Unworshipped withers to the Futile One.