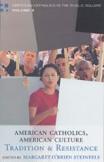 This volume of essays so exemplifies civil yet strenuous exchange on volatile topics in contemporary Catholicism that it exceeds a search for common Catholic ground and becomes instead that much-praised, seldom-found reality: a community of discourse. And that takes into account the sharp point in Paul Elies and Valerie Sayers essays that all the discussion of Catholic communalism does not remove the solitude in writing, believing, thinkingor living, for that matter. I recommend the volume to anyone seeking a constructive path in divisive times, to parish clergy, to women and men religious, to all interested in U.S. civic life, and to faculty and students doing courses in theology, American history, cultural studies or Catholic studies.
Peggy Steinfels, former editor of Commonweal magazine, harvested essays from participants in what must have been lively meetings sponsored by American Catholics in the Public Square, a three-year project (2000 to 2002) funded by The Pew Charitable Trust and organized by the Commonweal Foundation and the Washington-based Faith and Reason Institute. Reading them is like sitting in on some of the best conversations youve heard on topics that raise peoples blood pressure.
Advertisement
The New York Times columnist Peter Steinfels and Robert Royal, director of the Faith and Reason Institute, introduce the tripartite collection. They note the emergence of a current of political liberalism from the Progressive Era onwards that at many points converged with the Catholic tradition practically but diverged from it more and more culturally and philosophically.
Part I, Against the Grain, moves from an overview by the historian John T. McGreevy, Catholics in America: Antipathy and Assimilation, to the hot-button topics in Luke Timothy Johnsons stirring Abortion, Sexuality, and Catholicisms Public Presence, and two responses. One, by Barbara Dafoe Whitehead, co-director of the National Marriage Project at Rutgers University, adverts to the prophetic quality in church teaching from a converts perspective. Another, by the theologian Susan A. Ross, makes the case for building womens perspectives into church teachings on sexuality and marriage and for tolerating some ambiguity there no less than in the ethics of warfare.
Is the pro-life agenda prophetic or misguided? Richard M. Doerflinger, deputy director of the Secretariat for Pro-Life Activities at the U.S. Conference of Catholic Bishops, explains the linkage between pro-life and social justice agendas. Mary C. Segers, a political scientist, responds with an analysis that concludes that on the whole, the public priority of the pro-life agenda does more harm than good to the churchs overall social agenda. The sociologist Michelle Dillon takes the position that it has been advantageous for the church and for American society to have to argue the implications of a theme chartered by the Declaration of Independence, the right to life. Brian Doyle tells a cautionary tale in Killing Yourself: Physician-Assisted Suicide in Oregon. In the absence of an ecumenical coalition, Catholic opposition to legalizing physician-assisted suicide failed when Oregonians saw themselves voting more on Catholic morality as a state norm than on legal suicide.
Part II, Popular Culture and Literature, refuses to sit tight for arguments that treat the public square as if bordered only by a church, a courthouse, a jail and the headquarters for political parties. Theaters, bookstores, libraries and concert halls have recognized places in public life. James T. Fisher proposes that Catholicism has helped shape American popular culture. This takes the Rev. Andrew M. Greeleys notion of the Catholic sacramental imagination (from David Tracys The Analogical Imagination) from being a distinctive sensibility to being a major influence. The thesis benefits from testing by Mark Massa, S.J.s As If in Prayer: A Response to Catholicism as Popular Culture.
Paul Elie, in The Last Catholic Writer in America? observes that for Catholic writers the central question is the legitimacy of religion itself. Valerie Sayers replies in Being a Writer, Being Catholic: Sometimes the Twain Can Meet. She concludes with a memorable remark: I hope we get writing created in isolation and loneliness that, as it reaches its readers, achieves communion. Kenneth J. Doyle brings the focus around to The Press and the Churchs Social Teaching: Friends or Foes?
Part III grasps a nettle. Is anti-Catholicism the last acceptable prejudice in pluralist America? Answers from Mark Massa, S.J., John T. McGreevy, Andrew M. Greeley, Kenneth L. Woodward, Mark Silk and a panel, Voices from the Field, explore differences between criticism of beliefs and institutional positions, well informed or not, and summary caricatures. Kenneth Woodward locates instances of consistent negative portrayal of Catholicism in the media. The stubborn facts, reports Father Greeley from a pre-test in depth, are that four out of five fellow Americans think Catholics worship Mary and the saints, three out of four think Catholics do what the pope and bishops tell them to do, and more than half think Catholics cannot think for themselves. Mark Silk contends that, compared to anti-Semitism, anti-Catholicism does not produce antipathy to individual Catholic Americans.
The panelists (Gail Buckley, Daniel Callahan, William Donohue, Paul Moses and Alan Wolfe) comment individually on anti-Catholicism, hope, stem cell research, media distortions and a general ignorance of religion.
This excellent book shares a tragic flaw with its subject matter. Like American Catholicism, it tends to ignore minority Catholics. Black, Hispanic and Native American Catholics are all but invisible in the essays. Not all American Catholics fit into the standard story of immigrants from Europe who made their way in a sometimes hostile American environment, eventually succeeding through tenacity, education and good citizenship. Some arrived in Florida as slaves with the Spanish in the 16th century or immigrated from Haiti. Some are descended from 16th-century Spanish expeditionaries or have come from Mexico, Puerto Rico or Cuba. Others became Catholic in the face of European invasion of their lands. More recently, Catholics from the Philippines and Vietnam have made their presence felt. Their lives and stories also belong to American Catholic tradition and resistance.