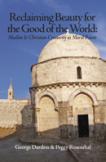 In their appealing new work, husband and wife team George Dardess and Peggy Rosenthal have made a unique and important contribution to the development of understanding between Muslims and Christians. It contends, and aims to demonstrate, that focus on beauty as a theme in both traditions allows for a fruitful rapport between faiths at the level of theology, art and ethics. Originally English professors, the authors spent many years studying Islam and participating in Catholic/Muslim dialogue. Rosenthal is best known for her writings and retreats using poetry as a vehicle for prayer. Her fine book The Poet's Jesus explores the portrayal of Jesus in poetry from the first centuries of the church to the present.
Reclaiming Beauty is divided into three parts, each with two chapters on Muslim and Christian perspectives. These chapters are further subdivided along a range of issues. Each part concludes with an imagined dialogue in which a Muslim and a Christian interlocutor digest and reflect on the preceding material. In addition to a number of black-and-white reproductions of artworks from both traditions, there is a useful glossary of terms.
Advertisement
Indeed, the book as a whole is quite reader-friendly. The tone is conversational and fresh, the scholarship interwoven with accounts of personal insights and experience. The envisioned audience is a mix of Muslims and Christians, each with little or no knowledge of the other's tradition.
Accordingly, the book's first part provides an overview of each tradition's faith and elements of its practice. The accent on beauty prevents these sections from becoming tedious to readers already familiar with the basics of either or both religions. In fact, in addition to providing a way into another tradition, the accent on beauty allows believers to better appreciate and appropriate their own faith, a secondary and not insignificant benefit of the book.
After sketching the theological underpinnings for an account of beauty in each perspective, Part II, perhaps the strongest portion of the book, explores the work of a wide variety of mostly, but not exclusively, contemporary Muslim and Christian artists. Part III, also quite interesting, explores the link between artistic and moral creativity, discussing a number of, again, mostly contemporary figures who exemplify fresh and creative expressions of their faith.
In the section on Christian art, the authors discuss Dante's Divine Comedy and modern works by Georges Roualt and W. H. Auden alongside Ginger Henry Geyer and Makoto Fujimura. The short essays serve as appetizers inviting readers to feast more fully on works that are of special interest to them. Muslim artists discussed include Uzma Mirza, Huda Totonji, Asmad Ahmed Shikoh among others. Readers will find the breadth of media explored—architecture, calligraphy, dance, poetry, graffiti, sculpture, painting and film, to name a few—most interesting. Qualities like generosity, surprise, playfulness and transparency are among those variously expressed in artworks across traditions. Rosenthal writes:
Far from being something peripheral, art is central…. It's a point often lost in Western culture, where art has tended to be confined to museums and concert halls—assumed to be lovely yet somehow dispensable. The contrary is a key argument of our book: that without art's manifestations of beauty, life itself is left adrift in a world where the power of ugliness so easily takes hold. Yet the reverse relation is also true: beautiful life can inspire beautiful art.
One of the book's epigraphs runs like a refrain through the work and helps connect the beauty of art and creation with the beauty of a virtuous life: "Act beautifully, as God has acted beautifully towards you" (Koran, Sura al-Qasas 28:77). The discussion in Part III of beautiful Muslim and Christian lives includes principally the prophet Muhammad, as the exemplar for Muslims, and contemporary figures who, the authors find, express the beauty of his goodness in creative ways. Among these latter are Imam Feisal Abdul Rauf—who made headlines for his role as an advocate for the proposed mosque/community center near ground zero—and his wife, Daisy Khan, and the jurist Khaled Abou El-Fadl, who aims to provide a life-giving interpretation of Shariah law. Christians discussed include St. Francis of Assisi and communities like The Simple Way and Christian Peacemaker Teams. These share such virtues as patience, balance, hospitality, generosity to self and others.
While eager to find points of contact, the authors also identify real differences in Christian and Muslim ideas of beauty. Christian doctrines concerning the Fall, the Incarnation and the sacraments, all without parallel in Islam, deeply affect Christianity's theological aesthetics. Some readers would perhaps have appreciated further discussion of such differences than is sometimes provided. Just as in interreligious discussion among contemplatives the question arises of whether there are identical structures of human mystical experience across traditions, variously articulated, or genuine differences of "content," so here one is led to wonder whether the commonalities between artists have more to do with their being artists than with their respective faith traditions—that is, whether Christian and Muslim artists interpret their faith traditions through the lens of their creativity, and the shared lens provides the common ground. While this may be partly true, the way the authors relate the artistic to both the theological and ethical dimensions of the respective traditions goes some distance toward providing a sense of the real distinctiveness of Muslim and Christian views. Further, the common lens of creativity can itself be seen as divine gift, in Christian terms, part of what it means to be made in the image of God and a reflection of his goodness.
If there is a weakness to this book, it is the fictional dialogues between a Muslim and a Christian. While these serve to recapitulate and develop the material, one cannot escape the awareness that here two Christian authors are staging a conversation between a Muslim and a Christian. However well intentioned, this presumption to speak for the other seems to conflict with the genuine respect for, and interest in, "the other as other" that the rest of the book displays. One cannot help but wonder what the book would have been like if it had been co-written with a Muslim. In fairness, the perspective presented as Muslim has clearly grown out of many years of friendship and discussion with Muslim interlocutors, and sympathetic readers will not be overly distracted by the somewhat didactic conceit of the dialogues. At one point, the authors paraphrase the thought of Simone Weil with regard to Christianity, noting that anything that has produced so much beauty cannot be devoid of truth. Reclaiming Beauty compellingly demonstrates that the same can be said of Islam.