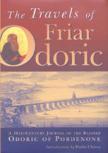 This new edition of the fascinating account by a medieval Franciscan friar, Odoric of Pordenone, of his journeys through the Middle and Far East (modern-day Turkey, Iran, Iraq, India, Sri Lanka, Sumatra, Java, Borneo, Vietnam and China) comes at an appropriate moment in our national life. Since Sept. 11, we have been obliged, suddenly and dramatically, to re-examine our image of, attitudes toward, and relations with the Muslim and non-Christian Eastern world in order to understand why the tragic events of that day occurred. The study of history has an important role to play in helping us to decipher and respond to the present situation by understanding its roots and development in the past, with the hope of constructing a better future. Though not a work of religious, social or political analysis, Odoric's personal narrative cannot help but attract attention as a brief but revealing glimpse into the medieval Christian encounter with the exotic, alien Muslim (and otherwise non-Christian) world of the East.
We know little about the author and his journey beyond what this Relatio tells us. Coming 20 years after Marco Polo's return to Venice and ending by 1330, Odoric's journey lasted anywhere from 12 to 16 years. The friar died in 1331, in the odor of sanctity, supposedly performing many posthumous miracles, but was beatified only in 1755. Odoric's canonization is still being pursued, under the direction of a fellow Franciscan, Antonio Vitale Bommarco, archbishop emeritus of nearby Gorizia, who supplies a foreword to the book. Although, as Odoric states at the beginning of his narrative, he visited the countries of the unbelievers in order to win some harvest of souls, his real interest, to judge by the contents of this dictated work, would seem to have been above all in matters mercantile, geographical and anthropological, rather than pious and apostolic. In his description of each place visited, the Franciscan is at pains to list the foods, spices and other commercial products characteristic of the locality, as well as the more striking features of its physical landscape and of the appearance and behavior of its inhabitants.
Advertisement
Strangely enough there is very little word about his evangelization of the people or any conversions made along the way. Moreover, despite his protests at the conclusion of his account that he has told nothing but the truth, Odoric was at times both gullible when listening to local reports and extravagant in his claims; he assures us, for example, that he saw the Tower of Babel itself, as well as a tortoise bigger in compass than the dome of St. Anthony's church in Padua. Alas, although extraordinarily adventurous of spirit and robust of body, Odoric was, again to judge from this work, a simple man, an exemplar of that medieval Franciscan ideal of rusticitas, which at times assumed that illiteracy and bathlessness were paths to sagacity and sanctity. His powers of observation and comparative analysis leave much to be desired; yet despite all its defects, the book is a page-turner.
Asking in his foreword what virtues Odoric holds up for emulation by modern readers, Archbishop Bommarco singles out two: great humility and respect for one's neighbor. I must confess I could find persuasive signs of neither quality in this accountwhich is not to say that Odoric espoused their opposites. For example, our friar does not sound very humble when he, in effect, boasts at the beginning of his work that he set off for his long trek according to my own wish (his superiors and confreres may have, in fact, been glad to put a comfortable distance between them and him, for as the editor tells us, Odoric was not particularly liked within the Order). As for respect for one's neighbors, even when not using explicitly denigrating language to describe the non-Christians he encounters, it is clear that Odoric, like his contemporaries, believed that they were all idol worshippers, whose ontological status as human beings was decidedly less than theirs and whose eternal salvation was strongly to be doubted. His depiction of the Muslim character and religion is far from flattering, and we are reminded once again that the present state of mutual misunderstanding and distrust between the Christian and Muslim worlds is ancient of years and will require many years to heal.
This handsomely designed, compact edition comes supplied with a long, excellent and thorough introduction by Paolo Chiesa of the University of Udine, Italy, which supplies exhaustive background information about Odoric, his times, contemporary travel literature, as well as the contents, structure and editorial history of his Relatio. It is part of a new, much-welcomed Eerdmans series, Italian Texts and Studies on Religion and Society, which will be publishing English translations of Italian texts important for an understanding of Italian socio-religious history. The Travels of Friar Odoric reprints the still highly readable translation by the 19th-century British Orientalist, Sir Henry Yule, whose copious, well-informed notes are also integrated into the present edition. In short, it is a work that is sure to satisfy on many levels.