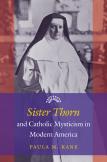 What precisely happened to Margaret Reilly's body throughout her brief adult life remains a mystery. A Roman Catholic nun, she was said to have received the bleeding wounds of Christ, the indelible image of a crucifix on her breast and terrible physical torments that evoked Jesus' passion. These trials seemed to confer holiness on this New York City Irishwoman of modest origins. Reilly became a Good Shepherd sister in the early 1920s and lived at the order's convent in Peekskill, N.Y. There she took the name Sister Crown of Thorns and was acclaimed by a substantial number of supporters as the first American stigmatic. Her story inspired hope that she would become the first American saint, fittingly drawn from the Irish Catholic community. "Our Lord is going to give us an Irish American saint!" New York's Archbishop Patrick Hayes said with enthusiasm to Father Lucas Etlin, a proponent of Margaret's claims.
Advertisement
Yet the archbishop and many others closely connected to Sister Thorn refused to give her case unqualified support, and her move toward sainthood faltered. Her story, as told in Sister Thorn and Catholic Mysticism in Modern America, unfolds against the backdrop of an American Catholic church where concepts of sainthood, devotion and the rightful place of Catholics in American society were changing. As Paula M. Kane shows, Sister Thorn's experiences as a nun, a woman, a mystic, even a New Yorker, can tell us much about these transformations.
Kane skillfully explores why Sister Thorn's case attracted so much attention and inspired so many believers. Mother Raymond, the Good Shepherd superior, considered Margaret to be the divinely chosen recipient of an authentic mystical experience. Other supporters were drawn from the ranks of Thorn's fellow religious and the Catholic hierarchy. She even gained the support of at least one physician, as well as other critical thinkers. Her critics presented scientific explanations for her sufferings and found nothing supernatural at work in the Peekskill convent. Kane walks an admirably fine line between describing the history of belief and using other scholarly perspectives to explain or dismiss it. Proving the inauthenticity of Sister Thorn's claims is not her goal. Instead, she suggests plausible reasons why the case became controversial within Catholic circles.
Margaret's numerous torments make for vivid reading, especially to those of us who came of spiritual age after the Second Vatican Council. The sexual dimensions are palpable. Margaret is sexually taunted and violated by demons. In rapturous moments, she described being taken into Christ's confidence. Sister Thorn explained these interactions in terms that evoke a conjugal relationship. The first manifestation of her special connection with Christ came in the form of profound pain, accompanied by the image of a crucifix emerging from her breast. Throughout her suffering, her breast and thighs seem to have been singled out for special abuse. At other points, a demon allegedly clobbers Margaret with the convent switchboard, pulls her out of a wheelchair and tears violently at her habit—a symbol of her vows of chastity.
Skeptics of Margaret's claims (both Catholics and others) believed that she and other stigmatic women were "hysterics," a term popularized by Sigmund Freud. There is evidence to suggest something in her story was amiss. For one, Kane describes a series of letters with deeply crude sexual language that might have been written by the pre-convent Margaret to a doctor with whom she was reportedly in love. Contemporary detractors among the Good Shepherd Sisters believed her torments were contrived to deflect attention from an operation for appendicitis that was, in fact, an abortion. They saw Margaret as a troubled woman, indistinguishable from the criminals and murderers whom they tried to redeem at the Peekskill convent.
Kane places Margaret's case into historical context by delving into the history of American mysticism, but this history has an Atlantic dimension, for the stories of 19th century stigmatics in France, Italy, Belgium and Germany were widely known in the United States. Coming over as well were devotions tied to the Sacred Heart of Jesus, a mystical movement that had clear connections to the transcendence of Christ's sufferings. As the author shows, these devotions would have been part of the young Margaret Reilly's religious life. Mysticism in the United States was also influenced by the horrors of World War I, as many Catholics struggled to balance the sickening waste of human life with the beauty of suffering for an ideal and union with God.
Sister Thorn is a book full of detail and analysis, with lengthy sections that contextualize the work of nuns in American life. They enrich the reader's sense of Sister Thorn's world, but the density of historical data and anecdote sometimes overwhelms the narrative. The same is true when Kane delves into psychological and social science theory: though she is exploring valid scholarly questions with accepted social science models, these digressions undermine the storyline for the general interest reader.
Still, Kane's study is full of insight and surprises. For me, one of the most intriguing of these appears in the Epilogue. Readers know throughout the book that the Good Shepherd Sisters would eventually lose their Manhattan and Peekskill convents and the prestige of choosing religious life that these properties represented. Yet the Good Shepherd Sisters continue on, doing good work to solve worldly problems. The convent walls that kept Sister Thorn's secrets no longer provide a comprehensive template for sainthood. The church confirmed this when it canonized an activist nun, Frances Cabrini, as the first American saint. In this way it affirmed a new and very different model of saintliness for American Catholics.