'Splendidly himself': The funeral homily for Robert F. Drinan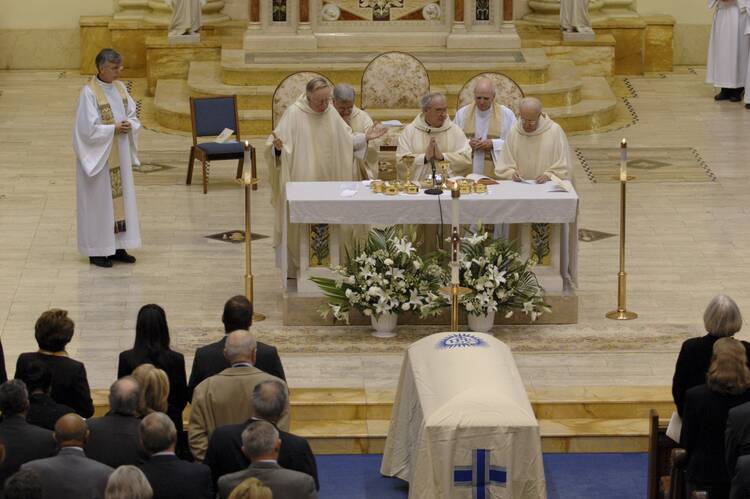 Priests concelebrate a Mass for the late Jesuit Father Robert F. Drinan at St. Aloysius Church in Washington Feb. 1. Seen at the altar from left are, Fathers Timothy Godfrey, John Langan, Thomas Regan, Timothy Brown, Lawrence Madden and Ladislas Orsy. Father Drinan, longtime Georgetown University law professor who served in the House 1971-81 as a Massachusetts representative, died Jan. 28 at Sibley Memorial Hospital in Washington. He was 86 years old. (CNS photo/Phil Humnicky, Georgetown University)
John XXIII, in his great encyclical, Pacem in terris (1963), which was written exactly halfway through the course of Robert Drinan's life, has a passage which puts before us an important goal, the vision of a society of citizens exercising and claiming rights: "It is agreed that in our time the common good is chiefly guaranteed when personal rights and duties are maintained...If any government does not acknowledge the rights of man or violates them, it not only fails in its duty, but its order completely lack juridical force." Pacem in terris (60-61)
A society built on the practice of rights is not so sweetly transcendent as the holy mountain of feasting and joy which Isaiah summons up for us; it is not so intimately and delicately responsive as the virtue of charity or agape which St. Paul commends to us. But it is essential to the realization of the common good in a world which is marked by enormous human diversity and intermittently intense social conflict. It is a reality which protects those of us who are neither beasts nor angels from our own worst impulses and from the harms which others would do to us. It is the not the realm of the best but of the imperfect good and the necessary. It has been the favored realm of Anglo-American jurisprudence and a refuge for those who suffered from brutal and destructive social experiments carried on in the name of ideology and religion.
"The underlying unity of the incredible amount of work he did as teacher, writer, speaker, political leader was his commitment to his identity as a member of the Society of Jesus and as a Catholic priest."
It is a realm which Robert Drinan, as a distinguished American lawyer and professor of law, and John Courtney Murray, the great American theologian, valued and commended to other Catholics, especially for its affirmation of religious liberty.
It is a realm of ideas which has enabled Catholicism to flourish in this country and which has taught Catholicism important lessons about the theory and practice of human rights, a cause to which Bob Drinan devoted enormous amounts of his apparently inexhaustible energy and many years of that life whose end we now mourn.
It is a realm which always needs to be defended, but especially in times of fear and uncertainty when false prophets would persuade us that the magnitude of some threat justifies the overriding of those rights which constitute the core of our liberty.
It is a realm which we as Americans have been anxious to extend, perhaps even beyond the limits of our capabilities. In taking up the causes of South African victims of apartheid, of Soviet Jews, of the disenfranchised in Central America and the disappeared in the Southern Cone, and of the Muslims of Darfur, and in arguing for effective judicial protection for universal human rights, our friend Robert was preaching the same values and ways of thinking as he did in opposing segregation and capital punishment and protecting civil liberties in this country.
For the most part, his advocacy of human rights harmonized with the social and moral teaching of the Catholic church. But it must be acknowledged that on the immensely painful subject of abortion there was sharp conflict, a conflict which I wish neither to minimize nor to revisit but only to put into a larger context of common concern for the well-being of women and children in a society wracked by moral disagreement. This point also reminds us that the notion of human rights is not transparent in its content but is often used to express profound conflicts in a common legal language. It is not what Bob would call a MIGA, it does not "make it go away." In the matter of abortion, it is important to remember that a decisive point of disagreement for many Catholic politicians is about the appropriate limits of state action and about the attainability of a stable democratic consensus on a matter on which the major religious and philosophical traditions reach conflicting conclusions, not about the moral issue in itself or about Catholic teaching. The shape of legislation can be a matter for prudential disagreement, not an issue of faithfulness.
"Here was a moral and religious leader who was ready to walk the walk and talk the talk of politics."
Three years after Bob began his career in Congress, Roe v. Wade turned abortion from a contested legal issue to a divisive political issue. This he had to live through, for in addition to being an advocate for human rights, he was also a practicing politician. This, in combination with his priesthood, was the feature of his life which most attracted the attention of the media and the general public. It was also what made him particularly significant to his colleagues; for here was a moral and religious leader who was ready to walk the walk and talk the talk of politics with them. In fact, it became clear to everyone that he enjoyed doing so and that he was very good at it. In listening to comments from various of Bob's colleagues over the years, I heard a gratitude and a pride which arose from the fact that he as a priest was ready to work alongside them in the demanding though often derided task of legislation in a modern democracy. This is an indispensable and noble contribution to our common life, a vocation in itself. Bob had the vision and the grace to combine two difficult vocations in a way which strengthened the commitment and the morale of his colleagues. His ability to do do this was a consequence of the fact that he lived what he was doing as the work of justice, not merely the ambitious pursuit of a career.
The contribution which he made as a priest in politics was a suitable prelude to the work of his later years in promoting the study of legal ethics and in founding the Journal of Legal Ethics here at the Georgetown University Law Center. Events of the last twenty years have presented a series of disillusioning crises which have created widespread public demands for reform of the profession and a continuing need for careful scholarship and prudent judgment. This was a work in which Bob could find a happy convergence of his professional and priestly roles. It also provided an academic and professional counterpart to the concern he always had for the growth and the well being of those aides whom he called his "minions" and whom he enjoyed for the generous energy which they brought to political life. This energy was, of course, their imitation of and response to his own enormous energy and sharpness of focus. If Robert Drinan was like Christ and all Christians, a grain of wheat destined to fall into the earth and die, as today's Gospel reminds us, he has born much fruit in those supporters and aides and in the generations of students who cherished him as one of the most remarkable teachers they ever had and who have been filling up the web page at the Law Center with testimony to his impact and his dedication.
But the underlying unity of the incredible amount of work he did as teacher, writer, speaker, political leader was his commitment to his identity as a member of the Society of Jesus and as a Catholic priest. When he was confronted with a very stark and public choice, he made it clear what his own priorities were. This may have puzzled and pained many of his friends and colleagues, but it made it clear that his commitment to the work of justice in the law and in politics was truly an expression of his response to the love of God, a response which affirmed that love and justice are indeed bound together, but that neither requires a particular office or role, that at the center of his being he would be God's faithful servant first, last, and always and that this meant he would continue to be a very American, very pragmatic idealist, an advocate of the society of right in which the work of justice still needed the dedication and guidance of one who would remain priest and prophet. .
I do not know what purgatory will be like for Bob. He would dismiss any form of physical suffering or infirmity as a trivial restraint on the desire of his heart for the good and an empty distraction from the important work to be done, as he did in the year before his death. I surmise that the central part of his purgatory will be accepting that he has indeed arrived in a jurisdiction where justice can be attained without lawyers and where the administration is reliably good and beyond impeachment. But I cannot imagine that this will be a long or traumatic episode.
Through his eighty-six years he learned much and gave much to his students, his colleagues, his country, and to his community of vocation and choice, the Society of Jesus.
Through his eighty-six years he learned much and gave much to his students, his colleagues, his country, and to his community of vocation and choice, the Society of Jesus. As a result, so many of us mourn him and look to him as an iconic and exemplary figure, a man in whom the religious and political issues of our age came together fruitfully, if not always happily. We salute a life well lived for the good of others. We recognize a Catholic son of New England, who learned Protestant virtues and institutions and who came to share Jewish joys and sorrows, and who in consequence became more comprehensively Catholic and more universally human. We give thanks for a man of talent who seized opportunities to serve and a man of peace who was not afraid of conflict. We give praise for a friend who gave generously of his time and his knowledge to so many of us even while he remained splendidly and eccentrically himself.
But in this task of capturing Bob's special union of the vitally personal and the universally good, the deeply Christian and the proudly American, I will give the last and best word to our fellow Jesuit, Gerard Manley Hopkins, who wrote in 1881 this sonnet:
As kingfishers catch fire, dragonflies draw flame;
As tumbled over rim in roundy wells
Stones ring; like each tucked string sells, each hung bell's
Bow swung finds tongue to fling out broad its name;
Each mortal thing does one thing and the same:
Deals out that being indoors each one dwells;
Selves- goes itself; myself it speaks and spells,
Crying What I do is me: for that I came.

I say more: the just man justices;
Keeps grace: that keeps all his goings graces;
Acts in God's eye what in God's eye he is -
Christ - for Christ plays in ten thousand places,
Lovely in limbs, and lovely in eyes not his
To the Father through the features of men's faces.
So we salute a man who has challenged our judgments of what is truly important, who has given a superlative example of generous service, and who never rested from his desire to do the work of justice. As he said to me in what turned out to be our final conversation, "I do not rest in the daytime." He goes on one final trip back to the district, where he will finally rest with his brother Jesuits in New England. We pray - may God be with you, Bob, and may God be with us as we take up our share in the great work. For, as Congressman Hoyer reminded us the other day of the motto above the Speaker's Rostrum in the House, where Bob spent his happiest and richest years, "In God We Trust."