In High School, in Recovery: The spiritual and practical challenges facing teens with addiction
Scott Weeman was 17 when he slipped into addiction at his small-town Wisconsin high school. His dependency started with a drink and exploded quickly into a dependency on marijuana, cocaine and hallucinogens. His addiction followed him to college and slowly turned his world upside down. A few years later, Mr. Weeman lost his college debating scholarship and dropped out.
The addiction took a long time to heal. "Every day, I told myself, 'Tomorrow, I'm going to take action, but today I can't muster the will,'" he said. It was only when he was 26 that he found sobriety. After his recovery as an adult, Mr. Weeman, who is now 38, founded Catholic in Recovery, a nonprofit that helps people in the church recover from addiction. His program is one of a growing number of faith-based efforts to combat drug dependency. Mr. Weeman's initiative is an example of a church-based approach that works to solve some of society's trickiest problems through sharing information, offering support and loving one another. But church efforts must also find the right balance of prayer and clinical treatment, positivity and psychiatry. And then there is financing. Those behind the most successful Catholic efforts to treat addiction know that solutions can be complicated but must be community-based. And they also know that, sometimes, the only thing we can do is share each other's pain.
The challenge of addressing addiction can be particularly difficult when it comes to treating young people. Children in the United States are facing terrible mental health issues. The teen suicide rate is up 29 percent over the past decade. The rate of addiction of teenagers to drugs, especially opioids, has also dramatically worsened since the start of the Covid-19 pandemic. In the 12 months prior to October 2022, 101,751 Americans died of drug overdoses, up from 90,093 in the 12 months prior to October 2020, according to the Centers for Disease Control and Prevention. The overdose rate among teenagers almost doubled in 2020, the first year of the pandemic, and increased another 20 percent in the first half of 2021, compared to a decade ago, according to a report by researchers at the U.C.L.A. School of Medicine.
The first opioid abuse wave took place in the 1990s, when Americans got hooked on drugs like Purdue Pharma's Oxycontin. These were prescription drugs given by doctors who had started treating pain as the fifth vital sign, along with temperature, pulse, respiration and blood pressure. "Get ahead of your pain" was a common mantra among the medical establishment. Too often, pharmaceutical companies and medical providers pushed highly profitable pain medications over longer-term treatment plans.
Educators, administrators and policy specialists are still rolling out new ideas for helping adolescents cope with addiction to opiates.
In its literature, Purdue said that Oxycontin would grant a slow release of opioids, making it less addictive. Still, millions got hooked, building a market for the second great wave of addiction: heroin from Mexico flooding into the United States. Now the United States is facing a third overdose wave triggered by the introduction of fentanyl, a powerful synthetic opioid analgesic that is similar to morphine but is 50 to 100 times more potent, and that has singlehandedly driven up the death rate among American adolescents. In 2021, fentanyl was identified in over two-thirds of adolescent overdose deaths, the C.D.C. said.
Drugs are a fact of life for many teenagers, and the risks are increased because dealers often lace drugs like heroin, cocaine and methamphetamine with fentanyl to make them stronger. Approximately one quarter of students in grades 8 to 12 have used drugs in the past year, according to the National Institute on Drug Abuse. Less than 10 percent of those have entered any kind of treatment program, according to the Substance Abuse and Mental Health Services Administration.
Educators, administrators and policy specialists are still rolling out new ideas for helping adolescents cope with addiction to opiates. There are more and more responses that explicitly address the plight of people under 18. In November 2022, Cincinnati Children's Hospital opened its Opioid Use Treatment Clinic in its Division of Adolescent and Transition Medicine. The program aims to provide outpatient medication treatment for young people between the ages of 16 and 21.
The hospital's promotional material noted that "it is one of the only outpatient clinics offering medication treatment to people under 18 years old in the region." The patients targeted are suffering from addiction to drugs including heroin, Percocet, oxycontin, fentanyl, oxycodone, hydromorphone and Vicodin. "Opioid addiction is still a growing problem in adolescents and young adults," said Daniel Cohen, a nurse practitioner at the clinic. The hospital is licensed to prescribe Suboxone, an opiate substitute that helps wean people off opioids. There are new faith-based programs in the region, too, including from local Catholic Charities chapters.
The Recovery School Challenge
Even after young people are on their way to recovery, going back to school can pose a challenge. Returning to the same environment increases the likelihood of making the same mistakes. Opioids, which are derived from, or mimic, opium (a drug made from the poppy plant), block the brain's perception of pain, an almost irresistible lure once it has been experienced.
The high school dropout rate for teens with addiction issues is 10 percent for those who go to recovery high schools and 27 percent for those who do not.
That factors into current relapse rates up to 60 percent. Some hope that recovery schools—which specifically serve young people struggling with addiction—can help make a difference through a supportive environment. Studies show that the relapse rate in the six months after completing a recovery school curriculum is only 30 percent, less than half that of interventions at traditional high schools.
The first secular recovery high schools were launched in the 1980s. If they attract enough students, they can be a good solution. The high school dropout rate for teens with addiction issues is 10 percent for those who go to recovery high schools and 27 percent for those who do not.
There are currently 45 recovery schools in the United States. They all face a challenge in recruiting young people. On average the schools last only 9.5 years. "We're finding that there are fewer kids who admit to being in recovery," said Roger Oser, the former chair of the Association of Recovery High Schools and the principal of William J. Ostiguy High School, a recovery high school in Boston. And it is important that adolescents commit to recovery. If they are not committed to abstinence from substances, they are likely to relapse, and that makes education impossible. "It's not like 'Field of Dreams' and if you build it, they will come," Mr. Oser told me. "It's always a complicated situation, and you need referrals and recommendations. But people need help."
The story of the Kolbe Academy in Bath, Pa., illustrates how difficult it is even for the most well-intentioned Catholic activists to start a faith-based education alternative for teenagers with addiction. The only Catholic high school for teenagers in recovery, Kolbe Academy, which I visited recently, is closing its doors after five years of operation. Despite good intentions and generous funding, it failed to draw enough families to join.
At Kolbe, located in a town of 3,000 in eastern Pennsylvania, I met Pete, a wiry high school senior with a sharp, curious manner. He was 12 when he first grabbed a pill from his aunt's medicine cabinet. The Allentown, Pa., adolescent said he had been living in a house dominated by a violent, abusive adult relationship. But this pill soothed his pain. For the first time in his life, Pete told me, he felt "a sense of relief."
"I thought it was important to have a Catholic recovery school that integrated faith and what we've been learning about recovery and how to help children," Ms. Tesche said.
The peace was a trap, but he didn't know that at the time. Like millions of Americans, Pete got hooked. He was just a child, and he craved the feeling of ease he got from the pills. His life spun out of control. At school, Pete failed and failed. "My G.P.A. was always under one," he said. "My dad was abusive, and during those times, my mom used to say she saw my father in me."
Pete did more drugs. He started drinking. The aunt he stole his first pills from almost died from a heart attack because she couldn't take the medications he had taken from her.
When I visited, there were only three students enrolled, and two students attending class. This number was down from the school's peak enrollment of 11 students during its first year, but school officials tried their best to put their low attendance into context. "If we save Pete's life, it's all worth it," said Andrew D'Angelo, the school's principal. His comments echoed a passage from the Gospel of Matthew: "For where two or three are gathered in my name, there am I in the midst of them." Kolbe, he hoped, was also like the Gospel metaphor of a mustard seed, an idea that might grow, find offshoots in other ideas and offer a broader hope based in love.
Kolbe Academy was founded by a Catholic school administrator named Brooke Tesche. At the high school where she was working, "a lot of kids were self-medicating," she told me. "And the educators knew little to nothing about addiction." Interested in finding a way to help, she visited the Bridge Way School, a recovery high school in Philadelphia, and she came to believe in the principle of recovery schools.
Ms. Tesche raised a million dollars and hired a principal, John Petruzelli. "I thought it was important to have a Catholic recovery school that integrated faith and what we've been learning about recovery and how to help children," he said.
The founders named their school after Maximilian Kolbe, a Polish conventual Franciscan who was murdered at Auschwitz in 1941 after volunteering to take the place of another prisoner selected for execution.
"I treat these boys with respect, so I get it back," Rob Schiller, the English teacher, said. "All kids run into bumps in the road, and some bumps are bigger than others."
The school held Mass every two weeks and drug-tested regularly. Students could only be admitted if they had gone through a recovery program. The tuition was around $20,000, but scholarships were available. In at least one case, a public school district paid full tuition.
"When I came to Kolbe, I was broken and didn't know what to do," said Joe Scrip, a 2021 graduate who is studying surveying at a trade school. "I was skeptical at first, and didn't have good experience with school, but Kolbe was different. The teachers really cared about me, and I had sober friends."
Still, there was always the risk of relapse. About a month before my visit in November, one of the school's students had stopped attending classes because he had started using drugs again. He was allowed to resume attending some classes online.
The two boys still taking classes at the school when I arrived were Pete and Travis, who had soft eyes and a quiet manner. Pete and Travis are like brothers. "We're not the best of friends, [but] we stick up for each other," said Pete.
Travis, who is from Washington, N.J., was 13 when he started smoking marijuana, followed by abusing alcohol and opioid pills. He is one of five children, and the only sibling wrestling with addiction. He found Kolbe out of desperation—his own and his parents'. It is different from other schools, he said. "At other schools, you can say, 'Hey, I'm good,' but here they're on top of you at all times," he said. "It's like they care. They're not just worried about what I'm doing in school. They're also worried about what I'm doing outside of school."
In a morning English class, Rob Schiller, a sunny 70-year-old, was teaching a class in literature. Mr. Schiller worked in food service management for 22 years before discovering a love of teaching and literature. "I treat these boys with respect, so I get it back," he told me. "All kids run into bumps in the road, and some bumps are bigger than others." Mr. Schiller said his father was a functional alcoholic, and he has seen a family member overdose. "Addiction never goes away," he said. "I feel badly for these guys, it's such a heavy cross to bear."
Mr. Schiller said he tries to draw parallels between the boys' lives and recovery, and the human weaknesses revealed in literature.
As soon as they sat down, Travis asked Mr. Schiller if he could go get some water. "Sure, but you come right back," Mr. Schiller said, firmly and clearly.
The lesson that day was about Edgar Allen Poe, the 19th-century American author of gothic fiction, and himself an addict. As he read an introduction to Poe's life, Mr. Schiller noted, "there was no therapy back then, only alcohol." Mr. Schiller said he tries to draw parallels between the boys' lives and recovery, and the human weaknesses revealed in literature.
A Change of Mindset
On the evening of my visit, Kolbe's board had gathered in the basement of the school. The board members, charged with raising funds from church-affiliated donors, knew the school was at risk of suffering the fate of other recovery schools. There are four main reasons that recovery schools close, according to administrators: difficulties with transportation, stigma, lack of awareness and lack of funding.
All 11 of the board members had chosen to become involved with Kolbe for different reasons. Some had lost family members to opioid addiction.
A former addict in recovery named Brian Sabo, who runs a local recovery program, offered a seminar on addiction to the board. With all the overdoses on fentanyl, somebody asked, why are drug users still flocking to buy drugs on the street?
Mr. Sabo pushed back his chair and faced the board members. "You have to understand the mindset of the addict," he said. "If you see a friend overdose, what you're thinking is not, 'I need to stay away from that.' What you're thinking is, 'This is where the good stuff is, and I need some of this.'"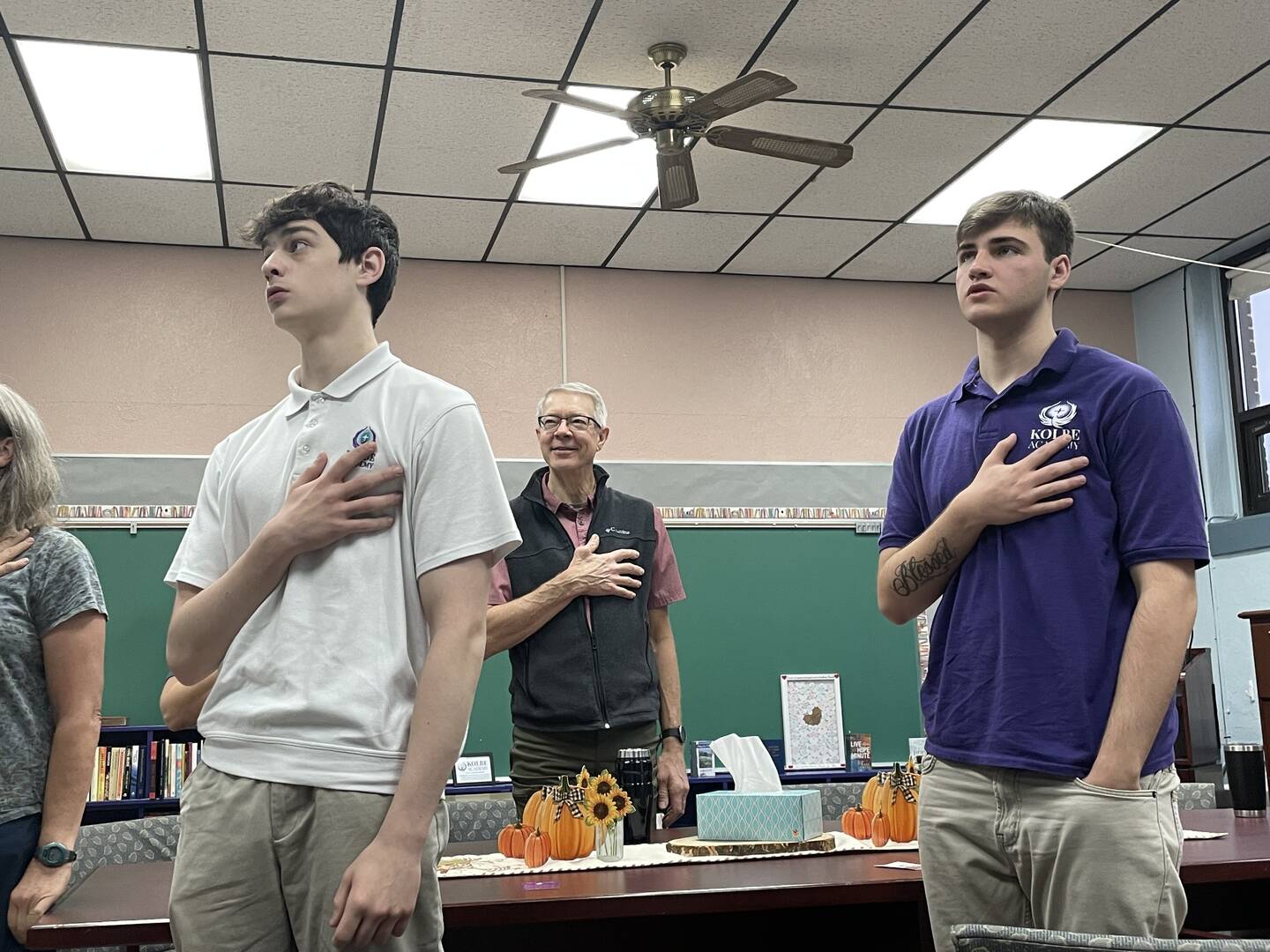 A woman named Linda Johnson, whose son suffers from addiction, talked about educating people about opioid abuse. "We don't want to cover it up," she said. "We want more kids in the schools. We have a duty to educate people in the community."
The board members discussed ways of expanding its mission, including offering remote lessons, or teaming up with local schools to share what it has learned about recovery and teenagers.
"We need more students or more donations to keep the school going," board chair Mike Metzger told me later in a phone interview.
The next morning, Mr. D'Angelo met with the two students. Travis wasn't doing well. He slumped in his chair. Time for the Kolbe Promise, said Mr. D'Angelo. The boys stood up and declared: "As a member of Kolbe Academy, I will trust in God's plan for me. I will be honest in all that I do. I will be kind to myself and others. I will have the courage to persevere. I will humbly know who I am. I will openly accept God's grace each day."
Mr. D'Angelo motioned to Travis. "Come with me," he said. Travis followed him as Pete headed downstairs to play pickleball. Later I asked Mr. D'Angelo what was wrong. Could it be a relapse? "No, I've seen that and I know what that looks like," Mr. D'Angelo told me. "He's just having a bad day. These guys are in recovery, but they're also teenagers, and they're going to have bad days."
The boys played pickleball. "We both like basketball, but we can't really have a basketball team," joked Pete. Mr. D'Angelo tries to mix up extracurricular activities, which have included pumpkin picking, baseball games and theater.
Going to rehab helped get Pete on track for sobriety, and going to Kolbe "rekindled my relationship with God," he said.
I asked Travis why drugs attracted young people. "Peer pressure's a thing for sure," he said. "But for me it's because everybody's telling you not to do it, so I'm like, well, what's it like? And if you're telling me not to do it, I'm a lot more likely to do it."
Was he a victim? "No, I'm not a victim," he said. "I made bad choices." But he's been lucky, he knows. "Everything I got was from the street. I know a couple kids who died of Xanax."
After taking the first pill that he found in his aunt's medicine cabinet, Pete discovered that drugs made him feel like he was elevating himself to the person he actually wanted to be. "I always wanted to be bolder, and when I was using drugs, I was being a bold, cooler guy."
One Christmas morning, before he had enrolled at Kolbe, Pete got drunk and left his house. He ripped off his clothes as he ran through a park. When he got picked up, his "whole family was waiting in the cop car," he said. "I knew I never wanted to feel that again."
Going to rehab helped get Pete on track for sobriety, and going to Kolbe "rekindled my relationship with God," he said. Pete also has been touched by his encounter with the Catholic faith at Kolbe. "How we treat each other and how we talk to each other, and how we respect each other, that's the number one priority here," he said. He recently received the sacrament of confirmation.
Travis does not consider himself as religious as Pete. "I was raised Catholic, but I'm not really into it anymore," he said. He dreams of training to be an electrician. "I've heard that's a good, stable career," he said.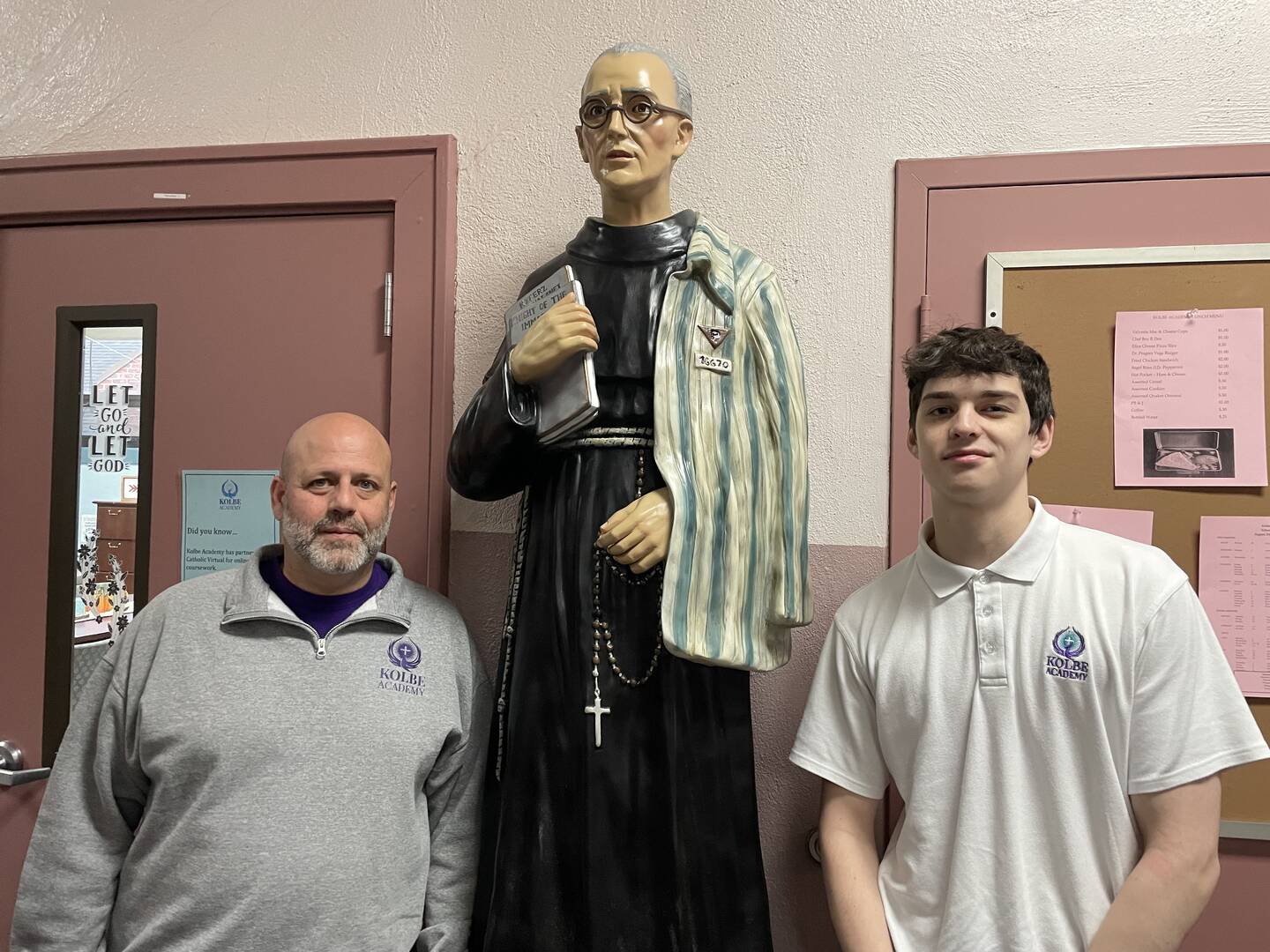 In another class that day, 63-year-old Paul Messner taught science. "Inertia is not a force, it's a mass," he explained to Pete. "[The term] was invented by Galileo to explore what was going on in the universe."
"Do you have inertia?" he asked.
"Yes," said Pete.
In the spring, the school board met to try to save the institution. Mr. D'Angelo resigned. Board members stopped answering my phone calls. "We are closing," a school official finally told me.
The 'Three C's'
Mr. Weeman, the founder of Catholic in Recovery, had never heard of Kolbe or any Catholic-based recovery high school. "That would be a wonderful idea if you could find enough teenagers who had committed to recovery," he said. The problem is that teens are likely to isolate themselves while in the depths of addiction, rather than make their addiction publicly known. Families trying to help their teens are vulnerable to the "three C's," he said. Many erroneously feel that "they caused it, they can control it, and they're responsible for curing it."
Catholic in Recovery runs retreats around the country. Mr. Weeman speaks to seminaries and colleges and runs retreats. He has also written The Twelve Steps and the Sacraments: A Catholic Journey Through Recovery.
Families have to let go of the three C's, he said. The problem is that addiction can only be solved by the person who is suffering taking the steps to get better. And that usually happens after high school.
"Someone hitting rock bottom is hard to manufacture, and trying to do that can have damaging effects," Mr. Weeman told me.
For Pete, the moment of clarity didn't come in school at all but in the rehab community he attended before he enrolled, where he was grouped with older men. "Rehab changed me," he said. "There were older people there who said they saw me as their younger self, and that really changed me."
It was only after that epiphany that Pete agreed to get sober and attend a recovery high school. After graduation, he dreams of working as a medical assistant and getting involved in local politics. "I'd like to work for the betterment of my community," he said. "Allentown and Bethlehem could be much better cities." And, he added, "I'd like to crack down on drugs."