What the eucharistic revival means to me as a Catholic convert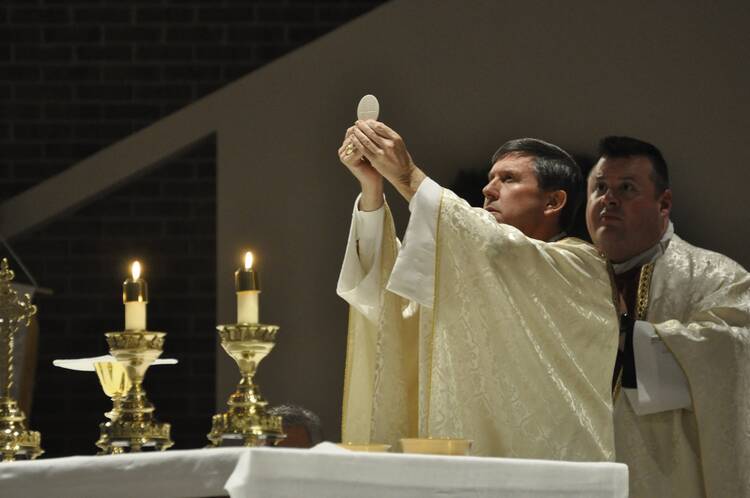 Bishop J. Mark Spalding of Nashville, Tenn., elevates the Eucharist in this undated photo. On June 19, 2022, the feast of Corpus Christi, archdioceses and dioceses across the U.S. will hold eucharistic processions to launch the U.S. bishops' three-year National Eucharistic Revival. (CNS photo/Katie Peterson, Tennessee Register)
"I don't know how to take the Eucharist as seriously as the church wants me to, when I don't see the church taking it all that seriously." These words were spoken to me by a man who entered the church last Pentecost. He belonged to one of several new families my parish welcomed into the Catholic Church that day. They were raised evangelical, and their coming into the church had nothing to do with me; they just showed up.
As friends together, believers in the Lord, they examined the Catholic faith for themselves. Their faith was real, is real; it is sober and informed.
That is why I was halted, haunted in a good way, by the comment put to me by this new brother in faith. He was talking about the Eucharist, the U.S. bishops' eucharistic revival and all the Catholic chatter, good and bad, surrounding it. He was talking about the obvious-to-him widespread lack of spiritual preparation; the lackadaisical reception of Communion; politicians and others, both left and right, treating the Eucharist like it is theirs by right. He was talking about clergy, again both left and right, excusing that behavior; he was talking about how so often eucharistic sentimentality trumps eucharistic discipline.
We should reflect deeply on these pointed observations. We should listen. If our first instinct is to look down on this new Catholic, to patronizingly help him understand or to explain his concerns away, then we are obstinately not listening.
These new eyes have a lot to show us if only we will open ours. Of course, such concerns are not the end of the conversation, but they certainly should not be dismissed. When I speak to outsiders or newcomers, often their view of Catholic behavior is quite challenging. Which is good; we should be challenged. But sometimes I think we prefer to play the arrogant older sibling.
This is foolish. Given that so many converts come into the church precisely because they have discovered the Eucharist, it seems sensible we should listen to them especially. They have discovered the Eucharist biblically, something not many cradle Catholics can say. We shouldn't too quickly call their observations naïve or latently Protestant, for it seems to me that the concerns many new Catholics have stem from the fact that their understanding of the Eucharist is more biblical and less cultural. They see what the Bible says. They see what we do. And they can tell the difference.
As a convert myself, discovering the power of the faith of cradle Catholics has been for me one the church's greatest gifts.
New converts to Catholicism can help the rest of us rediscover the Eucharist. I have often said the eucharistic revival is really just about whether we will let St. John and the Apostle Paul bother our Catholicism again. Biblically literate converts can help us read with fresh eyes and unsentimental joy John's Gospel and the First Letter to the Corinthians. They can help us find the fuller, biblical, moral meaning of the Eucharist. That is, if we'll listen.
But veteran Catholics can return the favor, showing us the wisdom of their constancy. Of course, cradle Catholics love the Eucharist no less beautifully; often, though, they love it differently. For the religion of cradle Catholics is, more often than not, beautiful and deeply attractive.
As a convert myself, discovering the power of the faith of cradle Catholics has been for me one the church's greatest gifts. It is what you find in such Catholics, woven deeply into the generations of families, at moments of crisis or joy—by the hospital bed, at the graveside, at weddings, at baptisms. I tell you, we converts see that, and it impresses us, and we want that deep faith for ourselves and our children.
The point is we have something to give each other, converts and veteran Catholics. But we must listen to one another. Maybe that is another thing this eucharistic revival is about: whether we will let the Eucharist remind us we belong to each other. These ethical questions of discipline and eucharistic seriousness, among other matters, must be wrestled with. If we understand anything biblical at all about the Eucharist, we must admit they are real issues. The bishops raising these concerns are not wrong; it is just that they may need to learn how right they are.
Which, really, is all I am asking: that we remember to take new Catholics seriously, resisting the pull of a know-it-all Catholicism, even when they make uncomfortable comments, and perhaps especially then; and that we remember to listen to the stubborn wisdom of that Catholicism woven into the genes of those born and raised in the church, who speak of the faith the way they speak of themselves. Because that is the church: all of us, whether we like it or not.