Paul Farmer was my friend. He should be made a saint—and a doctor of the church.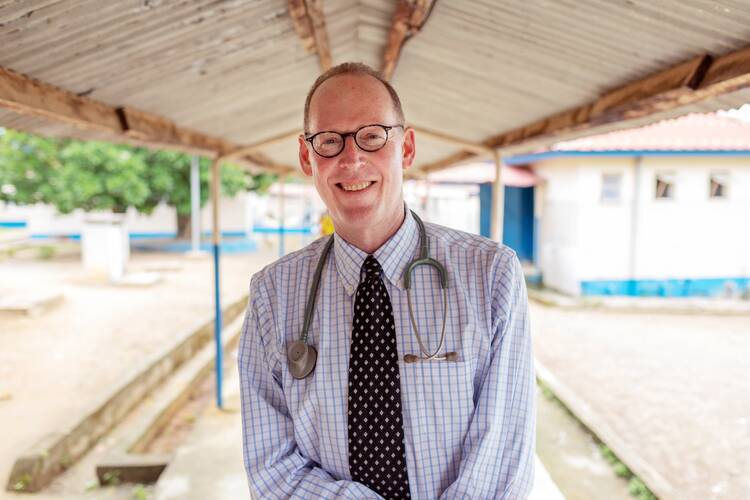 Dr. Paul Farmer at Koidu Government Hospital in Kono, Sierra Leone, on July 3, 2019. The Catholic physician who helped found a network of clinics serving the rural poor in Haiti and Rwanda died on Feb. 21, 2022, on the grounds of a clinic he had founded in Butaro, Rwanda. He was 62. (CNS photo/John Ra, courtesy Partners In Health)
The many obituaries for Dr. Paul Farmer, who died on Feb. 21, rightly recognize his numerous achievements, including his lifesaving work with the global nonprofit medical group he founded, Partners in Health, and his tireless advocacy for the poor and the marginalized, especially in Haiti and Rwanda, in his 62 years of life. Those achievements are an important part of Paul's story, but any catalog of them cannot capture the true nature of this great humanitarian, peacemaker and saint.
I knew Paul Farmer for 44 years, beginning with the three years we lived together in a fraternity at Duke University. His room was next to mine. 
From the day I met him, I knew he was a genius. He did astonishing things, from getting straight A's in pre-med while writing the culture column for the Duke paper to putting up massive displays in glass cases at the entrance to the library (the fifth-largest in the country, this was no science fair report) while writing his mother every single day. Once I came across him in the bathroom writing on toilet paper. I asked him, "What are you doing?" "Writing my mother," he answered. "I'm too busy, but I promised I would write her every day. She doesn't mind how I do that." 
"I was amazed at the way he lived. He taught at Harvard for a week; then flew to Haiti for a week; then flew to Rwanda for a week, and so on."
What was remarkable was that he accomplished all this while only sleeping two or three hours a night, following almost nightly parties in his room to which he seemed to invite every single student at Duke.
Years later, when we spoke together at St. Paul's Church at the Harvard Catholic Center in Harvard Square, he remembered that we used to stay up all night talking about the meaning of life and what we were going to do with our lives. I don't remember that as much as the parties. And the fact that I was in awe of him. 
What I do know is that within a month of each other, we both underwent dramatic conversions, turning points that changed our lives forever. His occurred the night Archbishop Óscar Romero was killed in El Salvador. He attended the little prayer vigil that night on the campus, and as he later told me, it felt as if the scales fell from his eyes; he suddenly realized that to be a Christian meant you had to be on the side of the poor and to serve Christ in the poor. 
I went into the Jesuits, the priesthood and peace and justice work, while he moved to Haiti. But we stayed in touch and I saw him over the years, all the while corresponding. Every step of the way, he encouraged me in my efforts to speak out against war, racism, poverty and nuclear weapons. "Keep at it, don't give up"—those were his constant admonitions to me. 
"Keep at it, don't give up"—those were his constant admonitions to me. 
That night in Harvard Square, speaking together to a packed church, was a particular highlight. I cried while listening to him tell his life story, and then he did the same when it was my turn.  
The best night of all was his 50th birthday when we threw a party for him to raise funds for Partners in Health. He agreed on the condition that I first celebrate a Mass, which I did. He asked me to preach on Matthew 25, and we all gave him our blessing. Then, during the party, Bill Clinton and Bill and Melinda Gates spoke. The rock band Arcade Fire performed. 
That night, I got to meet his mythic Partners In Health co-founders, Ophelia Dahl and Jim Yong Kim, who later became the head of the World Bank. Jim wanted to know about Paul as a kid; I wanted to know how they pulled off creating one of the most important health care projects in history. 
He cried telling me the answer: "Paul said, 'Let's start a nonprofit organization that has only one rule: Everybody has to be kind. We have to agree to practice unconditional kindness.'" 
"Paul said, 'Let's start a nonprofit organization that has only one rule: Everybody has to be kind. We have to agree to practice unconditional kindness.'" 
I had never heard anyone say that before, but I instantly recognized it as the real Paul Farmer, the one I knew as a teenager. He was always the smartest, funniest and most serious person in the room—and the kindest. I thought that maybe we should make that a new ground rule for the church, for every religious institution, for every peace and justice group: To be a member, you have to practice unconditional kindness. 
Paul was a visionary who reclaimed the imagination, the new possibilities, of what it means to be human, of what the world could be. Time and again he was told "You can't do that," and he would always answer, "Sure we can." And then he did it.  
[Related: Nearly 2 billion people can't count on clean water at hospitals. The Catholic Church can help.]
Others can recite the list of his accomplishments and awards, the hospitals and universities he built, the millions of lives he saved, the phenomenal accomplishments of Partners in Health. But I was amazed at the way he lived. I remember at one point he described to me how he commuted every Friday. He taught at Harvard for a week; then flew to Haiti for a week; then flew to Rwanda for a week, and so on. At that time, his wife Didi and their children were living in Rwanda. I was stunned and challenged by his witness to rethink how hard I was (or wasn't) working for justice for the poor. He gave all of himself. And in that light, when I heard from my brother the shocking news of his sudden death, part of me was not that surprised.
"With Paul Farmer, as with Jesus, death does not get the last word. Life does."
In the great film about Paul and Partners in Health, "Bending the Arc" (now available on Netflix), there is a scene where Paul is working with a dying patient who has only days to live. The patient says her father is busy building her coffin. Paul puts her on treatment, saves her life and then casually says to her: "Tell your father to get rid of the coffin. You're not going to need it." 
There are so many ways to approach Paul's mythic life and teachings: He lived Matthew 25, served Christ in the poor, became a prophet for the poorest of the poor and perhaps the greatest doctor in the history of the world. As the dean of Harvard Medical School once said to me: "Paul is the most important doctor in the world. He has changed the way medicine is done around the whole world." 
But I have always thought of Paul in terms of resurrection. Even when I first knew him in the 1970s, as I told the crowd at his 50th birthday, Paul was a Christ figure to me. He was always the life of the party, the one who helped us find the meaning of life, and the one who told the poorest of the poor to get rid of their coffins. He was like Jesus—not only healing the sick but raising the dead. He took on the powers and forces of the culture of death and brought millions of people back to life. 
That is why my friend should not only be canonized as a saint but named a doctor of the church. He was the doctor who reclaimed the Gospel for the poor in an unprecedented way.
I'm grieving hard as I write this, and I get overcome thinking about my friend, the good doctor. He challenged me and encouraged me every step of my journey, and always brought peace, hope and the fullness of life to me and everyone else.
I take heart knowing that this person who practiced resurrection in the face of death every day of his life lives on with the risen Jesus, and that if we practice resurrection, we too, one day, will see him again.
With Paul Farmer, as with Jesus, death does not get the last word. Life does. Thank you, Paul, for your resurrection life!
Listen next
An interview with Dr. Paul Farmer and the hosts of the Jesuitical podcast from June 2021.