Podcast: In Christmas messages to the Vatican and the world, Pope Francis stresses humility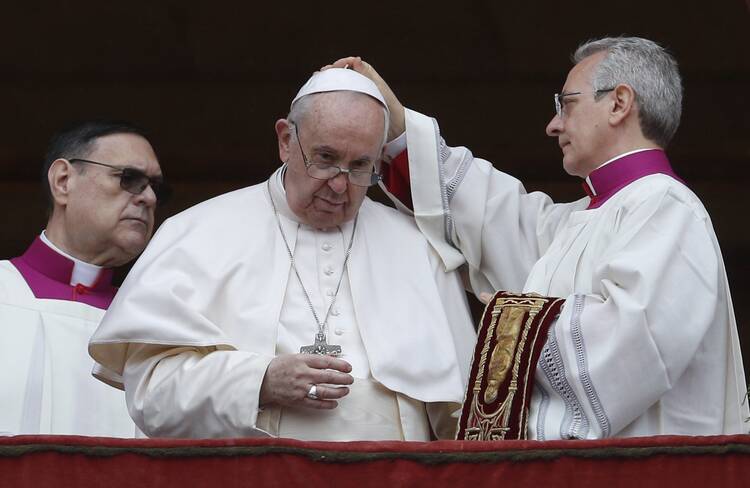 Pope Francis' zucchetto is adjusted by Msgr. Diego Giovanni Ravelli, master of papal liturgical ceremonies, after the pope delivered his Christmas blessing "urbi et orbi" (to the city and the world) from the central balcony of St. Peter's Basilica at the Vatican Dec. 25, 2021. (CNS photo/Paul Haring)
Pope Francis' Christmas messages to "the church and the world" ("Urbi et Orbi") and to the Roman Curia focused this year on the theme of humility.
[Listen and subscribe to "Inside the Vatican" on Apple Podcasts and Spotify.]
"He is the word of God who became an infant, capable only of crying, and in need of help for everything," the pope said. "He wished to learn how to speak, like every other child, so that we might learn to listen to God, our Father, to listen to one another and to dialogue as brothers and sisters."
This week on "Inside the Vatican," host Colleen Dulle gives a summary of the pope's messages. You can find links to read them, along with Vatican correspondent Gerard O'Connell's reporting on the pope's Curia address, below.
Links from the show: