An unprecedented gathering in Latin America is putting Pope Francis' vision for the church into action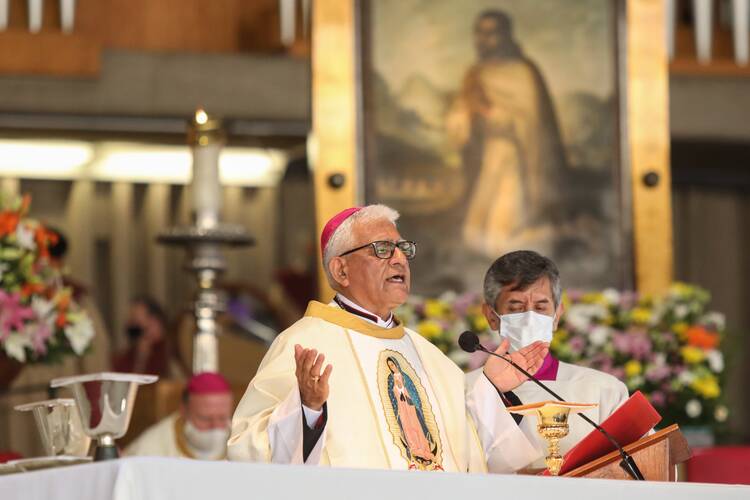 Peruvian Archbishop Hector Miguel Cabrejos Vidarte, president of the Latin American bishops' council, or CELAM, concelebrates Mass during the opening of the Sixth Ecclesial Assembly of Latin America and the Caribbean at the Basilica of Our Lady of Guadalupe in Mexico City Nov. 21, 2021. (CNS photo/Emilio Espejel)
Papal biographer Austen Ivereigh covered and participated in the Latin American ecclesial assembly in Mexico City last week. It was the first meeting of its kind, bringing together about 1,000 bishops, priests, religious and lay people to discuss the region's pastoral needs in a synodal way.
On "Inside the Vatican," Austen joins host Colleen Dulle to discuss his experience at the meeting and what lessons the Latin American church can teach the rest of the world about synodality.
[Listen and subscribe to "Inside the Vatican" on Apple Podcasts and Spotify.]
Colleen and Austen also discuss how this assembly built on the last meeting of the Latin American and Caribbean bishops in Aparecida, Brazil in 2007. "Aparecida calls for missionary pastoral conversion; it calls for the Church to realize that Christianity is no longer spread through law and culture, that we have to go back to, as it were, the early church understanding, which is that we've had an experience of encounter with Christ, and therefore, everything we do as a church needs to be about facilitating that encounter," Austen explained.
Pope Francis was a key player in the Aparecida meeting and hoped that this year's Latin American ecclesial assembly would revive its legacy. Austen describes why the implementation of Aparecida wasn't as far-reaching as originally hoped and how, despite that, the Latin American church remains a worldwide leader in synodality.
Links from the show:
Crux: Pope Francis calls for 'prayer and dialogue' as Latin American Ecclesial Assembly opens
Vatican News (Spanish): La Iglesia es líder en la sinodalidad con diversos métodos de escucha
National Catholic Reporter: First of its kind assembly to address future of Latin American Catholic Church