The bishops called abortion a 'pre-eminent' political issue. Calling it a 'foundational' one is better.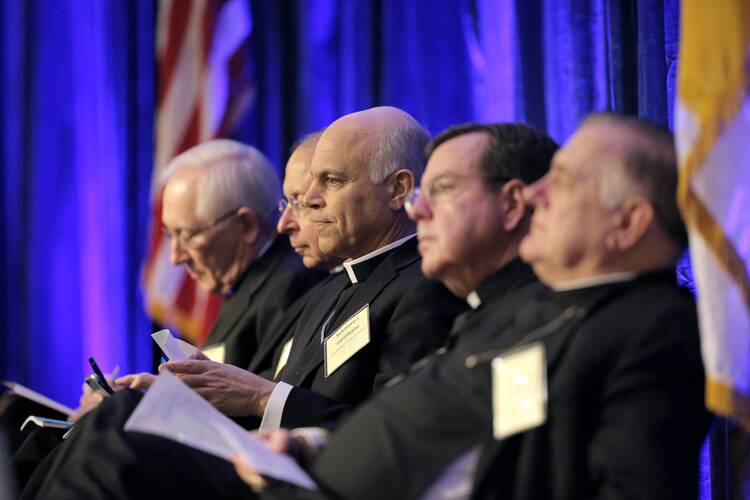 Members of the working group for the U.S bishops' quadrennial document "Faithful Citizenship" during the 2015 fall general assembly of the U.S. Conference of Catholic Bishops in Baltimore. Pictured are Archbishop Leonard P. Blair of Hartford, Conn.; Baltimore Archbishop William E. Lori; San Francisco Archbishop Salvatore J. Cordileone; Detroit Archbishop Allen H. Vigneron and Archbishop Thomas G. Wenski of Miami. (CNS photo/Bob Roller)
With the 2020 election only a week away, in some Catholic circles the heat is turned up very high by a single word: "pre-eminent." The word appears in a new introductory letter (November 2019) appended to the U.S. Conference of Catholic Bishops' document "Forming Consciences for Faithful Citizenship." The text reads: "The threat of abortion remains our pre-eminent priority because it directly attacks life itself."
Many Catholics have understood this statement to mean that where a candidate stands on abortion ought to be determinative of their vote. Bishop Robert W. McElroy of San Diego has taken exception to this understanding. In a recent interview, he said: "To say that abortion is the pre-eminent issue in a particular political season is to reduce the common good, in effect, to one issue. And that's a distortion of Catholic teaching. In fact, the assertion that abortion is 'the' pre-eminent issue in this political campaign for Catholics is itself a political statement, not a doctrinal one."
The discussions and disagreements around speaking of abortion as a pre-eminent priority suggest to me that we continue to struggle with understanding a consistent ethic of life. That consistent ethic, first articulated by Cardinal Joseph Bernardin in 1983, has found an echo in official Catholic teaching but not a full development.
Were the bishops to redo their introductory letter, my hope is that they would drop the word "pre-eminent" and put in its place "foundational."
The consistent ethic intends to gather together and house under one roof the many issues that touch on our respect for and protection of life. So, for example, St. John Paul II said, "Human life is sacred and inviolable at every moment of existence, including the initial phase which precedes birth" ("The Gospel of Life," No. 61). More recently, Pope Francis clustered life issues together when he wrote: "Our defense of the innocent unborn...needs to be clear, firm and passionate, for at stake is the dignity of a human life which is always sacred.... Equally sacred, however, are the lives of the poor, those already born, the destitute, the abandoned and underprivileged, the vulnerable infirm and elderly exposed to covert euthanasia, the victims of human trafficking, new forms of slavery and every form of rejection" ("Rejoice and Be Glad," No. 101).
Within the range of life issues, should abortion take a pre-eminent place, as the bishops' introductory letter indicates? We can begin to understand the question by exploring how Cardinal Bernardin developed his approach to life issues and also by noting what yet remains to be developed.
In December 1983, Cardinal Bernardin spoke at Fordham University for the Gannon Lecture. He titled his presentation "A Consistent Ethic of Life: An American-Catholic Dialogue." His aim was to link the recently issued U.S. bishops' letter "The Challenge of Peace" (May 1983), which dealt with war and peace, with the whole panoply of Catholic life issues, including abortion.
If the issue of abortion is foundational, then it calls for its own special attention. Life cannot flourish if it never comes to light.
Cardinal Bernardin's lecture generated considerable discussion and a number of pointed critiques. In essence, his critics claimed that he had leveled all the life issues, equating, for example, the abortion of an innocent child with the execution of a guilty criminal. In subsequent lectures in St. Louis, Kansas City and Portland, he sharpened his understanding of a consistent ethic of life and attempted to differentiate the various life issues. At the same time, he remained steadfast in his insistence that these issues should be linked together, especially so that Catholics could bring their values and convictions about life to a wider and more effective civic dialogue with their fellow citizens. He said that the linkage between abortion and other issues was both morally correct and tactically necessary for the pro-life position.
Some citations from his lectures illustrate his evolving position and larger concerns. In Kansas City in 1984, he spoke to the Right to Life Convention and said: "If we pursue a consistent ethic systematically, it will become clear that abortion is not a 'single issue,' because it is not even a single kind of issue. It is an issue about the nature and future of the family...about equality under the law for all human beings...an issue of life or death." Similarly, in Portland in 1986, he said: "The taking of life presents itself as a moral problem all along the spectrum of life, but there are differences between abortion and war, just as there are elements that radically differentiate war from decisions made about the care of a terminally ill patient.... [A] consistent ethic seeks to highlight the fact that differences do not destroy the elements of a common moral challenge."
Many of those sympathetic to his position wished that Cardinal Bernardin had developed the consistent ethic further. Cardinal Blase Cupich took up that challenge in 2017 at Loyola University Chicago in a lecture entitled "Reading the Signs of the Times: Called to Witness to a Consistent Ethic of Solidarity." His presentation approached life issues not simply as a series of discrete issues that we see from the outside looking in but rather as the very life in which we all share—in solidarity. In this way, he anticipated the constructive and participative virtue ethics of Pope Francis' encyclical letter "Fratelli Tutti: On Fraternity and Social Friendship." Integrating life issues in a framework of solidarity, he implies, offers a path to linking and differentiating life issues.
Bishop Robert W. McElroy of San Diego: "To say that abortion is the pre-eminent issue in a particular political season is to reduce the common good, in effect, to one issue."
Still, it would have been very helpful if Cardinal Bernardin himself had made explicit an essential marker for abortion that remains largely implicit in his comments. He affirms that abortion is indeed a unique life issue, but he does not say how that is true. In their letter of 2019, the U.S. bishops did take up how abortion is unique, and they tagged it as pre-eminent. Cardinal Bernardin implies a different way of seeing the life issue of abortion: as foundational. Bishop McElroy also speaks of this when he says that "the issue of life is the foundation of the house of the common good."
If the issue of abortion is foundational, then it calls for its own special attention. Life cannot flourish if it never comes to light. That much is clear, but it must also continue to grow and develop in ways that suggest attention to many other life issues. They are all connected; more, they are integrally and organically related to each other, and we are all connected to these issues in a consistent ethic of solidarity.
Were the bishops to redo their introductory letter, my hope is that they would drop the word "pre-eminent" and put in its place "foundational." Pre-eminent is a dangerous adjective. It carries with it a connotation of comparison (one is better than another) and an undertone of competition (one wins and another loses). When we speak of pre-eminence, we unwittingly fall into a cultural trap that often fosters comparison, competition and conflict. This is reminiscent, ironically enough, of the so-called pro-choice positions that privilege the pre-eminence and rights of the mother over against the rights of her unborn child. We can do much better by holding fast to a consistent ethic of life that includes an appreciation of unborn life as utterly foundational and ourselves in solidarity with that life.