German Catholic Church expects to reopen public services in May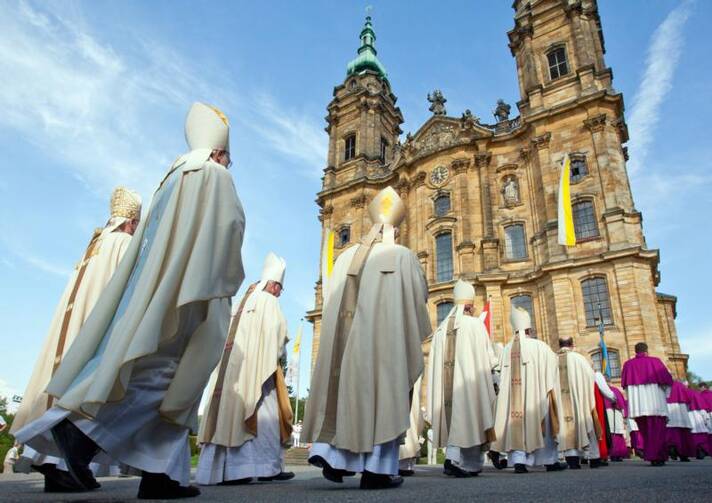 Bavarian bishops walk in procession to the Basilica of the Fourteen Holy Helpers near Bad Staffelstein, Germany, in this 2012 photo. There is a long tradition among Catholics to pray to saints for intercession in periods of sickness and difficult times and the Fourteen Holy Helpers are saints revered as healers. (CNS photo/Reuters) 
Berlin (KNA) The Catholic Church in Germany expects the ban on public church services to be lifted from May 4 subject to corona-related hygiene and social distancing rules.
The chief lobbyist of the church at the federal level, prelate Karl Juesten, said in a newspaper interview published on Wednesday that he saw realistic chances that the federal and state governments would give the green light to services after their conference on April 30.
The services would initially look quite different than usual. The exact requirements were currently being worked out, he said.
"In particular, rules must be made so that nobody can be infected by the singing," said Juesten. It is conceivable that worshippers will sit far apart and wear face masks. Church leaders are also discussing whether the priest should distribute communion with a mask and gloves or with tongs or a spoon.
"It is crucial that the reception of communion remains dignified and at the same time takes into account the need to protect people from infection," said Juesten.
Christenings and weddings will only be permitted in exceptional cases. Priestly ordinations and confirmations will be waived for the time being, said Juesten.
Meanwhile, the government of the federal state of Berlin has permitted church services with up to 50 participants from May 4 provided that hygiene and social distancing requirements are observed, state culture minister Klaus Lederer announced.
From April 22, family gatherings of up to 20 people are permitted if these are necessary for compelling reasons, such as visiting the dying, funerals, christenings and weddings.
Lederer said the limit of congregations to 50 people applied to large churches and that a minimum distance of 1.50 metres must be observed between worshippers. The names of participants must be registered. Lederer stressed that the state government was coordinating its decisions with the religious communities. He said he was aware that the archdiocese of Berlin and the protestant church in Berlin were hard at work developing protective measures. He noted that the states were not involved in the federal government's talks with the religious communities.
Berlin Archbishop Heiner Koch said he was pleased about the relaxation of restrictions in the state of Berlin which would allow church services to resume under certain conditions. "We will work out appropriate protection concepts to be able to do this responsibly," he said. "We remain sustained by the hope of a further relaxation and that we will overcome the crisis well together."
Other states in the east of Germany already allowed religious ceremonies with up to 20 people to resume at the start of this week.