How do you keep the faith in a time of coronavirus?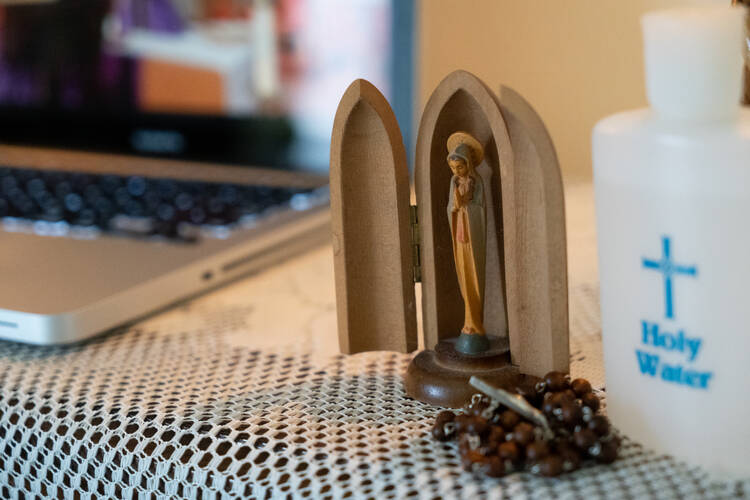 A image of the Blessed Mother adorns a prayer station set up in the home of parishioners of St. Charles Borromeo Catholic Church in Bloomington, Ind., who watch Mass livestreamed from their church March 28, 2020. The rapid spread of the coronavirus has caused churches to shut down across the country and forced many Catholics to connect with their faith online. (CNS photo/Katie Rutter) 
In response to the Covid-19 pandemic, many dioceses have suspended in-person Masses or dispensed Catholics from their Sunday Mass obligation. We want to know: How are you practicing your faith in this time of the coronavirus?
I've been watching live-streamed or pre-recorded Mass every day with my boyfriend. I used to go to daily Mass frequently and have fallen away from the practice, but now I find myself eager to connect and pray with others who are sitting in their living rooms just like I am. Missing the sacraments, particularly the Eucharist, has deepened my faith in the Real Presence and made me all the more in awe of God's loving presence.
Katie Rich
New Haven, Conn.
Daily prayer, attending/celebrating Mass with our parish through YouTube recording, driving people to medical appointments, delivering meals to homebound people, donating to food banks and driving in the Arizona desert to leave water for migrants or anyone in need.
Eric Noyes
Green Valley, Ariz.
More than anything, my spiritual focus has been on gratitude.
I am keeping in touch with other homebound persons by cards and phone calls. Sometimes I get carried away and my cards become letters, just like St. Paul's did!
Cheryl Keehner
Cleveland, Ohio
I have immersed myself in painting Our Lady the Victorious. I [took] a photo of the statue when I visited the Kalwaria salt mine in Wieliczka, Poland, a few years ago. It has become my prayer as I paint—a prayer for the entire world. My prayer also is that I do justice to its 17th-century maker.
Barbara Brozovic
Binghamton, N.Y.
Reaching out to the sick and homebound in our parish. Daily prayer. Quiet and social distancing. Encouraging others. Doing lectio divina. Reading.
Dorothy Jean Beyer, O.S.B.
Mount Angel, Ore.
Trying to attend Jim Martin's 3 p.m. Facebook Live reflections, online Mass, continuing prayer and reflection routines. Some friends are doing holy happy hours by Zoom.
Tom Plante
Menlo Park, Calif.
I am continuing my practice of daily devotion and prayer. I read the daily Mass readings. I pray the Rosary every day. I watch Mass online. I read books related to the Catholic faith that I may grow and understand the faith better.
Dale Gentry
Dallas, Tex.
More than anything, my spiritual focus has been on gratitude. I live east of New York City, which is now the U.S. center of the virus, and many in my family live in Queens. My daily prayer is how grateful I am that most of us have health insurance, the economic means to get through the impending economic depression and the strong family ties that guarantee that we'll be there for each other. I pray about gratitude daily.
Bette Ingoglia
Northport, N.Y.
Walking in the woods at a nearby park, praising God for his beautiful creation has been uplifting. Reading the psalms and journaling through my thoughts, hopes and fears continues to be an authentic way to pray. Trying to sit in silence for 10 minutes a day helps me to be open to God's healing grace.
Kathleen McCrillis
Tipp City, Ohio