Podcast: With no public Masses for a third week, Vatican focuses on forgiveness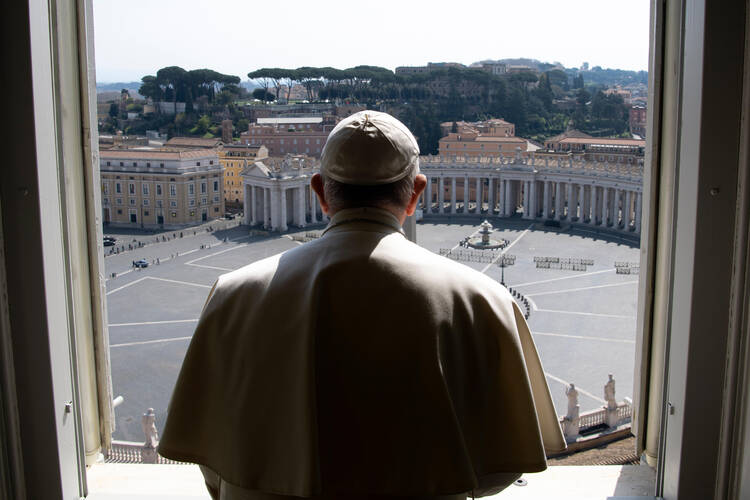 Pope Francis looks over an empty St. Peter's Square after leading a livestream of the recitation of the Angelus from the library of the Apostolic Palace March 22, 2020. The pope announced he will give an extraordinary blessing "urbi et orbi" (to the city and the world) at 6 p.m. Rome time March 27 in an "empty" St. Peter's Square because all of Italy is on lockdown to prevent further spread of the coronavirus. (CNS photo/Vatican Media)
As Italy's death toll rises and Catholics worldwide find their access to churches and the sacraments limited, the Vatican has taken two initiatives to grant the faithful forgiveness of their sins. One measure from the Apostolic Penitentiary, the Vatican's "tribunal of mercy," grants an indulgence specially for those who are suffering from the coronavirus and anyone who cares for them, even simply through prayer. A second decree also allows for priests to absolve sins without hearing one-on-one confessions in certain grave cases.
Listen and subscribe on Spotify and Apple Podcasts.
On this episode of "Inside the Vatican," America's Rome correspondent Gerard O'Connell and I unpack these measures along with two worldwide prayer initiatives Pope Francis announced this week. We examine how the pope is using every spiritual and communications tool available to give people around the world a sense of consolation.
We also announce that "Inside the Vatican" will provide twice-weekly updates for the duration of the coronavirus crisis.
Links from the show: