Podcast: Why has Pope Benedict's secretary disappeared from public events?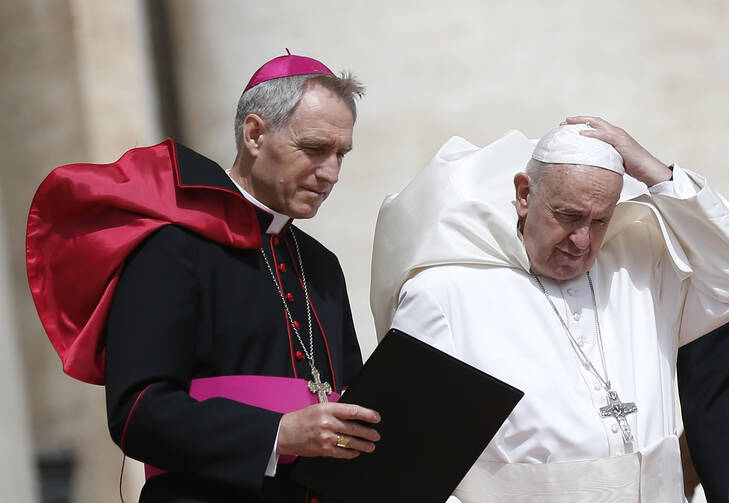 Pope Francis walks next to Archbishop Georg Ganswein, prefect of the papal household, during his general audience in St. Peter's Square at the Vatican May 29, 2019. The Vatican downplayed the absence of Archbishop Ganswein from several papal audiences after an article claimed he was placed on an indefinite leave. (CNS photo/Paul Haring) 
This week on "Inside the Vatican," Vatican correspondent Gerard O'Connell and I explain why Archbishop Georg Gänswein, Pope Emeritus Benedict XVI's personal secretary and prefect of Pope Francis' household, has been missing from public events in recent weeks. The Vatican said it was due to an "ordinary redistribution of his responsibilities," but the timing seems to suggest it has to do with Archbishop Gänswein facilitating Benedict's involvement in a recent controversial book on priestly celibacy. We explain what's known and unknown about Archbishop Gänswein's situation.
Listen and subscribe on Spotify and Apple Podcasts.
Gerry and I also take a look at the Legionaries of Christ, who elected a new superior general last week. The new leader, the Rev. John Connor, will be tasked with the continuing reform of the order amid new allegations of past sexual abuse by Legionary priests, as well as the lingering financial questions about the order's offshore holdings. On the show, we explain the basics of the Legionaries' abuse and financial scandals and the challenges Father Connor will face.
Finally, we give brief updates on Pope Francis' forthcoming document "Querida Amazonia" as well as the Vatican's report on former Cardinal Theodore McCarrick and the pope's upcoming trip to Malta.
Links from the show: