How Dorothy Day's granddaughter feels about facing prison time for peace activism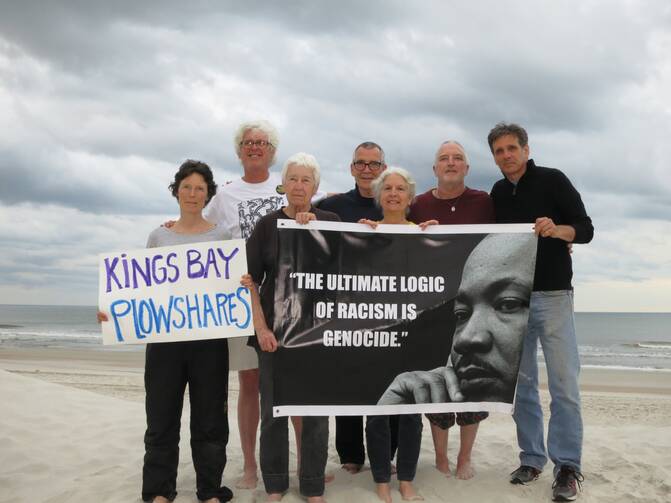 Seven Catholics, calling themselves the Kings Bay Plowshares, are seen April 4, 2018, before they entered the Naval Submarine Base Kings Bay in Georgia to protest nuclear weapons. The group includes, from left, Clare Grady, Patrick O'Neill, Elizabeth McAlister, Jesuit Father Steve Kelly, Martha Hennessy, Mark Colville and Carmen Trotta. (CNS photo/Kings Bay Plowshares) 
In April of last year, seven Catholic activists broke into the naval submarine base in Kings Bay, Ga., home to several nuclear-armed submarines. Inside, they carried out nonviolent actions to protest the U.S. nuclear weapon's program: They spilled their blood on the property, beat weapons with hammers and put crime-scene tape around the base. All seven were arrested, convicted and await sentencing. One of those Catholics was Martha Hennessy.
Martha is the granddaughter of another Catholic peace activist: Dorothy Day. We ask her how she prepared spiritually for the protest, how her grandmother has shaped her faith and what she thinks about the state of Catholic activism.
In Signs of the Times, we discuss the U.S. drone strike that killed a top Iranian military leader and how Catholic leaders are (and aren't) responding. Plus: a 100-gallon blessing of holy water on farmland in Louisiana and Pope Francis' eventful New Year's Eve.
Tell us what you think about the episode on our Facebook page, follow us on Twitter and help other listeners find Jesuitical by leaving us a review on Apple Podcasts. Please consider supporting the show by becoming a member of our Patreon community. Patrons get access to an exclusive newsletter written by one of your hosts each week!
Finally, are you a college senior at a Jesuit college or university interested in writing, journalism or production? Or do you know someone who is? America Media's Joseph A. O'Hare, S.J., Fellowship is an incredible opportunity to live in New York City while working with the smartest, kindest Catholic media professionals out there. The deadline for applications is Jan. 15 so don't wait. Learn how to apply here: oharefellows.org
Links from the show:
Pope Francis prays for dialogue as tensions mount between the U.S. and Iran
The U.S. killing of Soleimani could have devastating consequences for Iraq's Christians
Louisiana parish uses plane to bless town with 100 gallons of holy water
Pope shows up unannounced at funeral Mass of Italian lay woman and friend
Pope Francis SlapGate
What's on tap?
Father Andy's Manhattan: Four(!) parts bourbon, one part sweet vermouth, a splash of bitters and a maraschino cherry