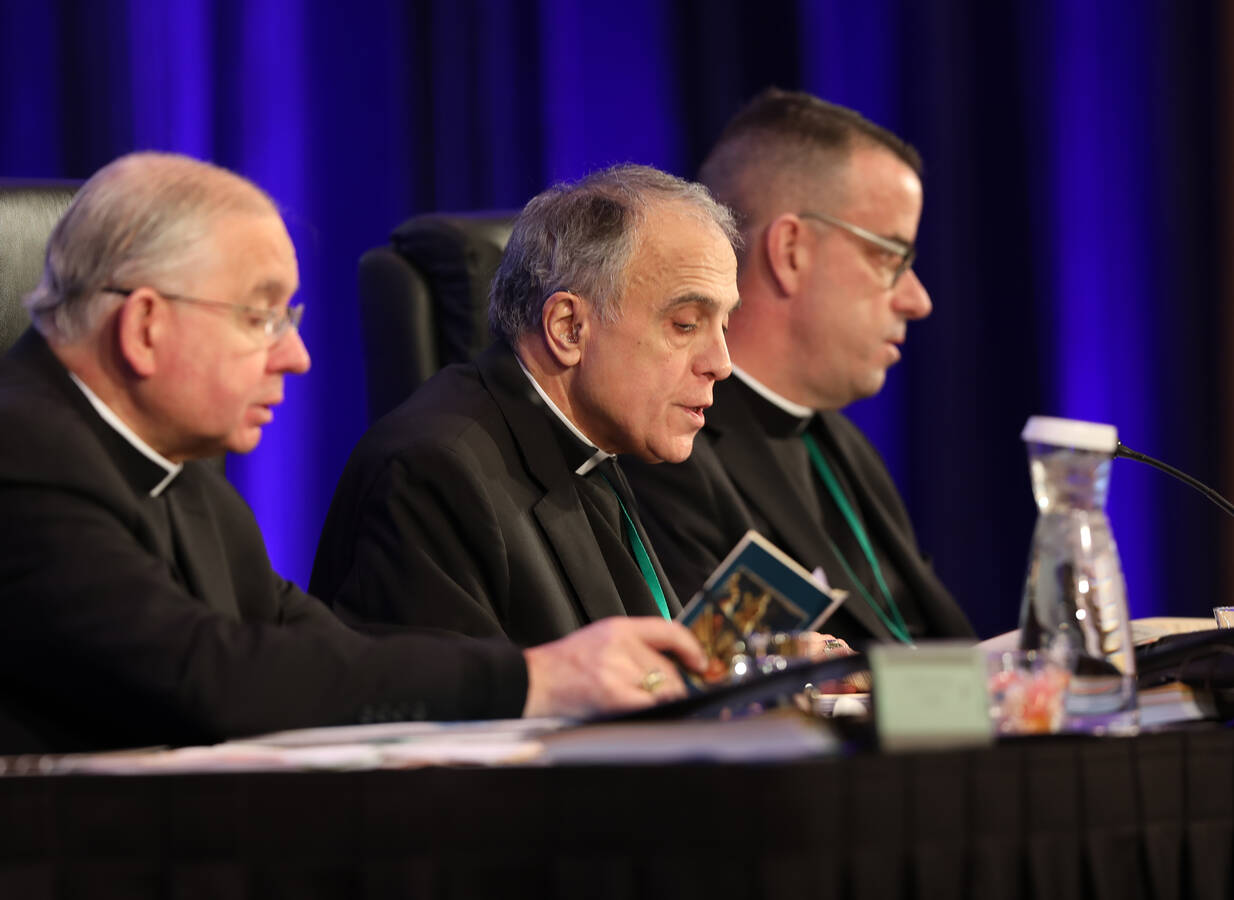 Exclusive: Should U.S. bishops speak out on politics—or stick to religion?
Editor's Note: Catholic Bishops in the United States: Church Leadership in the Third Millennium, to be published by Oxford University Press in January 2019, is the first major research-based book to study the bishops of the United States since 1989. It reveals the bishops' individual experiences, their day-to-day activities, their challenges as church leaders and their strategies for managing their dioceses. The following is an excerpt from the book on how U.S. bishops approach the task of publicly commenting on political and social issues.
Catholic leaders, from parish priests to the pope, are bombarded with opinions on whether they should or should not speak out on issues of the day—and if so, on which particular issues. When the U.S. bishops published "Economic Justice for All" in 1986, some thinkers on the political right urged them to leave economics to the economists and focus on the purely "religious" realm. The political left has been perhaps equally vociferous in its critiques of the bishops, except the problem in this case is that the church's leaders have remained too silent. In advance of a 2013 assembly of the U.S. Conference of Catholic Bishops in Baltimore, two politically liberal groups, Catholic Democrats and Catholics in Alliance for the Common Good, called on the assembly attendees to speak out more on issues of poverty. Whether one believes religious leaders should speak out on politics seems to depend less on one's philosophy regarding church and state than on the particular issue at hand.
In conducting our survey of U.S. bishops in 2016, we were interested in the extent to which individual bishops step across the invisible line some people perceive (when it suits them, perhaps) as separating the spiritual and temporal realms. How often do the bishops call for reflection or action regarding politics or vital issues of the day? We asked survey respondents four questions on this topic. (The table at left summarizes the results.)
We were particularly interested in how bishops speak out in the context of elections. The criticism they receive for lack of balance or overstepping their bounds often arises as elections approach. Many bishops reported that they have asked Catholics to consider Catholic teaching when voting for candidates, with 38 percent saying they have done so "on a regular basis" during the past five years and 37 percent that they have done so "often." One bishop said:
I do not tell Catholics [in my diocese] to vote for a specific candidate. What I do tell them is not to vote for someone who opposes our values. I tell them to make sure that the candidate they choose conforms to Catholic teaching. I make every effort not to be seen as "pro" any party, but that doesn't mean that I don't teach clearly about the issues.
A majority of bishops have lobbied political leaders at least "often," and a majority also made statements to the general public about current social or political issues. The frequency with which bishops have spoken out varies little by self-described theological orientation. It seems clear that most bishops see an important role for the church and its teachings in guiding political thought and action.
Bishops in red states have most frequently asked Catholics to consider Catholic teaching when voting for candidates. 
We did uncover an interesting difference among bishops based on whether their dioceses are located in red (mostly Republican) or blue (mostly Democratic) states. Bishops in red states have most frequently asked Catholics to consider Catholic teaching when voting for candidates. Almost half (48 percent) reported having done so "on a regular basis" during the last five years. This compares to 36 percent of bishops in "purple" states and 26 percent in blue states. Perhaps bishops are more likely to perceive the laity as receptive to messages about Catholic teaching and voting where Catholics (and the electorate generally) are relatively more conservative. However, this does not seem to extend to other ways of speaking out, such as lobbying lawmakers or making statements to the general public.
The Clergy Sexual Abuse Scandal and the Church's Perceived Credibility
There were many aspects to the shock, dismay and anger lay Catholics experienced in 2002 during the large-scale national revelations of clergy sexual abuse within the church. Foremost among them were sympathy for the victims, disbelief about the magnitude of the problem and outrage about cases where superiors were inadequate in addressing the problem. We wanted to examine another concern that has arisen in the wake of these revelations—that the scandal has hampered church leaders in other ways, particularly their ability to speak with credibility and authority. In the wake of the scandals in 2002, Francis Fiorenza, a Catholic studies professor at Harvard Divinity School, told a reporter, "One of the major tragedies of the recent scandals has been precisely the loss of moral authority at a time when such moral authority is most needed."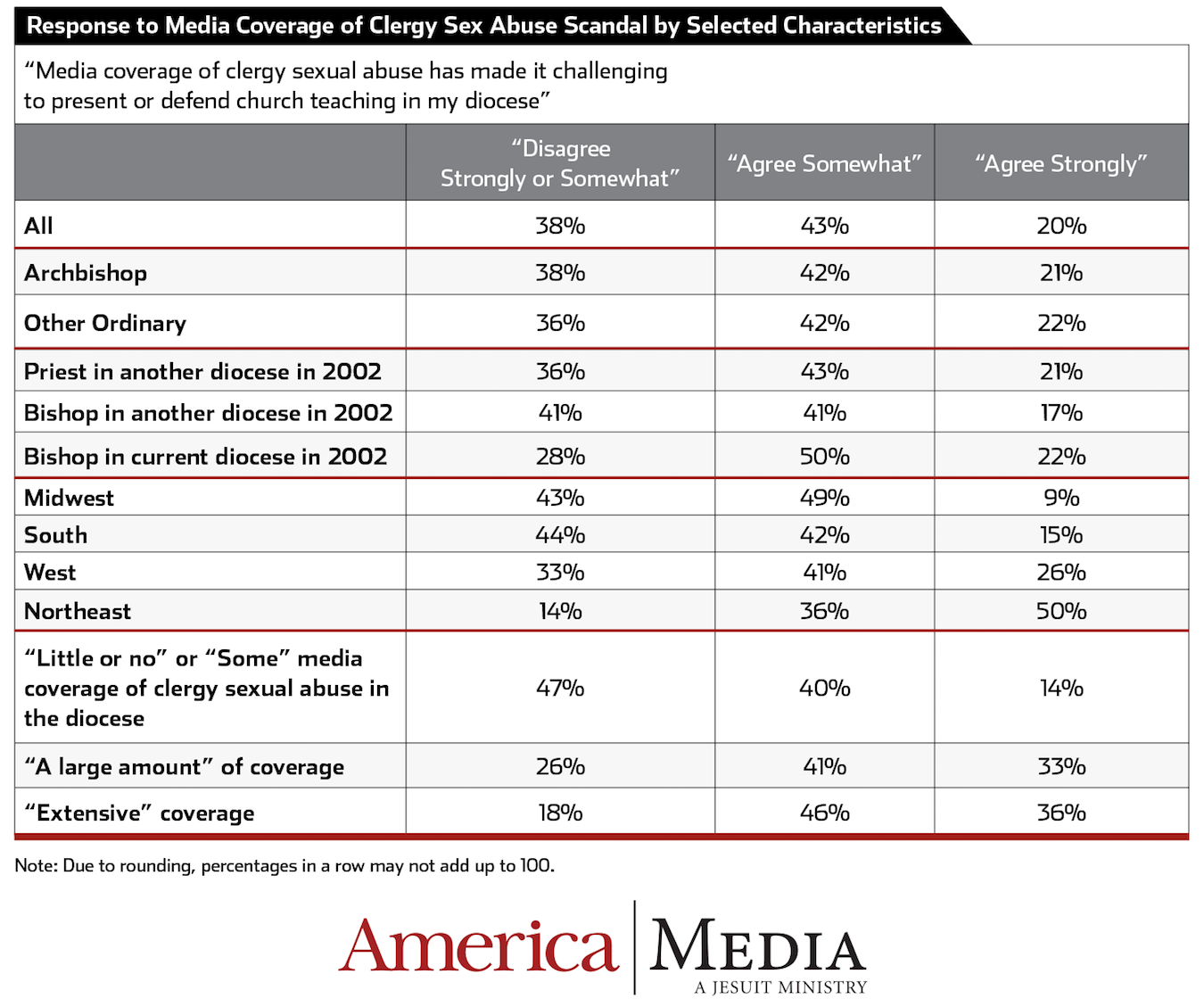 Are people now disregarding what the bishops have to say on issues of the day? In the survey we asked bishops to agree or disagree with the following statement: "Media coverage of clergy sexual abuse has made it challenging to present or defend church teachings in my diocese." A majority agreed, with 43 percent agreeing "somewhat" and 20 percent agreeing "strongly." Thirty percent disagreed "somewhat," and just 8 percent disagreed "strongly." The table above shows the relationship between these responses and several other factors. There is no significant difference between archbishops and other ordinaries. And somewhat surprisingly, those who were already bishops in their current dioceses in 2002 do not significantly differ from those who were bishops in other dioceses or who were still priests in other dioceses. We had expected that those who were already bishops at the time of the scandal, especially if they were then in their current diocese, would be fighting a stronger headwind in this regard.
On the sexual abuse crisis: "Sometimes people use it as a club to beat you over the head about any issue you talk about."
Instead, what seems most important is the region of the country where a bishop's current diocese is located. Bishops in the Northeast were significantly more likely than those in other regions to agree "strongly" that it is challenging to present or defend church teaching due to the scandal. This finding seems consistent with CARA polls of lay Catholics taken during 2002. Catholics in the Northeast region expressed considerably more awareness and anger regarding the scandal than Catholics elsewhere. Some of this may be proximity to Boston (where the scandal received major news coverage in 2002) and greater exposure to news from that archdiocese. Further, we suspect that secular news media in other Northeastern cities were particularly aggressive in their reporting of the scandal so as not to be shown up by The Boston Globe. Indeed, the table above shows a correlation between difficulty defending church teaching and the amount of media coverage bishops said has been directed at the scandal in their diocese. We asked a bishop in the Northeast if he still heard negative comments from the laity in his diocese about the 2002 scandal:
We do get comments, and sometimes people use it as a club to beat you over the head about any issue you talk about. Whether it's care for the poor, immigration, or whatever the issue, there will be some people who will throw that back at you and say, "You know what? You should take care of your own [abusive] priests."
Criticism and Pushback From Laity and the Media
Of course, criticism from lay Catholics is not uncommon in the life of a bishop. One told us that preaching at Mass is the only thing he is not criticized for. However, when controversial issues are at play, tempers can run particularly high. In personal interviews, we asked bishops if they ever experienced negativity from laity due to stances taken by themselves as individuals or by the bishops collectively. Most could readily recall being on the receiving end of anger. A bishop described such an instance to us:
Just prior to the invasion of Iraq, I issued a pastoral letter saying that as far as I could judge, the war was going to be unjust and therefore participation in it was going to be immoral.... My letter was pretty positively received by priests of the diocese. But there was one parish with a lot of police and ex-military parishioners. The pastor there instructed everyone to read the letter without comment [during a Mass], and it was a fairly lengthy letter. He said it turned into a reaction like the prime minister in Parliament: boos and heckling. [After that] I got a few irate letters.
Another bishop talked with us about reactions to the church's opposition toward efforts to legalize same-sex marriage in his state:
Same-sex marriage has been quite the hot button issue [in my diocese]. Most people know where the church stands. Of course, I have gotten some negative correspondence from people who disagree with our stance. Where I get the most questions about this is from kids at schools, usually from non-Catholic kids who attend our Catholic grammar schools. I do my best to articulate our teaching in a way that they can understand.... Most of the drama around this issue occurred here before I was named as bishop here. My predecessor had to deal with the state [debate] on same-sex marriage. He took the brunt of the heat that the media and the general public directed towards the church. It was truly sad and actually frightening to learn of the vehemence directed towards him; he even received death threats. Some horrible graffiti was scrawled on the walls of the cathedral and the chancery office.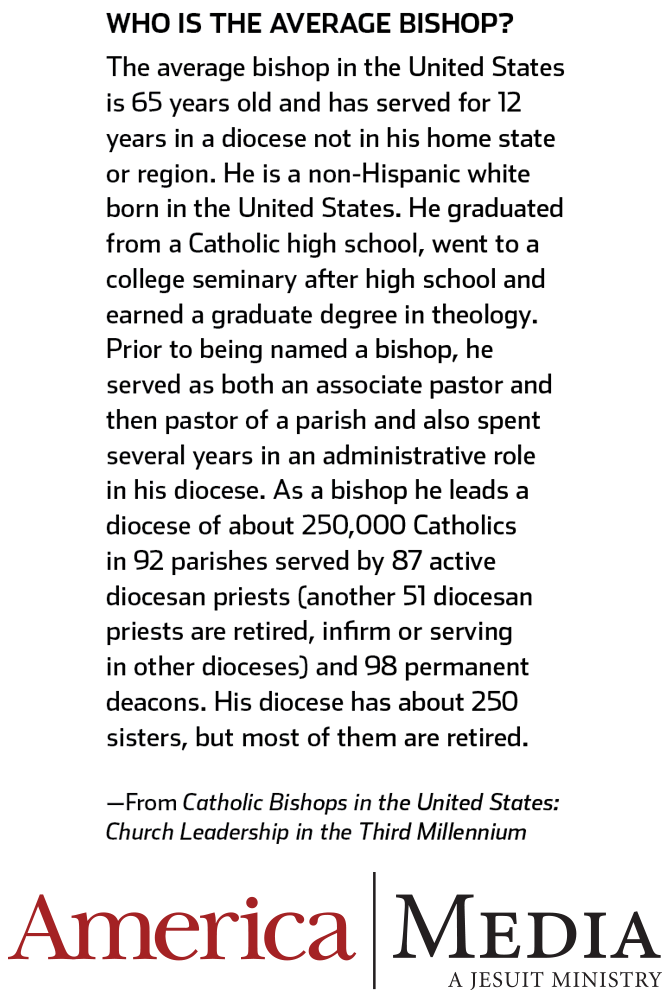 One bishop we interviewed told us he tries to avoid speaking about politics or political issues because of the conflict it can cause with laity. Most bishops, however, are more apt to speak their minds and then take a respectful and pastoral approach with those who disagree. One says:
There is some negativity with [the church's stand on] cultural issues. If you are not with the crowd [on these issues], you are accused of being "judgmental" with folks. That's a reason for what Pope Francis is trying to model for bishops and priests. If you are accompanying your people, then difficult situations are not as negative because the people understand the teachings of the church in the light of the Gospel.
Another bishop also emphasizes the importance of respectful engagement with those who take exception to the church's positions:
I just had a letter from somebody that didn't like our, the bishops', statement on immigration. This is the second time somebody wrote me a letter about that. I wrote back and said, "Number one, I'm thrilled you read the statement." [Laughs]. I said my grandma's name was Loretta Catherine _____ [an obviously Irish surname]. She used to work for German Protestants, and they wouldn't hire the Irish. This was in the days before Social Security.... I'm talking about 1910: "Irish need not apply." She changed her name to Gertrude because it was more conducive [to being hired]. Loretta Catherine was too Irish, too Catholic. I said, "What would this policy have done to her?" And plus, you have to wrestle with: "I was a stranger and you welcomed me." So, anyway, negative things do come across my desk.... But I try to put a positive spin on it, and I try not to take it as a personal attack on me. I try not to get flustered.
"If you are not with the crowd, you are accused of being 'judgmental' with folks."
One factor raised by several bishops we spoke with is whether a diocese is located in an area where people are relatively religious or relatively secular. Bishops tend to perceive the press as being more hostile to Catholicism in secularized areas. For example, we asked a bishop in a Southern and very religious state whether criticism in the secular media has been a problem for him. He replied:
Nationally, yes [media negativity is a problem]. Locally, no, because I try to foster relationships with the local media. I've taken the editor-in chief of the local newspaper out to lunch.... And I try as much as possible to be very upfront with the press. When we do anything, we issue a press release. For example, a few years ago the economy here was really struggling. Over a million dollars of our operating budget dried up. So that necessitated layoffs in our pastoral staff.... Companies in the area were laying off too, but we knew that ours would be of particular interest [to the media]. We created a press release for the local newspaper, and I was available for questions, as was our chancellor. They got the press release, and they called the chancellor and got all their questions answered. There was a front-page story in the local newspaper, but at least it was our story. We sent them all the information.
We spoke with a bishop in a relatively secularized and urban area. He has often spoken publicly with compassion about immigrants and the poor in our society, in addition to advocating a pro-life position on abortion and the traditional model of marriage. Local newspapers frequently label him a "conservative" or even "ultraconservative" bishop. If not unfair, this designation certainly lacks nuance. He described to us the hostility toward Catholicism in the local press, especially toward its traditional moral teachings:
I did have one particular instance of a direct attack against me when I had to intervene in an issue concerning the contracts of teachers in our Catholic schools. We were trying to make sure that they upheld Catholic morality not just in the classroom but also in their personal lives. Given the very secular nature of our area, this was a big news item for a while.... I was told that I was interfering in other people's private lives and that that was wrong. The way I saw it was that, just like people getting fired from their jobs for their personal positions on social issues, like the case of the owner of a professional basketball team who was fired for the racist comments he made.... He got fired for the awful comments he made using his own private phone and doing so on his own time, not company time. If a basketball team can have a moral philosophy, a moral position, why can't the church, which represents the teaching of Jesus Christ, have one?
We turned to the survey data to test whether or not media criticism is indeed a systematically greater problem for bishops in more secular areas. As we have seen, 44 percent of all the bishops said criticism in the secular press or media is "somewhat" of a problem for them, and another 18 percent said it is "a great" problem. The table below shows how these responses vary by several factors. Under the heading "Religiosity of State," we created three categories based on the religious commitment of people in the states where dioceses are located, as measured by the Pew Research Center. Our survey results show little difference between relatively religious and relatively secular states in the likelihood that bishops said criticism is a "great" problem. However, there is a statistically significant difference in whether or not they said it is at least "somewhat" of a problem (50 percent of bishops in religious states, compared to 81 percent in secular states). Thus, it seems plausible that the media is indeed more hostile toward bishops in more secularized dioceses.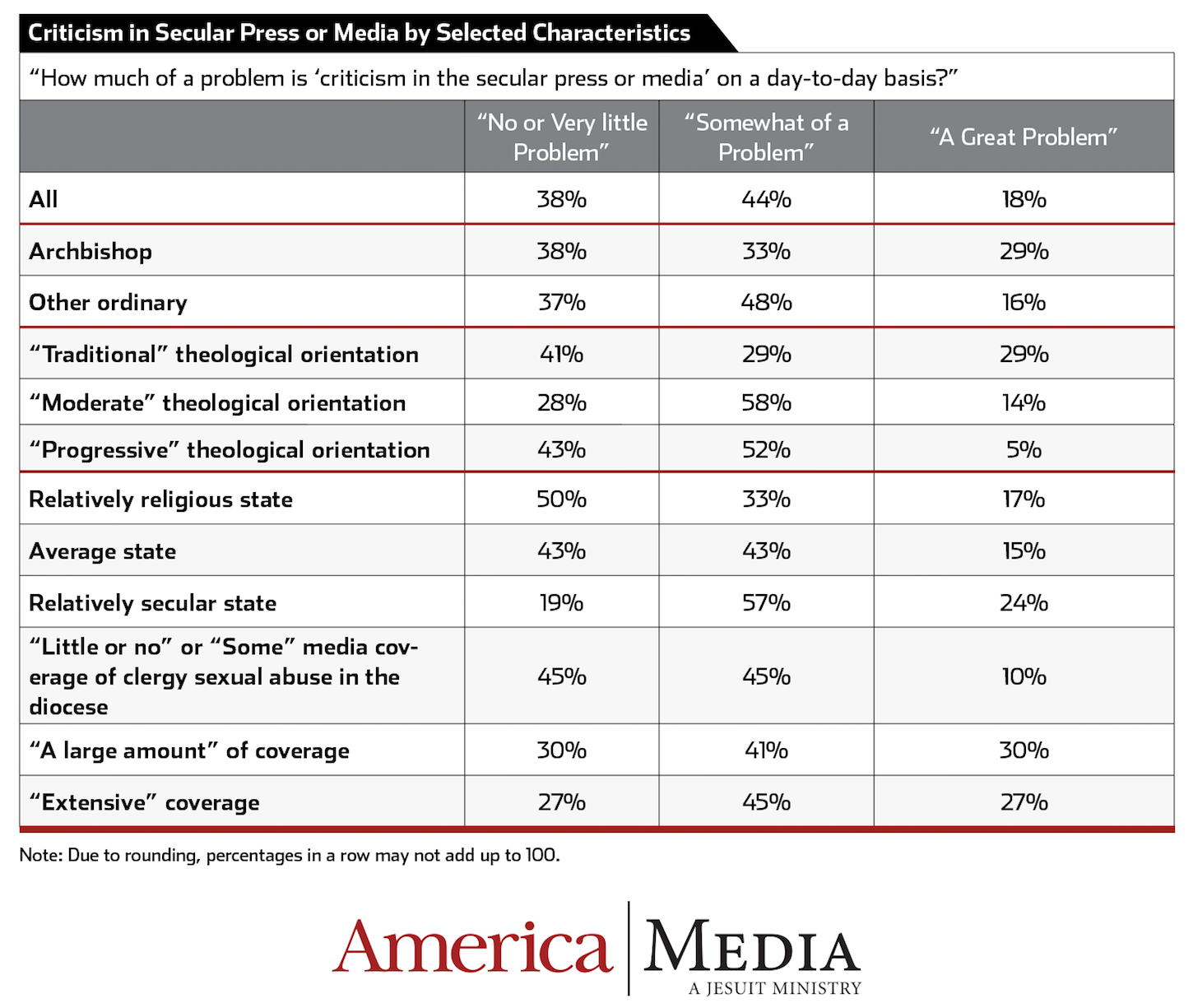 Among other notable findings, self-described traditional bishops are significantly more likely than progressive bishops to describe criticism in the press as "a great problem" (29 percent compared with 5 percent). Is this an issue of perception by the bishops themselves? It seems possible that traditional bishops genuinely receive more criticism to the extent that they become identified with the church's teachings on cultural issues such as abortion, homosexuality and contraception. Not surprisingly, bishops were also significantly more likely to say that criticism in the secular press or media is a great problem for them if the sexual abuse issue received relatively more media coverage in their dioceses.
To summarize, when the bishops speak out on issues of the day, they do so in their capacity as teachers of the faith. This is one of the central roles identified for bishops in the Catechism; survey responses suggest the role is important to them and that they take it seriously.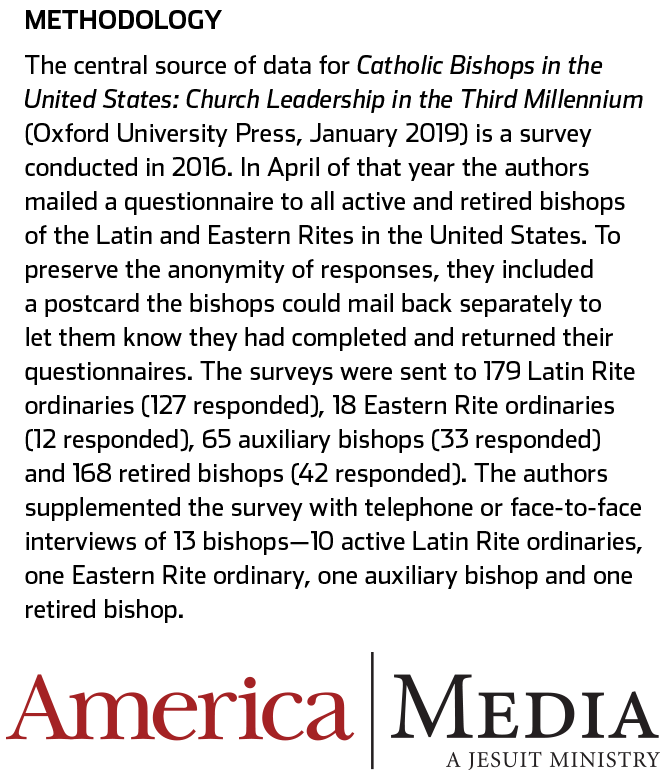 Rev. Stephen J. Fichter is the pastor of St. Elizabeth Church in Wyckoff, N.J., a research associate for the Center for Applied Research in the Apostolate and a professor at the Immaculate Conception Seminary at Seton Hall University in South Orange, N.J.
Thomas P. Gaunt, S.J., is the executive director of CARA; he has also served at the Jesuit Conference and the Maryland and New York Jesuit Provinces, and as a pastor and director of planning in the Diocese of Charlotte, N.C.
Catherine Hoegeman, of the Sisters of St. Joseph of Carondelet, is an assistant professor of sociology at Missouri State University and researches nonprofit organizations and leadership, focusing on religious organizations.
Paul M. Perl is a researcher for CARA, where he has worked on national surveys of lay Catholics and diocesan surveys of priests; much of his academic research examines how religiosity varies in different areas of the country.