Transitus: the little-known celebration of St. Francis Assisi's death
St. Francis of Assisi continues to capture the imagination of Catholics like few other saints: Thousands of Franciscans serve those in need, churches mark his Oct. 4 feast day with animal blessings and statues of his likeness adorn gardens all over the world.
Though fewer Catholics know about it, St. Francis' death is also memorialized every year. Transitus, which means "passage" in Latin, is an annual Oct. 3 evening service in which Franciscans mark the passing of the founder of their order.
"It's a reminder that our goal is to be united one day with God in heaven," said Nader Ata, O.F.M.Conv., the associate pastor of Assumption Church and director of the Franciscan Place in Syracuse, N.Y. "People think of death as something scary, and it can be. But we as Christians believe there is life after death."
"Transitus is...a time for the faithful to think of how we hope to die, in communion with God."
St. Francis was canonized just two years after his death in 1226, and Franciscan friars have celebrated the Transitus since the 13th century. The service varies from one community to the next, but it often includes a reenactment or recitation of the story of the saint's death; a reading of John 13:1-17, the Washing of the Disciples' Feet, which St. Francis requested read on his deathbed; and the singing of the "Canticle of the Sun," the song that Francis is believed to have completed in his final days.
Transitus services also usually include delicious almond cookies—St. Francis' favorite. Blessed Jacoba of Settesoli, a Roman noblewoman, would often bring these cookies to her friend, Francis. He asked for them as he lay dying, surrounded by friends.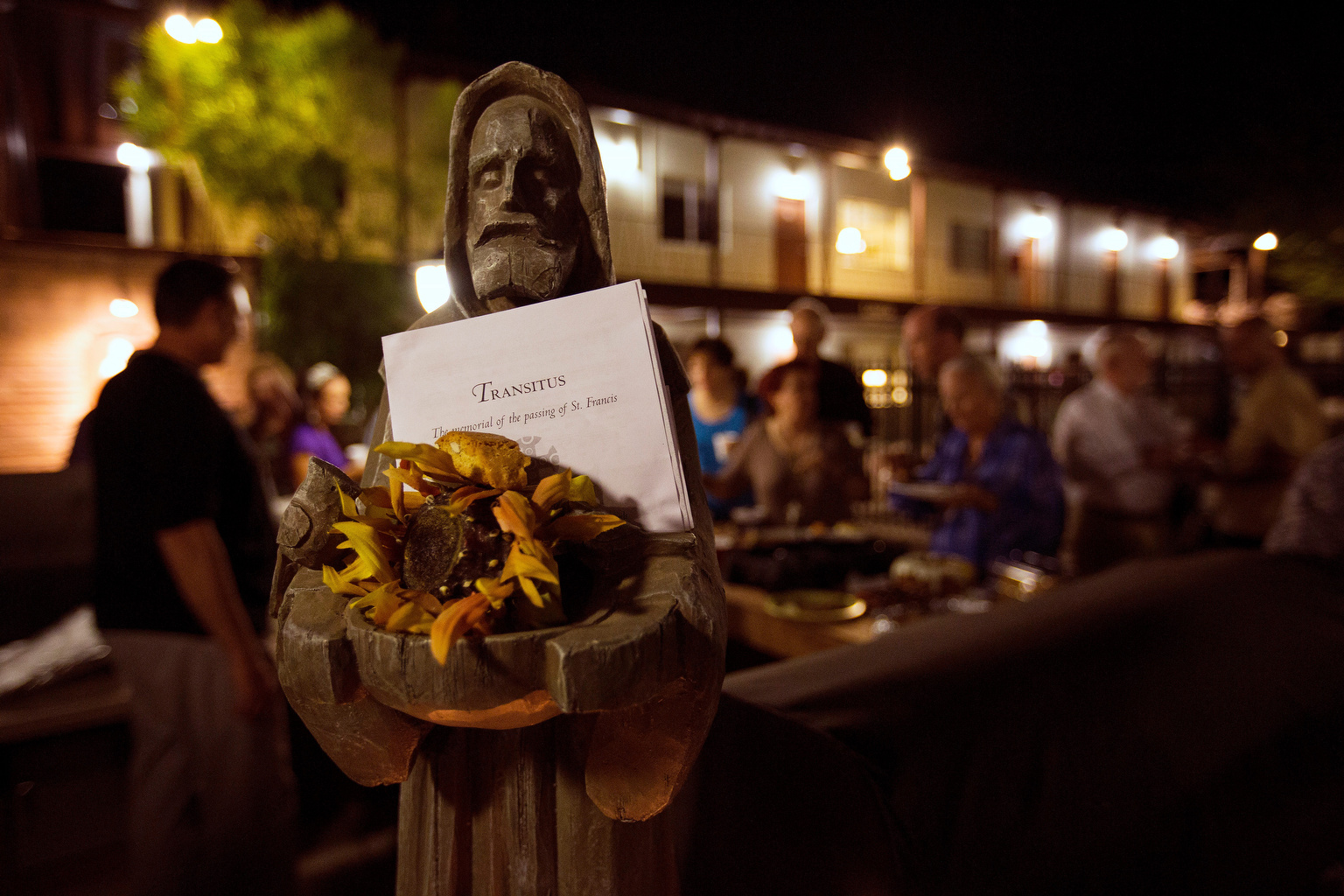 "We commemorate a man who followed Christ the best he could in the time he lived," Father Ata told America. "He even embraced 'Sister Death.' Even death can be a gift from the Lord."
Wayne Hellmann, O.F.M.Conv., the provincial of Our Lady of Consolation and former medieval history professor at St. Louis University, described St. Francis' theology as incarnational. That is reflected in the crèche, or Nativity Scene, which St. Francis developed in the town of Grecio, according to St. Bonaventure. The incarnational theology is reflected in St. Francis' love for all creation and is also demonstrated in his death.
"In a culture where we use things and throw them away, Francis calls us to see humans and animals as creatures of God."
"The transformation [to be more like Christ] includes an identification with Christ in the tomb," Father Hellman said. "To be dead is to follow Christ who was dead. It's the act of following Christ into eternal life. In a way, the Transitus is a way to celebrate the completion of his journey. It's a time for the faithful to think of how we hope to die, in communion with God."
Upon his death, St. Francis' body was publicly displayed. His stigmata, which he had received two years earlier, was revealed, Father Hellman said. It was another sign of his identification with Christ.
"I've done what is mine to do. May Christ now teach you what you are to do," St. Francis said on his deathbed. These words are often part of the Transitus service, Father Hellman said.
Hundreds of stories came together in the century after St. Francis died, he said. The saint was inspired by the missionary Gospels to lead others to a life of preaching, prayer and poverty.
"Francis called us to look beyond the labels of people and see them as children of God," Father Ata said of Franciscans. "In a culture where we use things and throw them away, Francis calls us to see humans and animals as creatures of God. The Earth itself isn't something we can just use. It is a gift that we need to cultivate."
The annual Transitus service, he said, is a way for Franciscans and others to remember and celebrate the life and teachings of this medieval saint.