Father Hans Zollner: Post abuse crisis, how can we get back to our Christian roots?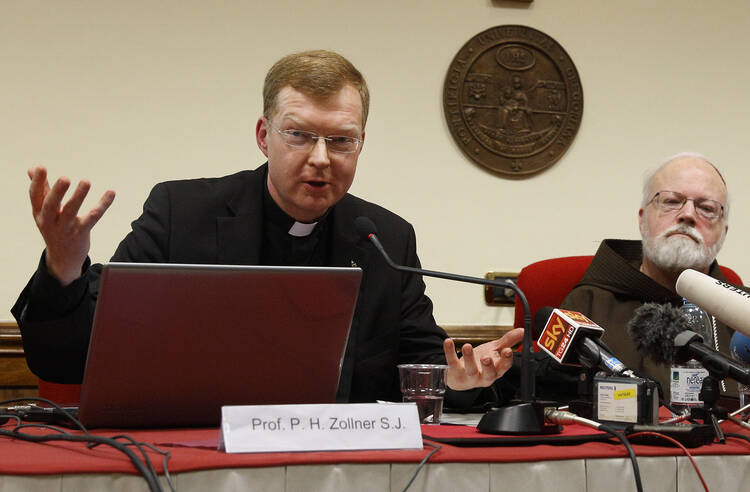 Jesuit Father Hans Zollner, president of the Center for Child Protection at the Pontifical Gregorian University in Rome, speaks at a news conference officially launching the center in February 2015. Also pictured is Cardinal Sean P. O'Malley of Boston, head of the Pontifical Commission for Child Protection. (CNS photo/Paul Haring)
Hans Zollner, S.J., is a licensed German psychologist and psychotherapist with a doctorate in theology and one of the church's leading experts in the area of safeguarding minors. He is the president of the Centre for Child Protection at the Pontifical Gregorian University in Rome, a member on the Pontifical Commission for the Protection of Minors and a consultor to the Congregation for the Clergy. 
America spoke with Father Zollner in July and followed up recently as the sexual abuse crisis in the United States continues to roil the church. This is the first of three interviews James McDermott, S.J., is conducting about the abuse crisis.
What is your reaction to what we've seen in the United States and elsewhere over the last month?
The strongest impression I have is that it has now reached another level. The discussion and the awareness and the intensity, especially in the United States, is very surprising because you have gone through this for many years already. And it brings out the American [social and political] divisions that are visible in the country and in the church.
But why is it so shocking for so many, left and right of the divide? It is because the extent of the cover-up by church leaders in the past and their co-responsibility for it (no matter what their ideological persuasion) are becoming clearer now. And then the question is how people deal today with all these issues.
The McCarrick issue I also see somehow linked to the #MeToo movement insofar as #MeToo gave people permission to really confront the untouchables, to get at those persons you never dared to talk about or accuse. Those who were once attributed with "divine personalities" are now within reach—close enough to be questioned and criticized.
And when it comes to the church, the main focus is no longer on abusive priests but on bishops who covered up. That is something very new, very recent. It has been there, yes, but the intensity now shows there is another level of sensitivity and another level of need for transparency and authenticity.
It is interesting to hear you talk about how the untouchables have become altogether approachable now. The attacks on the pope would seem like the ultimate expression of that.
Yes, the pope is no longer untouchable. And I think that is a result, first, of Pope Benedict's resignation, which has shown as clear as daylight that a pope is a human being. He has demystified the papacy by stepping down; then Pope Francis' being so real, so accessible, is certainly also one of the factors that allow people to feel entitled to attack the popes, very personally (and without, I would say, the necessary respect).
And I believe this is precisely in the line of Francis' understanding of the papacy, of the episcopacy and of ordination—sacrosanct priests are now a thing of the past. Just as you can criticize politicians and other officials if they don't do what they're supposed to do, you can openly speak about the hierarchy's failings.
The extent of the cover-up by church leaders in the past and their co-responsibility for it are becoming clearer now.
What do you think are the next concrete steps the church in the United States has to take?
I would say the bishops need to commit to a code of conduct, and procedures need to be put in place in case there are more allegations of cover-up.
It could be a model for the whole church, if they committed themselves to a process. For example, there is a bishop that is accused. Okay, we will call together a jury, or whatever you might call it, of people, a mixed commission, and they will sort out things; they will test the allegation and if there is a confirmed allegation, okay, we report to Rome. A consequence of such a proposal could also be that they determine procedures in Rome. Pope Francis, with his motu proprio "Like a Living Mother," has made a start, but we don't know whether that was followed through and what kind of process is in place in case an allegation comes up.
What do you mean by "a mixed commission"?
Laypeople, priests, bishops—all experts who are capable of taking evidence. One of the problems that we have is that in canon law we don't have a detailed and clearly defined list of punishments for clearly defined crimes, so we will need that. We will need to know what will be the concrete measure of punishment for a bishop who has covered up abuses.
Also, let's say you're at a Catholic school and it is "Brother Brown" who abuses. To whom do you write? It is not the Congregation for Clergy. It is not the Congregation for Doctrine. It's the Congregation for Religious because we're talking about a brother, not a priest. But again, until now the punishments for a non-cleric who has abused a minor are not specified. There is no church-specified punishment for any layperson either. That is also something that I would say we need to revise.
At a recent talk you mentioned the Vatican II-era "Catacomb Pact" as a reference point that could be useful to bishops today. Could you elaborate on that?
Forty-two bishops of the Second Vatican Council met together at the end of the council in one of the early Christian catacombs and committed themselves to a simple lifestyle, to giving away signs of power and prestige, effectively giving away control and asking for lay men's and women's involvement in decision-making commissions. And they committed to prioritizing pastoral work that put vulnerable people at the forefront.
We are at a moment of real crisis in the church. I think nobody can deny that. So what does it mean? We need to come back to our roots. And the roots have always been the simple, committed and consistent lifestyle that Jesus Christ lived and asks us to live, focusing our attention on God and our neighbors, not on our own seemingly indispensable comfortableness and signs of power, prestige and privilege.
It means really sharing power, asking lay experts for advice and following it, having functioning checks and balances in church administration, not showing favoritism when choosing personnel, promoting honest and constructive feedback, forgoing personal favors and privileges.
The martyrs buried in those catacombs remind us that the Gospel costs something, sometimes death. But even if there is no martyrdom in the physical sense, at least there can be some kind of evidence in our own lives that following Jesus Christ has a cost.
What do you wish bishops understood right now?
I hope that bishops understand now once and for all that they have to live out what their mission and responsibility is—morally, canonically and spiritually. And beyond sheer and simple compliance: Are they determined and committed with their whole heart to do whatever can be done so that no more people are harmed and all who have been harmed receive justice?
I think it is no longer enough to invest a little bit more, to apologize with different words, to show more contrition. The time has come for a much deeper change, in Christian terms for "conversion of the heart."
That means following wholeheartedly Jesus' call to put the most vulnerable ones at the core of our attention and mission. This is not an add-on—as it has been handled until now by many—as if it were an additional task that needs to be addressed now, but after some time we can go back to our "real" ministries. This is the DNA of the church and needs to be automatically in all our thoughts, planning and actions.
My point has always been that the law alone does not solve problems. Yes, we need standards and strategy. But culture eats strategy for breakfast, and law does not change culture on its own.
People are not complying with the law (e.g., they commit murder, cheat, although they know it's wrong and will be punished), and why are they not compliant? Because they aren't really convinced. With regards to safeguarding, there is an interplay between policies, norms, procedures and guidelines: canon law on one hand and on the other one's attitude and willingness to cooperate—not because I am compelled to but because I readily and spontaneously and naturally do whatever can be done so that young people are safe and those who have been harmed receive all the help and support they are entitled to.
Yes, we need laws, and therefore I have suggested to canon lawyers that they consider clearly defining what is punishable and how will it be punished and not leaving all the space for discrimination and decision making to the senior judge, as it is now. But we need also a change of culture and attitude in the sense of "I am prepared to do whatever can be done and to pay a high cost, a cost that may be as high as my removal from office, to do all I can so young people are safe."
I've heard you talk about the need for theologians to play a part in this conversation as well. Can you explain that?
The role of theologians would be and should be that they reflect on the presence of this evil, all the consequences for the victims, for secondary victims, for the church that is impacted by this abuse crisis. How can it be that the Church of Jesus Christ has brought about in its leaders so much evil, self-preservation, lack of courage and negligence of the lives of children that went unnoticed or repressed or denied or covered up?
Also, a major question theologically for me: What is the role of the priest today? What does a priest do today? We see in most countries, in the West at least, that they do all kinds of things that don't have to do necessarily with priestly pastoral and spiritual ministry. They do administration, bureaucracy, organization, for which they don't receive specific training and supervision. Can you bring from within the theology of priesthood (and you may add episcopacy) what is essential and how should it be defined today?
In the same line: How do we understand being a church in the world today? What do we need to learn in relationship to modern society, modern science, modern administration? There is a model of theology that is disconnected from all this, and people may say theology is a completely different cup of tea, but do we not need to reflect within the context of the day-to-day life in which we live?
For example, in an era of mass communications, of social media, of transparency, of authenticity, etc., don't we need to reflect on its impact on our faith life, the relationships among us, our relationships to God?