When a 5-year-old Irish boy saw a heavenly apparition: the story of Knock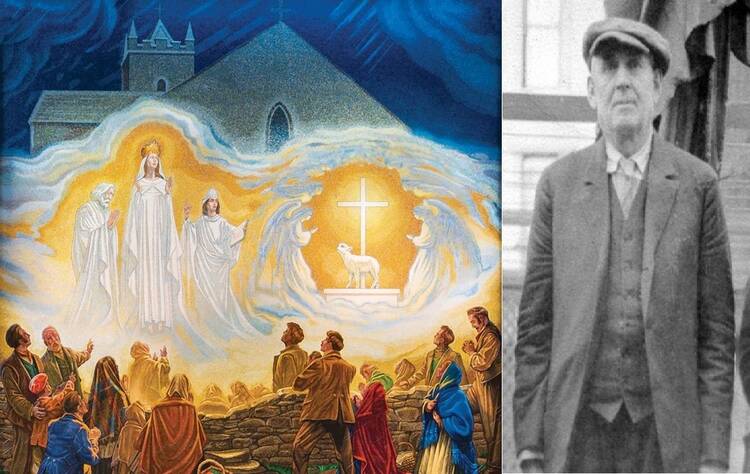 The mosaic at the left represents the Marian Apparition that was seen in Knock, County Mayo, Ireland in August, 1879. Created by, P.J. Lynch, it is made of 1.5 million pieces (Source: www.catholicireland.nee.) The photo on the right is of John Curry (1874-1943) who was the youngest witness of the Apparition at Knock. (Source: The Knock Shrine)
Anyone who grows up Catholic knows about the many devotions to the Blessed Virgin Mary and the places throughout the world where she has been seen—events which are known as apparitions. Ask any Catholic to name a Marian apparition site, and they would likely rattle off the obvious ones, such as Lourdes, Fatima and Guadalupe. But mention another one, namely Knock, and you might come across a couple of blank stares. Knock?
This Marian Shrine, located in the West of Ireland, is not so well-known or understood. That is unfortunate because it is special in so many ways. And because of his great devotion to Mary, Pope Francis will be spending a few precious hours at the Basilica of Knock in County Mayo while he is in Ireland this weekend attending the World Meeting of Families.
Many Catholics can recall the stories of Juan Diego and his cloak with the abundance of roses and the image of the Virgin imprinted upon it, or the young Bernadette beholding the Blessed Mother in the grotto. But not everyone knows about a 5-year-old Irish boy named John Curry (along with 14 other witnesses) who saw an amazing sight at the gable of a church on a dark, dreary and stormy night in the village of Knock on Aug. 21, 1879.
Pope Francis will be spending a few precious hours at the Basilica of Knock in County Mayo while he is in Ireland this weekend.
The apparition occurred on that August evening for about two hours, between about 7 p.m. and 9 p.m. Even though it was raining heavily, the bright vision shone before the few people who came to notice the tableau before them: the Blessed Mother with hands raised and eyes uplifted, St. Joseph (with a "steel-gray" beard, turned toward his spouse) standing to her left and St. John the Evangelist (with a miter on his head and a book in his hands) to her right. And beside them, an altar with a cross and the Lamb of God upon it.
The Marian apparition at Knock is notable for many reasons. The first is that it occurred in an Ireland that was still feeling the social and political ramifications of the famine years of the 1840s. The second is that of all the Marian apparitions, this was the first and only time when Mary did not appear by herself. Lastly—and most notably of all—unlike the other apparitions, Mary did not speak one word. She was silent.  
The fact that it was raining did not deter the small group from gathering, amazed at what they saw. In a way, they were like the Wise Men and the shepherds on Christmas night when they beheld something special. Praying the Rosary, the 15 people that gathered that night would remember what happened for the rest of their lives. The eldest of the group was a 74-year-old woman and the youngest was John Curry. While young John was held up by his 11-year-old cousin to get a better look, Patrick Walsh simply stood there in the middle of his field—just a mile away—staring in wonder.
"The child says he saw images, beautiful images, the Blessed Virgin and St. Joseph." 
In time, everyone who was present at the apparition presented testimonies as to what happened and what they saw. Fourteen gave their testimony in English and one was given in Irish. Even John Curry was asked to give his impressions. As the official report said: "The child says he saw images, beautiful images, the Blessed Virgin and St. Joseph. He could state no more than that he saw the fine images and the light, and heard the people talk of them, and went upon the wall to see the nice things and the lights."
Some 10 days after the apparition, the first miracle was recorded: a 12-year-old girl from nearby Claremorris, Delia Gordon, was cured from deafness and violent pains in her left ear. From then on, faith in Knock and what happened there grew.
John Curry was a simple laborer who never married but held on to the faith he grew up in.
Today, the simple village church has been incorporated into the modern-day Basilica of Knock. The basilica, completed in 1976, is a focal point of Irish faith and belief. During the anniversary of the apparition every August, pilgrims from all over come to pray, worship and beg for healing. And this August, a special pilgrim—Pope Francis—will appear before the gable and lead everyone in the Angelus prayer. Like his papal predecessor before him—St. John Paul II in 1979—he will behold the representation that once held simple villagers spellbound and pray for intentions we all desire: peace, unity, reconciliation and good health—in mind, body, and soul.  
But that is not the end of the story. What happened to the youngest of the witnesses, John Curry?
Though he beheld a miraculous sight, he led an inconspicuous life. Like many an Irish person before and after him, John Curry emigrated, first to England, then to America to seek a better life. He was a simple laborer who never married but held on to the faith he grew up in. His working life was spent as an attendant at City Hospital on Welfare Island, later known as Roosevelt Island. In his later years, he lived in the Sacred Heart Home, a group home for older indigents run by the Little Sisters of the Poor on East 70th Street in New York.
He humbly served as a sacristan, lighting the altar candles without anyone ever knowing his having been a witness to a heavenly sight (except for the time he gave further testimony in 1937 for an Irish commission). He would charm others with stories, told in his thick Irish brogue, and delight when coming across anyone from his home county of Mayo. He was 68 when he died in 1943 and was buried in the Cemetery of the Resurrection, in Farmingdale, Long Island, owned by the Little Sisters of the Poor.
However, he was not to be forever buried in obscurity in an unmarked grave. When Cardinal Timothy Dolan of New York led a pilgrimage in 2015 to Knock, he was told the story of John Curry by the pastor of Knock parish, Father Richard Gibbons. People in the land of his birth and the land of his adoption set about to right a neglect. Eventually, the remains of John Curry were removed from his grave on Long Island and reinterred in Old St. Patrick's Cathedral in lower Manhattan, with Cardinal Dolan presiding. Making sure that his memory was honored, a distinctive memorial slab recalling his presence at the apparition was unveiled.
Every Marian apparition has a purpose and a meaning. Perhaps the silence of Knock has a message for our turbulent times, especially for the Catholic Church today, which is roiling from its own sins. When Mary, St. Joseph and St. John appeared, they did so to a people who were clinging to their faith despite a time of hardship, suffering and deprivation. It symbolized something important and concrete: the everlasting accompaniment and solidarity between God and man, one which does not need words or speech—the belief that despite everything, God is with us.