Infographic: Generation groups and religion
Younger Americans are leaving the Catholic Church and turning away from religious institutions altogether. That is the simplistic way of reporting the results of several major surveys, but some data also suggests that this trend is not irreversible.
The study "Going, Going, Gone," released earlier this year by St. Mary's Press and the Center for Applied Research in the Apostolate at Georgetown University, focused on young adults who were raised Catholic but have left the church. A major subgroup are the "drifters," who do not report poor experiences or ideological dissent from the church but simply find no value in faith.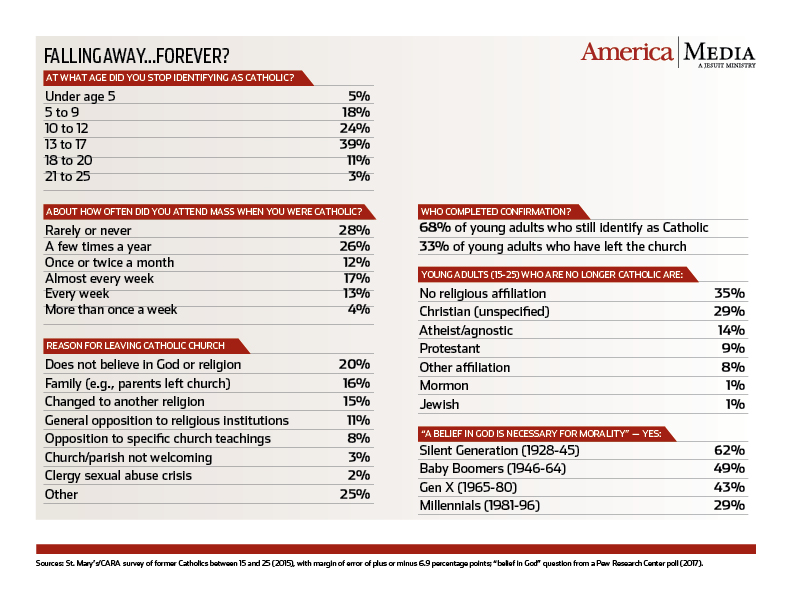 As the authors write, "A contributing factor in drifting away from faith is the lack of companions on the spiritual journey" and an absence of "peer or adult support." This lack of support shows up in some of the report's findings (click to enlarge the infographic at left): Most former Catholics had attended Mass no more than a few times a year, and only about one-third had received the sacrament of confirmation (compared with more than two-thirds of young adults who still identify as Catholic). A large majority stopped identifying as Catholic between the ages of 10 and 17, which means they "drifted away" before entering college or the workplace.
Other recent polls have shown skepticism toward religion and the moral necessity of believing in God among millennials and members of Generation Z (born after 1999). The Barna Group released survey results in January with the sensationalist headline "Atheism Doubles Among Generation Z," but only 13 percent of Generation Z proponents actually chose the atheism label, with 66 percent identifying with Catholicism or another religion.
We do not know yet whether youthful alienation from religion is permanent. Even Generation Z members may return to the pews when they start forming families, but this could be a more difficult return if they do not perceive other young adults joining them.
Sources: St. Mary's/CARA survey of former Catholics between 15 and 25 (2015), with margin of error of plus or minus 6.9 percentage points; "belief in God" question from a Pew Research Center poll (2017).