In an exceptionally isolated corner of western Alaska, where most people travel by snowmobile or dogsled, four recent college graduates from the lower 48 are tucked inside a small house known as KNOM, the oldest Catholic radio station in the country. Outside, the thermometer registers minus 40 degrees Fahrenheit. Broadcasting news, local weather, music and lessons in the Inupiaq language, capped off with the nightly rosary, these volunteers provide a lifeline to approximately 20,000 listeners spread throughout the town of Nome and surrounding villages. It is early March, and I have come to celebrate the birthday of my only son, Davis. He is one of these KNOM volunteers.
Each year, several 20-somethings make a commitment to a one-year internship in Nome. They undergo an extensive application and interview process to determine whether they have what it takes to thrive in an area where daylight dwindles to three and a half hours in December and the landscape remains frozen and white for about seven months of the year. Being Catholic or having an active faith life is not a requirement. Having an open mind and willingness to grow while serving the poor and marginalized in a culturally rich and challenging area is.
Advertisement
Voices in the Wilderness
Every morning since arriving in Nome I have walked out onto the frozen Bering Sea to greet the sunrise. Markers dot the landscape where crab pots have been lowered into holes dug into 40 feet of solid ice. Tiny shacks appear, evidence that miners dredge here in hopes of striking gold. In the late 1800s the Gold Rush put Nome on the map and increased its population to about 20,000. But as gold prospects dwindled so did the population; today there are fewer than 4,000 residents.
"Life is incredibly hard here compared to the lower 48. People need to pull together just to survive."
Along Front Street, one of only three roads leading out of town, I count several bars. With its harsh climate, limited job prospects and extravagant cost of food and necessities (groceries I purchased cost three times what I pay back home), it is easy to understand why the area deals with high rates of poverty and alcoholism. Domestic abuse also plagues some families. Despite these challenges, Nome boasts an immense sense of community.
"Life is incredibly hard here compared to the lower 48," says Ric Schmidt, the recently retired general manager of KNOM. "People need to pull together just to survive."
Mr. Schmidt worked at KNOM for 24 years and raised his six children here. He met his future wife, Lynette, when they were both KNOM volunteers in 1984-85. Although they returned to Oregon for several years, the Schmidts eventually made their way back to Nome.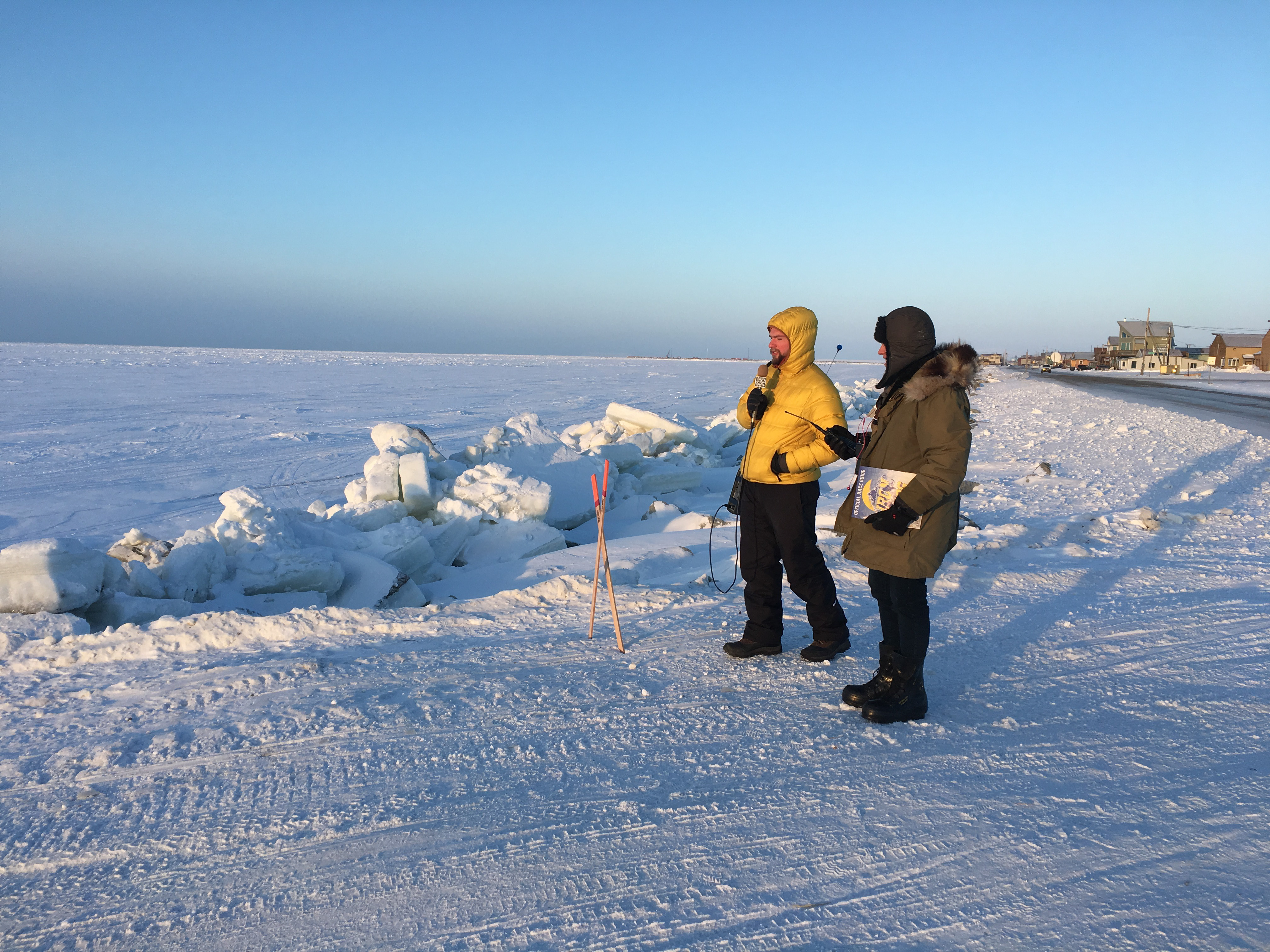 "The kindness I've experienced, the closeness to nature, the people showing up for each other...if you want to have a very enhanced life, you put yourself in a situation that matters," Mr. Schmidt says. "And this is it. I wanted my children to have that."
Covering an area of about 100,000 square miles from the Yukon Delta to the Bering Strait, KNOM's signal reaches the most rural stretches of the Alaskan bush, where no roads lead. "A bit of a North Star," is how Mr. Schmidt describes the station, which provides many listeners their only access to news and often their only communication with the outside world.
Through the years, heavy snowstorms; debilitating, dense fog; even volcanic eruptions have stranded residents, shut down the airport and stopped the delivery of mail and groceries to the town. In 2004 and again in 2005, Nome experienced back-to-back, once-in-100-years storms that knocked out electricity for as many as 134 hours in 2005 alone. Using backup generators, KNOM remained on the air, providing updates and emotional and spiritual support.
As a Catholic radio station, KNOM's mission is to serve by being a "respectful companion" to Alaskan native peoples.
With its inspirational spots, marine forecast and Village Hotline program, which broadcasts messages sent in by listeners, KNOM has quite literally saved lives, Mr. Schmidt says. "Sometimes it's a mom needing to hear a kind voice on the radio when she's alone and trying to reduce her child's 102-degree fever. Or a fisherman deciding not to take his boat out after hearing a storm is coming. And sometimes it's an alcoholic ready to kill himself and, in listening to the station, hears that God loves him and it turns his life around.... What we're doing is making a difference."
Seeing the impact of the station on the lives of listeners helped Margaret DeMaioribus discern she was being called back to fulfill KNOM's mission. Like Ric Schmidt, Ms. DeMaioribus started out as a volunteer. She served from 2012 to 2013 and then returned to her native Pennsylvania. Two years later she accepted a position as KNOM's outreach coordinator and news director. This June she took over Mr. Schmidt's role as general manager.
Ms. DeMaioribus said that as a Catholic radio station, KNOM's mission is to serve by being a "respectful companion" to Alaskan native peoples. More than 200 tribes of indigenous people live in the state, and western Alaska is home to several of them. "Historically, native Alaskans feel they have not been heard or cared about in the lower 48. Our job is to make sure their voices are heard," she said.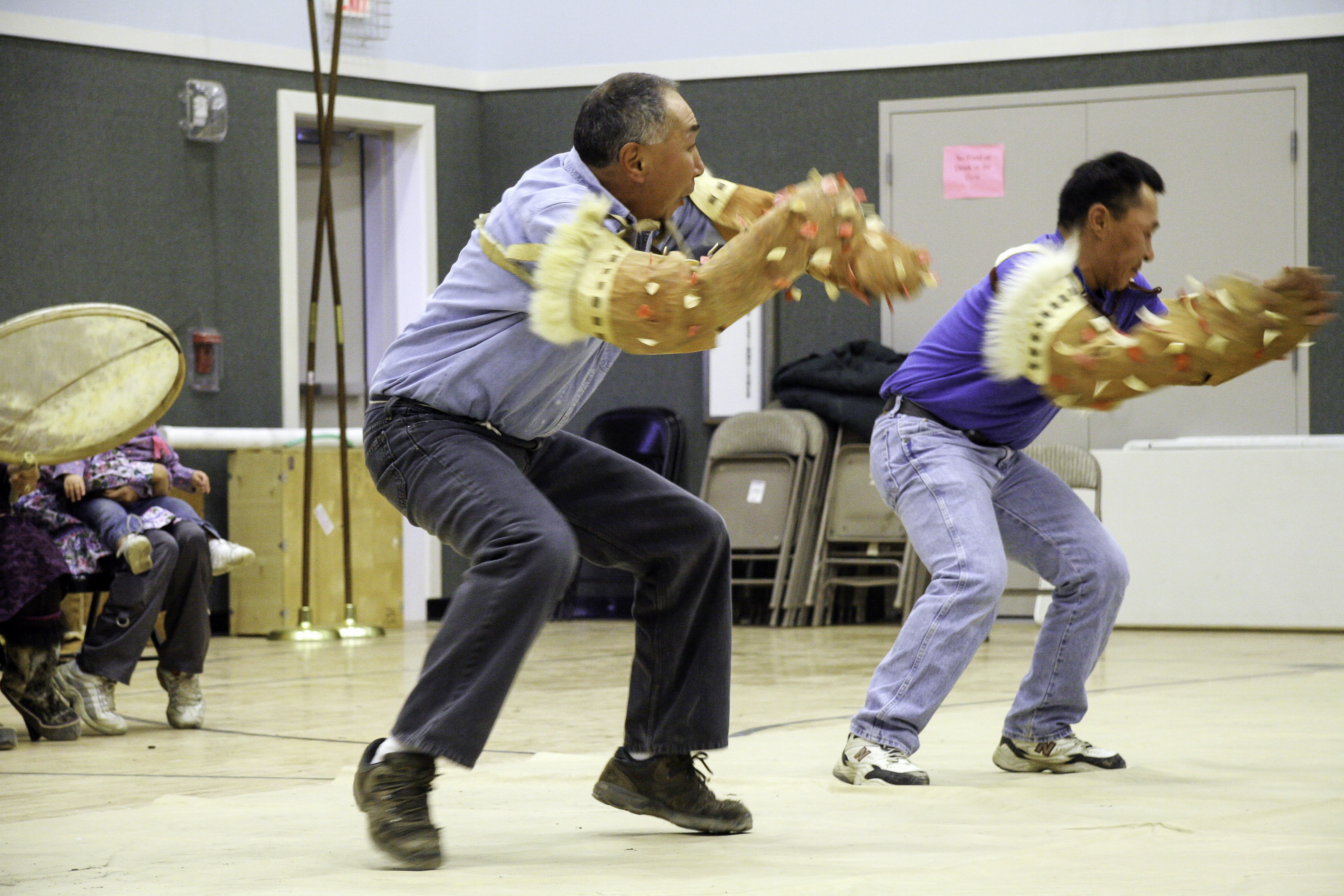 KNOM broadcasts traditional music, cultural events, storytelling and lessons in the Inupiaq language while also reporting on issues like climate change and opioid addiction, both of which are tangible threats to native lives. In the process, KNOM stays faithful to Catholic ideals by recognizing the dignity of the human person in how they report a story, promoting care for the earth and encouraging respect for elders—values shared by indigenous culture.
Roy Ashenfelter, a native Alaskan and lifelong Nome resident, has been listening to KNOM since it first aired. As a hunter and fisherman who relies on nature's resources for sustenance, he says KNOM's weather advisories are "vital." Beyond that, he is grateful for the traditional chanting and music KNOM plays.
"We've grown up listening to and learning from our culture," Mr. Ashenfelter explains. "When I hear certain Eskimo songs on the radio, they help me remember, and they connect me to that moment when I was out there hunting and the seal gave itself to me to be able to feed my family."
KNOM stays faithful to Catholic ideals by recognizing the dignity of the human person in how they report a story.
After a successful hunt, Mr. Ashenfelter says he always invites "as many people to eat with us as possible. When you share, you give back to the resources. And KNOM keeps you in touch with that tradition."
When possible, KNOM flies the volunteers to remote villages to cover the impact of environmental issues on the Alaskan way of life. My son, Davis, reported on a village that had to vote on whether they would relocate before erosion caused their land to disappear. He has visited villages that lack basic infrastructure and access to potable water. He has learned to use a honey bucket and met people living in conditions even more trying than in Nome, all of which have made him reset his priorities.
"Each time I speak to one of these native Alaskans, I am struck by the wisdom they have about their natural environment," he told me. "The sense of respect they have for each other and the land and animals is at the root of their lifestyle, and there is a general sense of welcome and generosity to anyone who is coming to live here, even if only temporarily."
From the Ground Up
Although the idea for a radio station had surfaced in Nome in the 1960s, it did not materialize until Tom Busch, a young broadcast engineer and graduate of Boston College, moved to Alaska in 1970 to build the station. Mr. Busch found the land for the transmitter tower and, together with dozens of volunteers, dug into the frozen ground for months, using their own equipment to get the tower planted and operational. He worked 12 to 15 hours a day to build the tower and get the paperwork for the Federal Communications Commission completed.
On July 14, 1971, Robert Whelan, S.J., the bishop of the Diocese of Fairbanks, Alaska, pressed "play" to transmit the station's very first program. That Sunday, Alaskans could tune in for Mass, broadcast live from St. Joseph's Church in Nome.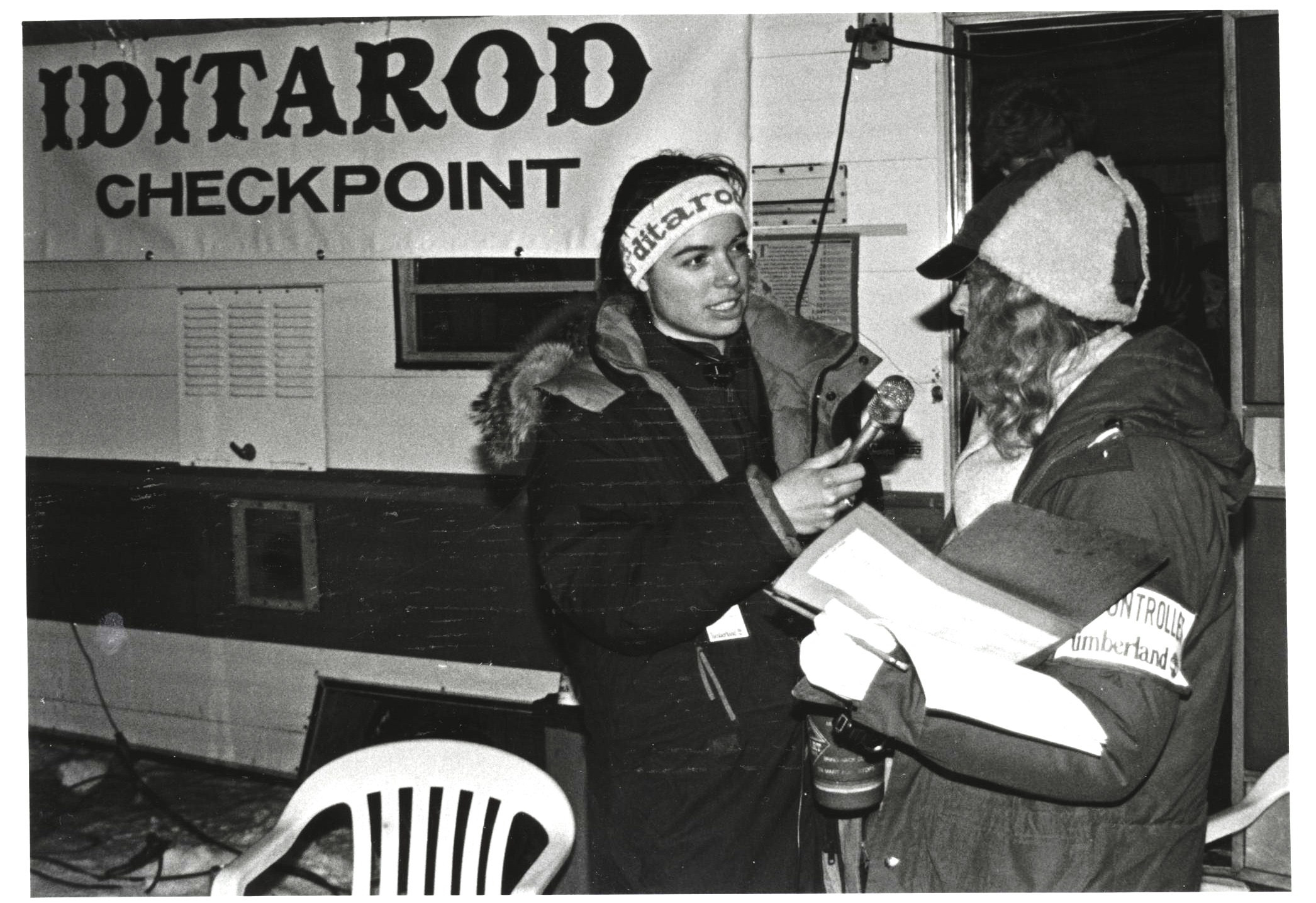 In its early years, KNOM had a unique partnership with the local hospital and the Jesuit Volunteer Corps. KNOM provided the hospital with much-needed doctors and nurses, who came to Nome as J.V.C. volunteers and donated their entire pay to keep the station running. In exchange, the volunteers received room and board at KNOM's community complex. That relationship ended in the early 1990s, and today KNOM is supported entirely by donors, many of whom live in the lower 48. Local fundraising is not an option, given the area's subsistence lifestyle.
"We have a very strong story to tell," Mr. Schmidt says, "and these donors feel that KNOM is a good investment."
Still, paying the salaries of six staff members and stipends for several volunteers every year, plus the day-to-day costs of running and maintaining the studio and community house, makes every day a financial struggle. "Sometimes, like earlier this year, we wonder how we are going to keep the doors open and stay on the air," Mr. Schmidt says.
Despite operating with a small staff and limited budget, KNOM has garnered numerous awards, including some from the Alaska Broadcasters Association, the Alaska Press Club and the Gabriel Award for Radio Station of the Year from the Catholic Academy for Communication Arts Professionals—an award they have received 19 times.
A Time for Growth
Coming to KNOM, with its impressive reputation and offer of exciting new experiences, might be considered a positive career move and, at the very least, an adventure. Volunteers get to cover the Iditarod—the annual 1,000-mile dogsled race that culminates in Nome—meet visitors from all over the world and view the breathtaking aurora borealis.
"Alaska is a unique place, and I think it takes a unique person to want to come up here," Ms. DeMaioribus says. In choosing the volunteers, she says she looks for "who is called" to dedicate a year to serving this region "in more capacities than they can imagine while being stretched in so many ways."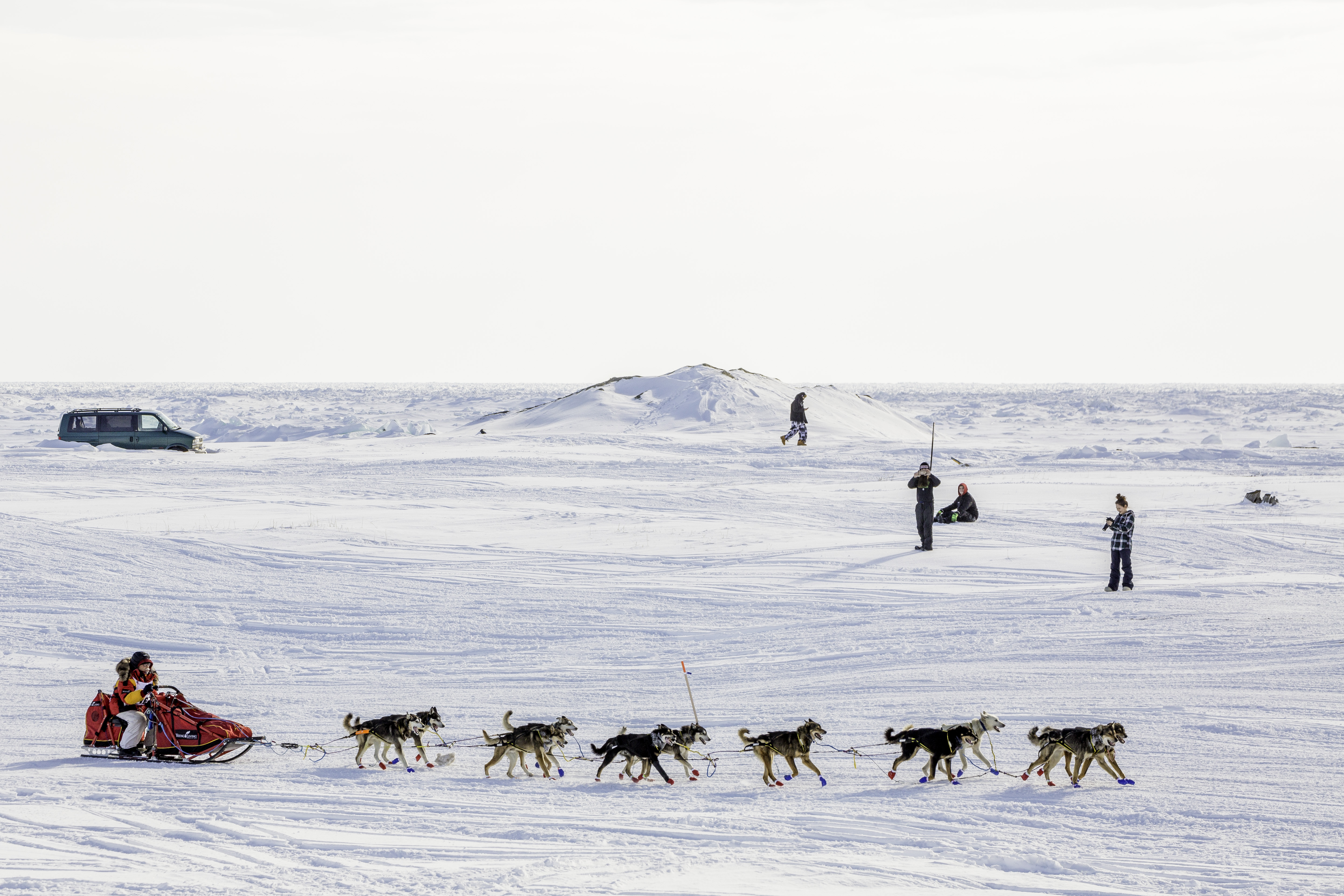 Living in community—both in the KNOM volunteer house as well as in the community at large—is one way volunteers are stretched. In this age of addictive social media, they must live with limited bandwidth and no cable TV, finding other options for entertainment during the long, dark winter.
I was impressed by how adaptable Davis and his fellow volunteers have been in the face of these challenges. Davis immersed himself in the culture, taking classes on sewing animal skins, learning to fillet salmon and joining local indoor soccer and basketball teams.
Karen Trop, who arrived from a small town in Pennsylvania, says she has been stretched well beyond her comfortable boundaries while maturing in her ability to understand and handle the world. "Seeing the people's subsistence lifestyle and intentional thought behind their hunting, collecting berries and firewood, their intentional ways of respecting nature and taking from its bounty have impacted me deeply," she says—so deeply, she has already committed to another year with KNOM.
In addition to housing, room and board, personal days and a stipend, KNOM provides three annual retreats off campus. No matter their religious affiliation, Ms. DeMaioribus asks the volunteers to take this time to reflect on the bigger questions: Where are you called to be? What is your purpose? Why are you here? How can you find solidarity with the people who live here and experience these challenges year after year?
Without realizing it, these volunteers are being exposed to Catholic ideals concerning the respect and dignity of life, as well as the need for discernment and reflection, for looking within oneself in the midst of darkness. They have benefited from this experience in ways they could not have imagined when they signed on. They have seen, up close and personal, the effects of climate change, the spirituality of the wilderness and the generosity and simplicity of impoverished indigenous people, all while remaining in the United States.
"For every year the volunteers spend here, I would compare it to three to five years of experience anywhere else because they are exposed to so much," Mr. Schmidt tells me. "I always like to tell the volunteers, 'You'll be unpacking this experience for the rest of your lives.'"Ten months into his commitment, my son, Davis, decided he could still use more experience. He has accepted the position of news director, which means he will be staying for at least another year. It looks like I will be returning to Nome.
Correction: Aug. 29, 2017
This article originally stated that the partnership between KNOM and the local hospital ended in the early 1980s. It ended in the early 1990s.