Young Jesuit killed in Cambodia to be considered for canonization
A young Jesuit who died shielding his students from a grenade blast will soon be on the path to sainthood, following Pope Francis' recent declaration that those who give their lives for others in situations of certain death can be considered for canonization.
Filipino Jesuit scholastic Richie Fernando worked as a missionary in Cambodia in Banteay Prieb, the Jesuit vocational training center for survivors of landmines and polio and people with learning disabilities. In October 1996 an emotionally distraught student brought a grenade to school. When he approached a classroom full of students, grenade in hand, Mr. Fernando grabbed him from behind. The student, Sarom, dropped the grenade, and the explosion killed the young Jesuit. His body had shielded Sarom and the other students from the blast.
Mr. Fernando had written to a friend about his students months before his death: "I suddenly find myself feeling great love for them. If only I could follow Christ's ways. If only I could help all of them as God would…. I hope I could offer my life to them to the fullest."
"I hope I could offer my life to them to the fullest."
Totet Banaynal, S.J., was Mr. Fernando's best friend. He described Mr. Fernando as an ordinary man, helpful and intelligent, who liked to play basketball, swim and run. In his letters to Father Banaynal, Mr. Fernando shows himself to be a jokester as well: He recounts several stories about people mistaking him for a security guard, driver or someone who does not speak English, and he plays along until he surprises them in the end.
Father Banaynal and Mr. Fernando exchanged hundreds of letters, the last of which Mr. Fernando wrote four days before his death. Father Banaynal received it a week after Mr. Fernando's funeral. 
In this letter, Mr. Fernando writes about his struggles with and hopes for the students:
You know, Tet, to be honest, I don't feel like stopping. I honestly feel inspired to face the problems, the people, the truth though difficult and painful…In other words, Tet…I know where my heart is.... It is with Jesus Christ…Jesus who gave his all for the poor, the sick, the orphan, etc…. I am confident that God never forgets his people…our disabled brothers and sisters. And I am glad that God has been using me to make sure that our brothers and sisters know this fact….

I honestly believe that to die for our poor friends here will be the greatest gift that God can give us. And I continually pray for this grace every day.
When Father Banaynal learned of Mr. Fernando's death, he immediately wrote on the Jesuit community's chalkboard, "Please pray for the soul of Br. Richie Fernando who died in Cambodia this morning."
"Of all the many announcements that I have written on this same board, this was the most painful announcement I ever wrote," Father Banaynal said. "I did not cry, but tears were welling in my eyes; there was anger in my heart.… Then slowly, throughout the day, details of Richie's death came.… And when I saw how he gave his life, I felt some assurance and subdued consolation."
"To die for our poor friends here will be the greatest gift that God can give us."
On July 31, Antonio Moreno, S.J., provincial of the Jesuits in the Philippines, announced that the Jesuits would formally pursue Mr. Fernando's cause for canonization.
"Since his death, various expressions of devotion to Richie have sprung up and continued, not just in the Philippines and Cambodia, but in other places as well," Father Moreno wrote. "Considering Richie's life and the faith-inspired responses to it and his death have evoked...the Province has explored the feasibility of considering his cause as an inspiration for young people in our times."
According to Father Banaynal, some of these responses to Mr. Fernando's death include an inspirational video on his life that is shown to young people, a story of his life in a public school textbook and seminarians citing Mr. Fernando as the inspiration for their vocations.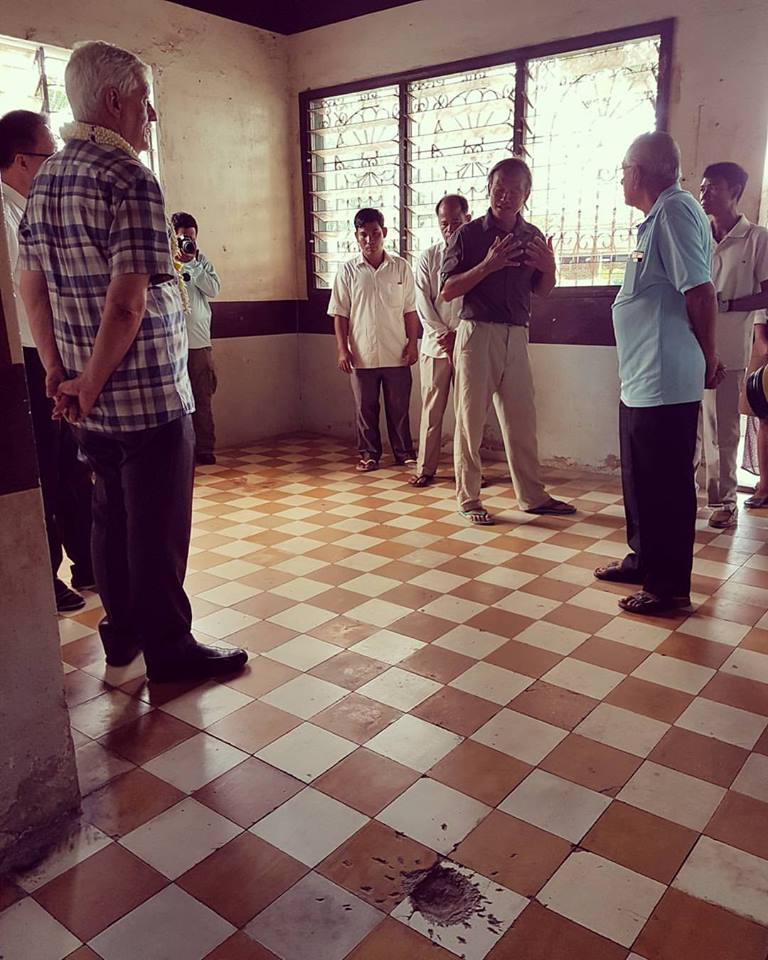 Father Banaynal has not been involved in the efforts to advance Mr. Fernando's cause for sainthood; however, "as a Jesuit and Catholic, it is my duty and responsibility to testify about Richie Fernando and how, despite his limitations as a human person, he has consistently devoted himself to God and the service of others."
The Jesuits' decision to pursue the cause comes after Pope Francis announced a new path to canonization on July 11 for people who "have offered their life voluntarily and freely for others and have persevered in this to death."
In order to be beatified on this new path, Mr. Fernando must be found to have offered his life freely out of charity in a situation of certain, premature death; practiced the Christian virtues; have a reputation for sanctity, at least after death; and to have a miracle attributed to his intercession.
The beatification and canonization processes would then proceed according to the norms Pope John Paul II laid out in 1983.
Father Moreno wrote that the Jesuits' superior general, Father Arturo Sosa, supports pursuing the cause for Mr. Fernando's canonization. The Jesuits' postulator general will represent the cause in Rome, and Father Moreno will recommend a vice-postulator to handle the cause locally. The postulator general will ask the bishop of Phnom Penh, where Mr. Fernando died, to transfer jurisdiction over his cause to the Jesuits. The Jesuits will also work with the Diocese of Novaliches in the Philippines.