"Population jihad" is among the preoccupations that trouble some of the darker corners of the internet. Not familiar with the expression? In briefest terms it means that territory not claimed by followers of Islam through conquest or conversion will simply be overrun with, well, more babies.
Those concerned by such matters were fed some new data to stress over in April when the Pew Research Center released a report on the projected population growth of the world's major religious groups. While Christians retain a hold on the top spot—and will do so for decades—Pew predicts that by 2035 the number of babies born to Muslim parents will "modestly exceed" those born to Christian parents: 225 million to 224 million.
Advertisement
That fertility edge will compound quickly. According to Pew's projections, Muslims will move from 24 percent of the world's population in 2015 to a nearly equal population share with the world's Christians by 2060—31 percent to Christians' 32 percent. (Christians are currently at 31 percent.)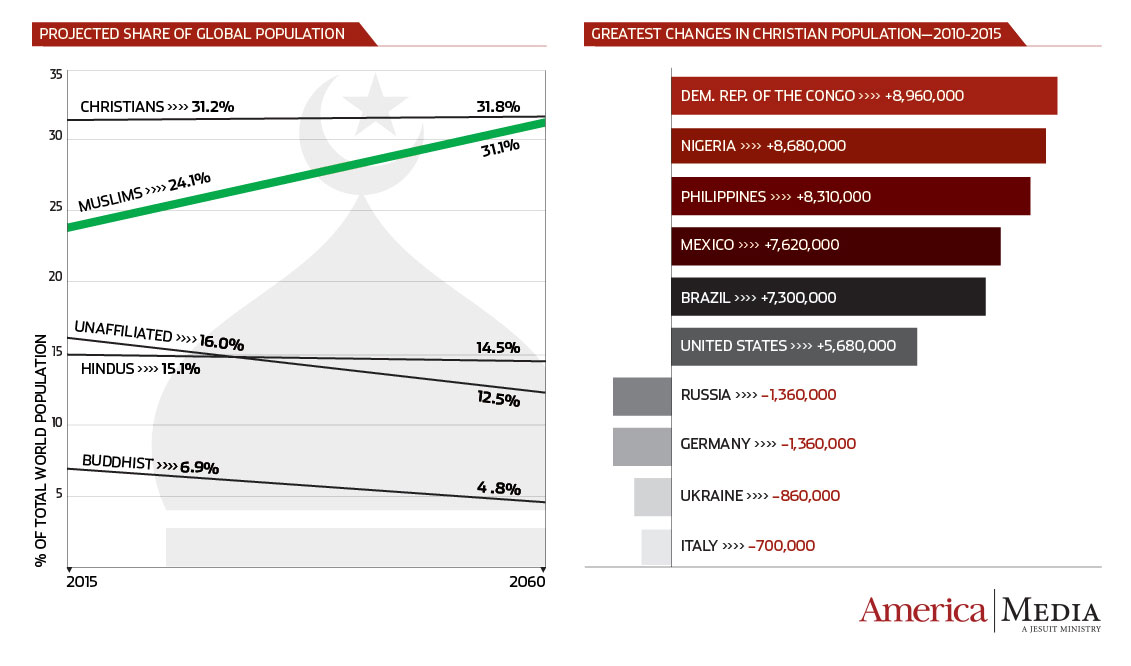 According to Pew, there were 2.28 billion Christians across the globe in 2015. Among them, according to a Vatican estimate released the same week as the Pew update, are 1.29 billion Catholics—17.7 percent of the global population. The 2015 number represents a 7.4 percent increase in world Catholic numbers over 2010. The Vatican reports the most growth in Africa during that timeframe, up over 19 percent to 222 million. Europe's Catholic population declined slightly, and in the Americas and Asia Catholic numbers were up by 6.7 percent and 9.1 percent, respectively.
In Europe the Christian population is dying faster than it is being replaced (with a few exceptions, including France and Ireland). In North America, the number of Christian deaths will begin to exceed the number of births to Christian parents by around 2050.
Pew notes: "These trends signal that much of Christianity's future growth is likely to be in the global South, particularly in sub-Saharan Africa—the only region where natural increases in the Christian population are expected to grow even larger in the coming decades."
Pew's projections could be off, of course. Muslim birth rates could decrease in developing nations following the pattern in economically advanced Europe; conversely, Christian Europe could rediscover the joys of parenthood. But if current trends continue, by 2060 the world's two largest religious bodies should be about three billion each. Will those vying numbers inevitably lead to greater geopolitical tension, as some fear?
There are signs of hope that the "clash of civilizations" predicted by the late political realist Samuel P. Huntington, can still be avoided. Across Iraq and Syria, Muslims are dying in efforts to tamp down the extremism of ISIS. And after suicide bombing attacks on two Coptic Christian churches in Egypt on Palm Sunday left 49 dead, outraged Egyptians of all faiths posted messages of solidarity with Copts on social media, using an anti-ISIS slogan: "Your terrorism brings us together."
In the United States, a survey from Georgetown University's Bridge Initiative suggests a hard path to harmony ahead. A Bridge report released in September found that Catholics often have negative or limited views about Islam. More recent analysis produced a further surprise. Young Catholics were not much more likely than older Catholics to know other people personally who were Muslim.
The Center for Applied Research in the Apostolate at Georgetown University conducted the survey. "Usually when CARA looks at Catholic data, there are huge differences by age, ethnicity," said Mark Gray, senior research associate at CARA. "We don't see the same differences in this survey that we'd expect. This shows that the attitudes/beliefs are generally widespread across the population."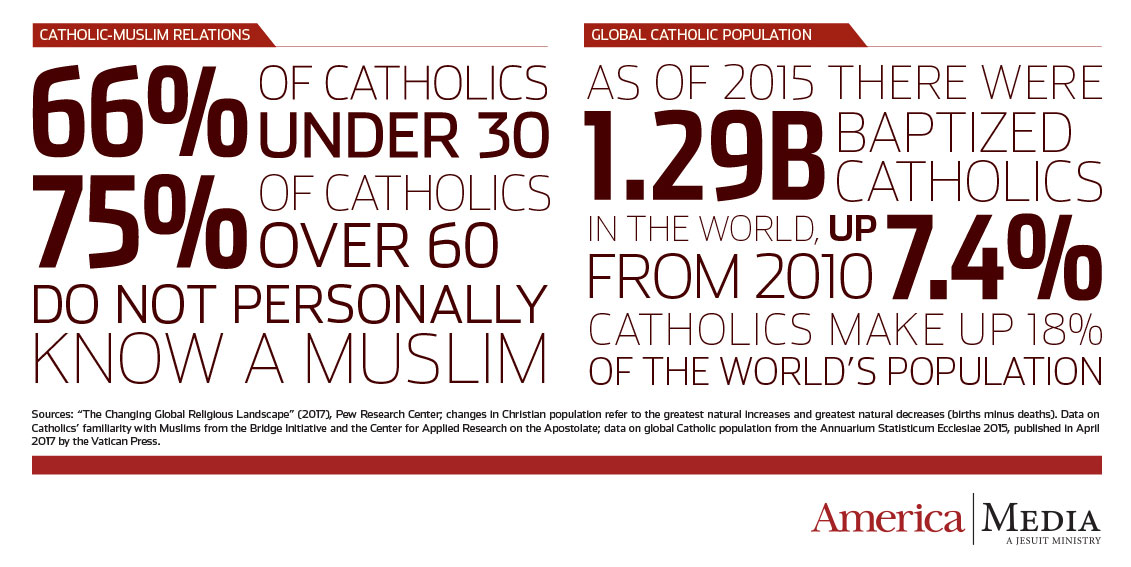 The negative views about Muslims germinate from news reports of violence in the Middle East, about the only exposure many Americans have to Islam, said Jordan Denari Duffner, a research fellow at the initiative. Those views are nurtured by fear-mongering on the internet.
Catholics do not hear as often about the millions of Christians and Muslims who coexist peacefully in the Middle East and Muslim-majority nations outside the Arab world, she said. Nor do they hear about Muslim efforts to respond to extremist violence, which has taken a much greater toll on Muslims themselves than on non-Muslims.
Finally, Ms. Denari Duffner added, a look back at the Catholic population's own history in the United States, where similar anxieties about a Catholic takeover were once stoked by Protestant nativists, offers some needed perspective.
"What our data points to are two things," said Ms. Denari Duffner. "One, the need for more person-to-person connections and, two, the need for increased religious literacy." It seems Catholics not only do not know much about Islam or life in Muslim societies, they often do not know what the church teaches about Islam and other faiths, particularly the church's attempt through the Second Vatican Council's "Declaration on the Relationship of the Church to Non-Christian Religions" to seek commonalities and express esteem for Islam.
Better relationships with Muslim people as neighbors, friends and fellow community members and better information could help deflect the clash-of-civilizations trajectory too many in the Christian and Muslim worlds seem willing to accept, Ms. Denari Duffner said.
That is, after all, perhaps a self-fulfilling prophecy that Pope Francis has been making great efforts to push back against in word and deed. This year he again included Muslim people in the rite of the washing of feet during the Holy Thursday Mass of the Lord's Supper in Rome.