Master of wars: U.S. arms sales lead a world of conflict
On March 8, the Trump administration reversed a decision made by its predecessor to suspend guided munitions sales to Saudi Arabia. The Obama administration had grown weary of gruesome headlines generated by what critics described as indiscriminate use of U.S.-made weapons by Saudi coalition forces in operations over Yemen.
A mostly Arab coalition pulled together by the Saudi kingdom has been supporting Yemeni government forces against Iran-supported Houthi rebels in Yemen for three years. The conflict, described as a "quagmire" by a former State Department official, has led to more than 10,000 noncombatant fatalities, according to the United Nations. Yemen now teeters on the edge of famine as the ongoing conflict disrupts what was already a barely functioning state.
Critics wonder if the Trump administration's reversal signals a more tolerant attitude in Washington toward the possibility of collateral damage in the various conflicts that U.S. weapons sales help sustain. Restored sales to the Saudis will represent just a fraction of total U.S. arms transfers this year.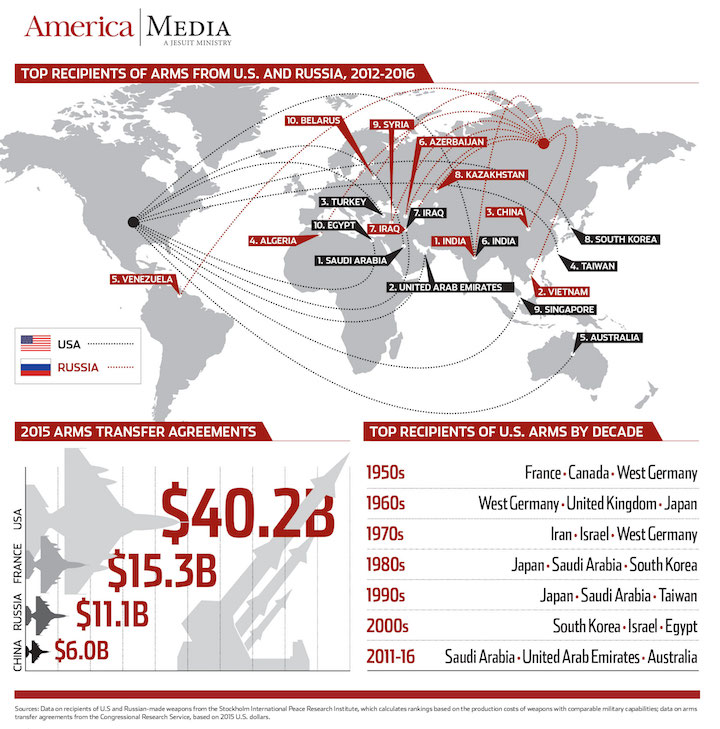 The United States is well-known as the world's biggest spender on arms and weapons systems. Catholic bishops have regularly denounced as a moral scandal a defense budget measured each year in the hundreds of billions; $657 billion is the anticipated request for 2018, a 10 percent increase over 2017 spending.
Less noticed is the nation's status as the world's top merchant of arms and the government's role as facilitator in that market. With a 33 percent share—roughly $38 billion in 2016—the United States dominates an annual global weapons export market that has topped $100 billion. "The USA supplies major arms to at least 100 countries around the world—significantly more than any other supplier state," Aude Fleurant, director of the Arms and Military Expenditure Program at the Stockholm International Peace Research Institute (Sipri) reported in a press release in February.
In a historic address in Washington on Sept. 24, 2015, Pope Francis told Congress:
Being at the service of dialogue and peace...means being truly determined to minimize and, in the long term, to end the many armed conflicts throughout our world…. Here we have to ask ourselves: Why are deadly weapons being sold to those who plan to inflict untold suffering on individuals and society? Sadly, the answer, as we all know, is simply for money: money that is drenched in blood, often innocent blood. In the face of this shameful and culpable silence, it is our duty to confront the problem and to stop the arms trade.
The pope's address drew ovations in Washington. That year the United States once again led the world in arms transfer agreements, signing deals for about $40 billion, according to a congressional study—half of all sales that year in the global arms bazaar.
In fact repeated moral denunciation of arms transfers has done little to restrain the lucrative trade. Sipri reports that global arms transfers last year reached a volume not seen since the end of the Cold War.
Russian provocations in Ukraine and the continuing threat posed by ISIS have proved significant drivers of U.S. weapons sales. The ISIS boom, in fact, has propelled Middle Eastern states to top spots among U.S. arms customers, despite historically low prices for oil, which had been a significant drag on arms sales. U.S. and European arms merchants have been the primary source for weapons bound for the Middle East, a volume of arms transfers that has almost doubled over the last five years, Sipri researchers say.
While big weapons sales attract headlines, the world's small arms trade supports about half of all global killing annually, according to an analysis by the Geneva Declaration on Armed Violence and Development. The United States is no slouch in that department either, ranking as both the world's top exporter and top importer of small arms, according to the Geneva-based Small Arms Survey.
At a conference on March 2 at the United Nations reflecting on Pope Francis' message for the 50th World Day of Peace, Marie Dennis, co-president of Pax Christi International, argued that the arms trade is one powerful component of a geopolitical infrastructure that helps drive conflict. The event was sponsored by the Holy See's Permanent Observer Mission to the United Nations. Ms. Dennis said more intellectual and financial investment is needed to develop effective nonviolent approaches to peacekeeping and peacebuilding.
"Repeatedly since 1945 the U.N. has been confronted with an enormous challenge, facing complex and dangerous situations with relatively underfunded or underdeveloped nonviolent strategies," she said. "At the moment of crisis—in Aleppo or Mosel, Rwanda or the Balkans, the Philippines, Haiti or South Sudan—we have time and again opened a toolbox that is flush with military might, but woefully underinvested in the tools of active nonviolence."
The two-year-old U.N. Arms Trade Treaty represents a first, multilateral effort to restrain the global arms trade, perhaps setting the stage to address that imbalance. But the major arms exporters Russia and China have refused to sign on, and the United States, though a signatory, has yet to ratify the treaty and is unlikely to do so anytime soon. Persisting global insecurity and the big profits generated by the ongoing arms market surge suggest progress on arms trade restraint will be hard-won in the near term.