It has been a year since Pope Francis released "Amoris Laetitia," his apostolic exhortation reflecting on the insights of the 2014-15 Synod on the Family. Someprelateshave responded by reevaluating their stance toward groups like the divorced and L.G.B.T. Catholics. Othershavevigorously protested against the same.
But in the United States, the momentum of those years of conversation seems to have diminished. Awash in the controversies and policy decisions of a new political administration, it is hard for anything else to find oxygen. Many Catholics also now find themselves struggling with much more immediate concerns.
Advertisement
Archbishop José H. Gomez of Los Angeles began work on his new pastoral letter "For Greater Things You Were Born" long before the election. Yet its shadow looms. "It is the end of a long and divisive year," Archbishop Gomez writes, "in which our national elections exposed some of the darker inclinations in our culture…. We face many troubles and injustices in our society: the sad persistence of racist thinking and practices; the bitter divisions along lines of money and education, class and family background; our cruel indifference to the sufferings of immigrants within our borders; the coercive agendas to redefine marriage and sexuality and 'normalize' abortion and euthanasia."
Archbishop Gomez: "I write to share my hope with you."
Yet Archbishop Gomez does not offer an indictment of American society. Nor, in the wake of "Amoris Laetitia," does he wish to spend time relitigating the church's teachings on marriage or human sexuality. Standing before the conflicts in which we find ourselves, he says, "I write to share my hope with you."
The source of Archbishop Gomez's hope in "For Greater Things" is absolutely familiar. "The whole Christian religion comes down to one truth," he writes. "We believe in a personal God who wants to share his life with us, a God who comes in search of us, who calls us to seek him and comes to help us find him."
But whereas for most of us the familiar soon loses its vitality, for Archbishop Gomez the world remains suffused in the wonder of our initial revelation. "Why would the eternal and Almighty God go to such extremes," he asks in astonishment, "to empty himself and make himself totally available and vulnerable, to put himself out there as a helpless infant? Why would he allow himself to be handed over to endure rejection and violence at the hands of the creatures that he himself created? What could make God do that?"
Only love, the archbishop says. "Love is why God creates each one of us. We are not made as anonymous members of the human race. To each one of us, the living God continues to speak words of love."
"To each one of us, the living God continues to speak words of love."
And Archbishop Gomez's awe is not reserved to God. "Alone among all earthly creatures, the human person can build computers, fly into outer space, and discover the inner workings of the human body and mind. Alone among all creatures, the human person can write songs and poems, make paintings and symphonies. And alone in the material universe, the human person can love, sacrifice and offer worship to his or her Creator." 
"We must learn again to see what the saints can see," Archbishop Gomez writes, "that the human person is something marvelous in the universe. You and I are God's masterpiece, each of us made in his image as a unity of body and soul."
God has plans for each of us, he notes elsewhere, "great plans for your life, plans for love and plans for your glory! You are something special to God—each one of you. There is nobody like you and there is nobody who can replace you!"
For Archbishop Gomez, it is in living out of that felt experience of God's love that we discover what is essential. So we can discuss the "'nuptial' character to the body," our "need to rediscover the authentic meaning of marriage"; "but," he insists, "it is also important for us to rediscover the authentic meaning of friendship." He notes St. Gregory's image of his relationship with St. Basil: "It seemed as if we had one soul in two bodies." "This," Archbishop Gomez writes, "is what all of us can hope for in our relationships with persons of the same or opposite sex."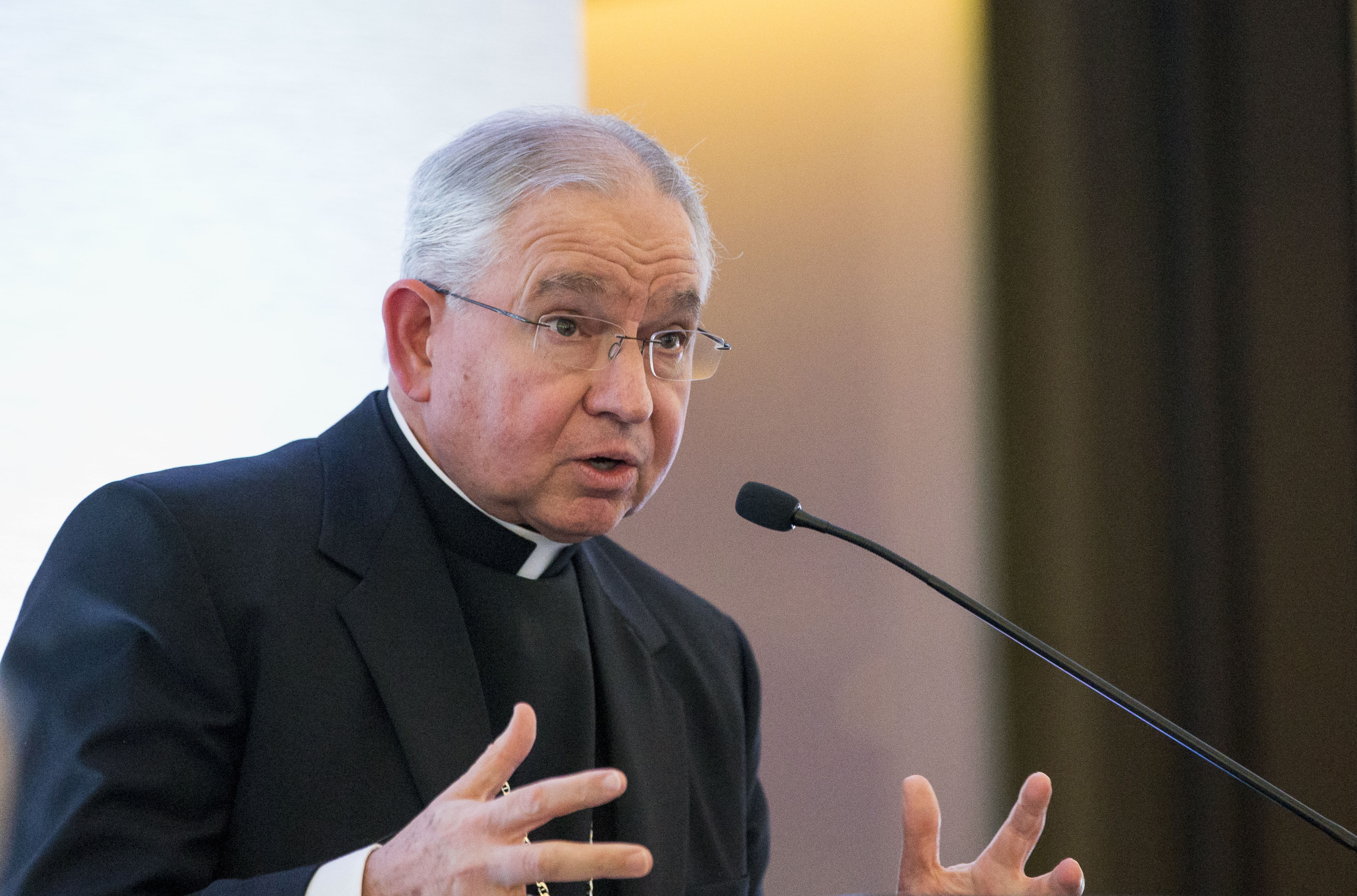 The struggles of our world also take on new shape in the light of God's love. "The Gospel of Jesus Christ is the most radical doctrine in the history of ideas," Archbishop Gomez asserts. "How different Los Angeles would be if we all got up every morning and looked into the mirror and said, 'I am a child of God and everyone I will meet this day is my brother or sister, one of God's beloved, and worthy of my attention, my care and my love.'"
In a world filled with tragedy, injustice and violence, Archbishop Gomez acknowledges we have reason for doubt. But God is silent, he finds, only to the extent that we are. "When the innocent cry out to God in their suffering, we are the answer that God provides. We are called to be his voice of compassion, his hands of love and assistance. As long as there are Christians, no one should have to suffer alone!"
Toward the end of his letter, Archbishop Gomez highlights our Christian call to holiness, familiar territory for a pastoral letter. Yet where most frame holiness in terms of purity or perfection, the archbishop turns once again to our experience of God. "Holiness is simply love," he writes, "lived totally and completely."
"Holiness is simply love, lived totally and completely."
None of us, he notes, ever love perfectly: "I know that holiness can seem like all too much for us. We feel we are not good enough, not strong enough. This is true, of course—for me as much as it is for you. It is true about everyone! No one knows better than we do how inadequate we feel, our limitations and weaknesses."
But once again, in God's love Archbishop Gomez finds reason for hope: "My brothers and sisters, I urge you: Do not be afraid of holiness! God knows everything about us. And he calls us anyway. This is the mystery of his plan of love."
Today, "remembering" is understood as an intellectual act, the mental recollection of specific facts or events. But liturgically remembering is far more than that; it is an act of invocation that we believe brings back to life the blessed reality that it recalls. In the Eucharist, Christ is present. The Kingdom does come.
In "For Greater Things You Were Born," Archbishop Gomez undertakes a similar venture. Faced with a world that is suffering, he reminds readers of our loving God, that we might experience once again his presence in our midst.