Why does it take so long for the Catholic Church to recognize martyrs of justice?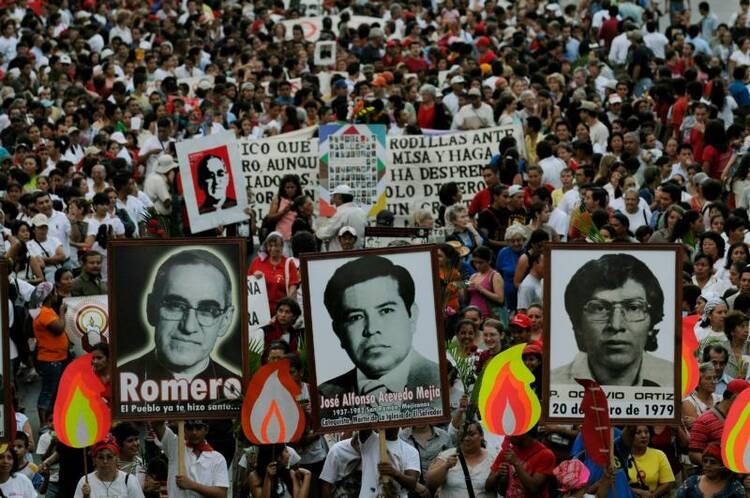 Salvadorans carry a photo of Archbishop Oscar Romero and other victims during a 2008 rally in San Salvador to commemorate the 28th anniversary of their deaths. El Salvador's Supreme Court declared the country's amnesty law unconstitutional; human rights defenders say now restorative justice can bring relief to victims. (CNS photo/Roberto Escobar, EPA)
With a Latin signature on a Vatican decree, Pope Francis has given the United States its first recognized martyr, Father Stanley Rother, and added to the growing number of church men and women who were killed in Latin America to be recognized by the Vatican.
Why did it take so long? Why is the Vatican only now recognizing what the church in Central and South America has always known?
Historically, a martyr was someone who was killed out of an odium fidei, a hatred of the faith. Strictly interpreted, this would require that someone is killed specifically for their beliefs as a Christian. But many of the martyrs in Central and South America were killed for political motives. They were not targeted for being Christians per se, but for their opposition to powerful political forces. Often their desire to live out the Gospel compelled them to stand with the marginalized—a stance that was contrary to many governmental and military interests, including people who often resorted to violence and murder to silence critics. These martyrs knew this was a real and present danger. They risked their lives anyway.
This shift in the understanding of modern martyrdom begins with St. Maximilian Kolbe. In 1941, St. Kolbe volunteered to die in place of a total stranger at Auschwitz. If we take a strict interpretation of odium fidei, he was not killed by the Nazis for his faith. St. John Paul II justified his categorization of Kolbe as a martyr by clarifying that the systematic persecution of the Jews was a hatred of the human person and this hatred constituted an implicit hatred of the faith.
The changing understanding of what constitutes a martyr in the church came to the fore during a wave of political violence that consumed much of Latin America in the 1980s. Oscar Romero, the murdered churchwomen of El Salvador and the Jesuits killed in the same country later that decade were not immediately recognized as official martyrs. The expanded scope that was used in Kolbe's case was not yet extended to the global South.
But Pope Benedict XVI helped their causes when he wrote to the Congregation for the Cause of Saints and noted: "What has changed are the cultural contexts of martyrdom…. more and more [the persecutors] seldom explicitly show their aversion to the Christian faith… but simulate different reasons, for example, of a political or social nature." The people in these Latin American churches have known this all along: these men and women died because of the way that they lived. They lived out the Gospel in dangerous and violent places.
With Pope Francis, the church's first Latin American pope, we continue to see the movement to understand martyrs as witnesses to their faith and join it with Kolbe's model of self-offering—evidenced in Romero's beatification and now the recognition of Father Rother.
In a way this is always how the cult of the saints has worked: local communities, from Carthage to Assisi to Goa, have always recognized and celebrated, long before official decrees in Rome, the witness of these holy and brave men and women.