'Peter Pan Goes Wrong' and 'The Thanksgiving Play' take a satirical aim at theater itself
Comedy's machinery runs on the reversal of expectations: on propriety ruptured and composure ruffled, on the rhythmic surprise of wordplay, on the satisfying shock of slapstick, on the pattern recognition of parody. The key to all these forms of humor isn't just the artistry of the puncturing but the size and shape of the balloon being popped—i.e., the expectations being reversed.
In two uproarious new Broadway comedies, the target is theater itself, and it's a satisfyingly juicy one in both. In "Peter Pan Goes Wrong," the British company Mischief Theatre delivers another theme park ride of insult and injury, missed cues and double takes, as last seen on Broadway in 2017 with their "The Play That Goes Wrong" (still running Off-Broadway). In "The Thanksgiving Play," the playwright Larissa FastHorse uses the fumbling attempts of a small educational theater troupe to create the play of the title as a way to skewer not only the Manifest Destiny mythology that undergirds popular American history but ineffectual white liberal guilt about same.
In two uproarious new Broadway comedies, the target is theater itself, and it's a satisfyingly juicy one in both.
The ambitions of these two comedies could hardly be more disparate—"Peter Pan" is unlikely to prick anyone's conscience, as "The Thanksgiving Play" does—yet the craft employed in both of these plays-gone-wrong is rooted in similarly precise calibrations of our attention and sympathies.
In "Peter Pan Goes Wrong," the audience-softening techniques are as virtuosic as they are relentless. They begin even before the show begins, as cast members mess with the set and with some unlucky patrons as we take our seats. The humor is busy on several levels. Yes, the Mischief folks score laughs at the expense of a well-known bit of intellectual property, and elicit delighted gasps with wildly miscalculated flying effects and all manner of malfunctioning props, sets and costumes. There are curtain speeches imploring our forgiveness for purportedly unforeseen technical difficulties and a celebrity storyteller in a gilded chair to narrate the action. (Currently, this role is filled by the preternaturally game Neil Patrick Harris.) They also don't miss the comic opportunities provided by theatrical incompetence, pretension and dueling egos.
Basically anything that's not nailed down—and several things that are—is fair game for the Mischief farceurs. Even the gambits that falter, like a belabored bit in which purported hot mic confessions reveal backstage rivalries, fits into the show's crowd-pleasing dynamics. The troupe's agreeably shameless approach reminded me of something an exhausted former improv performer once told me: that she was done spending her time onstage with folks who would set themselves on fire if it would get them a laugh. An eagerness to please might be tiring indeed if Mischief weren't such an affable lot, and so skilled in their skewering.
Skill and eagerness are mixed in different proportions among the four theater workers of "The Thanksgiving Play": Logan (Kate Finneran), a high school drama teacher who has cobbled together several grants to create a 45-minute play for Native American Heritage Month; her partner Jaxton (Scott Foley), a part-time yoga instructor and street performer; Caden (Chris Sullivan), a tightly wound history teacher and aspiring dramatist; and Alicia (D'Arcy Carden), a professional actress hired as the production's sole Native "voice."
'The Thanksgiving Play' holds a comic mirror up to our pathologies and makes us laugh with bitter recognition.
Alicia's purported ethnicity is among the first expectations to be upended ("My look is super-flexible," she blithely explains). But it's the reversal that sets the play on its inevitable course, as it slowly dawns on Logan that any attempt to honor Native American heritage with a play created exclusively by white people is doomed by definition—indeed, that no play, however well-intentioned, could possibly constitute redress for genocide and erasure.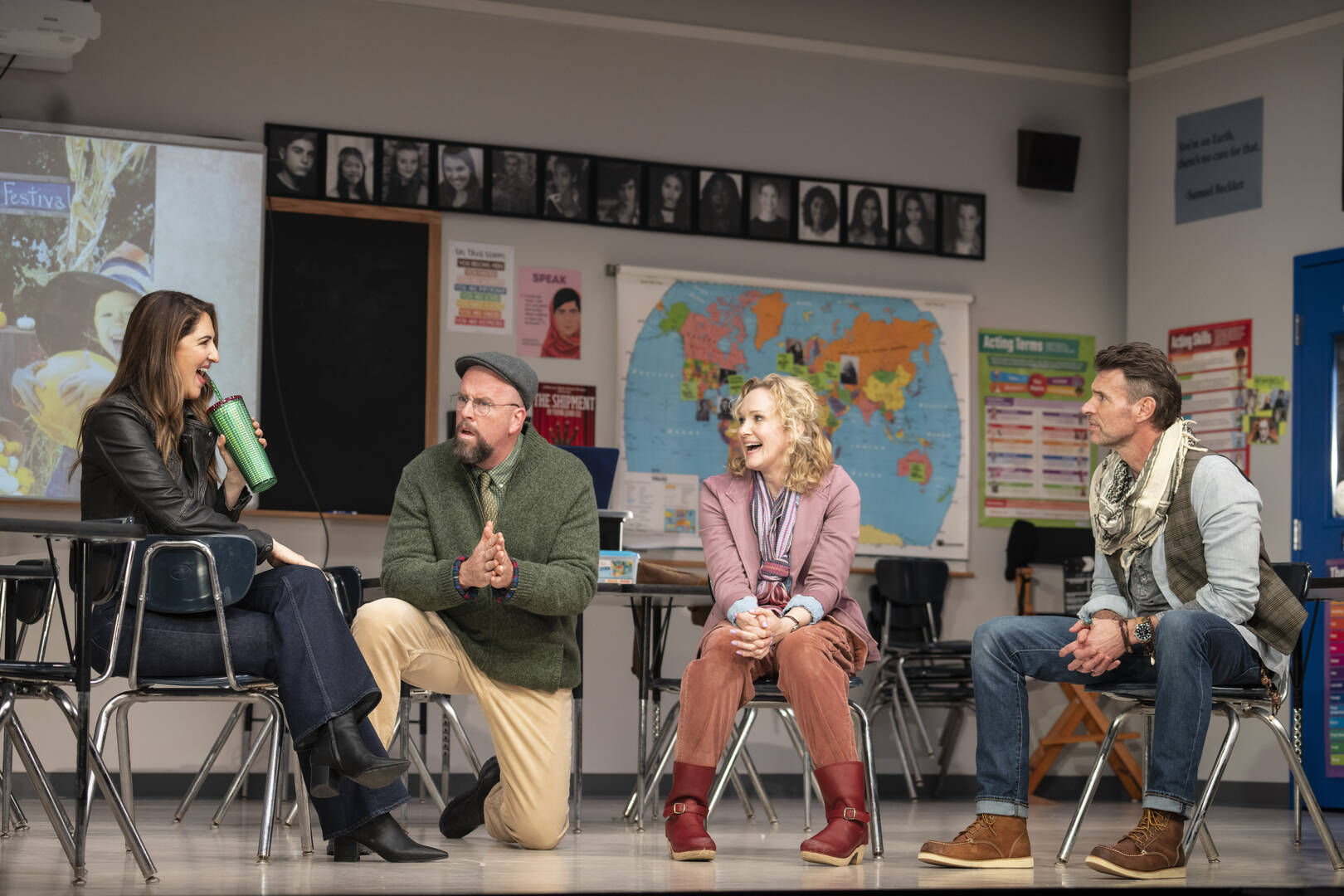 That may sound like tough medicine for a comedy to deliver, but it goes down remarkably smoothly, in part thanks to Rachel Chavkin's sharp, knowing direction and a cast that roots even the play's broadest comedy in recognizable human behavior. Carden, best known for playing the perky Janet on "The Good Place," is a marvel as Alicia, who can seemingly find a universe of contemplation in her Starbucks straw, and who, without a hint of rancor, deflates her colleagues' pretensions. When asked by Jaxton what acting method she employs to play a character, she says simply, "I pretend to be them."
Alicia's casual subversion of her colleagues' agendas—Logan's "correct" casting, Caden's historical research, Jaxton's touchy-feely artistry—is the key to FastHorse's uniquely disarming project. In satirizing white folks' various coping strategies for facing our nation's colonial crimes, from denial to "well, actually" didacticism to empty gestures of self-flagellation, FastHorse doesn't adopt a familiarly preachy, aggrieved tone but a light and clear-eyed one. This restraint is even more striking given the show's eerie timeliness, in an age when some white parents are actively trying to prevent educators from teaching "discomforting" history to their kids. Instead, as in two other plays about white people by writers of color, Young Jean Lee's "Straight White Men" and Branden Jacobs-Jenkins's "Appropriate," FastHorse holds a comic mirror up to our pathologies and makes us laugh with bitter recognition.
She even goes a bit further, I'd argue. In Riccardo Hernandez's flawless classroom set, dressed with perfectly appropriate theater posters and playbills, a large portrait of Samuel Beckett hangs over the door. That great Irishman's famous plays about the insignificance of human striving owed a debt to clowning and vaudeville. And while "The Thanksgiving Play" is in a more knockabout tradition than "Waiting for Godot," certainly, FastHorse's absurdism has a similar ruthlessness. "We all created this nothing together," Logan tells her colleagues near the play's end. She's referring to the non-play her troupe has forged, as well as to the erasure of Native peoples it represents. But she, and FastHorse, speak to a larger emptiness in our culture that no amount of laughter can fill. An existential comedy about Thanksgiving? Talk about a reversal of expectations.