'Tis the season for Christmas carols! Do you know where your favorite got its start?
If it's not too early for Pope Francis to start listening to Christmas music, it's not too early for us!
The pope is hosting a competition for young people to create brand new Christmas carols. Addressing those gathered at the launch of the "Christmas Contest," he thanked the organizers of the contest, "which gives voice to the young, inviting them to create new songs inspired by Christmas and its values."
Francis ended his message by reminding them of a phrase Pope St. Paul VI spoke in his message to artists 56 years ago: "This world in which we live needs beauty so as not to fall into despair."
And the audio team at America couldn't agree more. Cue the creation of "Hark!" a podcast about the meaning and making of our favorite Christmas carols, available now wherever you listen to podcasts.
The inspiration for the Hark! podcast came about, strangely enough, because of a visit I made to a cemetery.
A couple years ago, before Covid-19 was a part of the global vernacular, I took myself to England. I had always wanted to experience high tea and punting and when none of my friends or family could travel, I went anyways. In addition to the usual tourist attractions, however, I made my way out to the north London suburb of Highgate. There, amid sprawling vines and grassy knolls, you will find the Victorian-era Highgate Cemetery, decorated with the headstones and mausoleums of the most celebrated of citizens through the ages.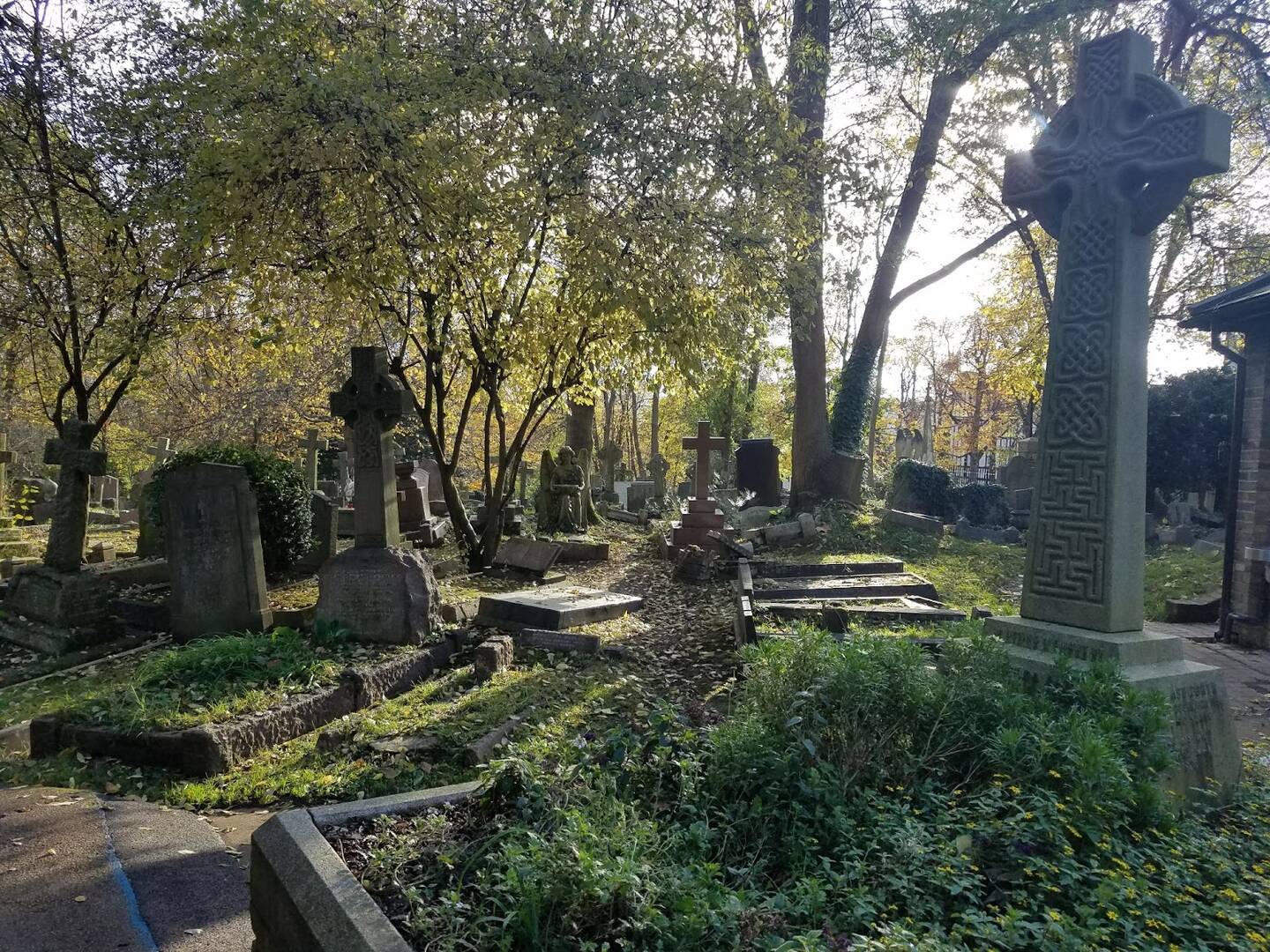 I first heard about Highgate on a BBC podcast, and even without pictures, I was enthralled by the sound of it. It's the eternal resting place of philosopher Karl Marx, English novelist Mary Evans—or as she is known by her pen name, George Eliot—and Christina Rossetti, an English poet who wrote the words of two well-known carols "In the Bleak Midwinter" and "Love Came Down at Christmas."
And you don't need to be a literary genius to rest at Highgate. Even for the commoners buried there nearly two centuries past, their graves are marked by ornate sculptured headstones and angelic statues keeping watch.
As I walked the lush and overgrown grounds, marveling at the "funerary furniture," it occurred to me that perhaps the Victorians had a different understanding of death. And life. Afterall, with outbreaks of cholera, small pox and scarlet fever, pandemics were an all too common part of life. The mortality rate through the 19th century averaged around 149 deaths for every 1,000 births. But it was especially grim for children. Out of 100 children, 57 would die by the age of five. And the number of women who died in childbirth was also staggering. London was running out of places to bury the dead and so broke land on Highgate cemetery in 1839.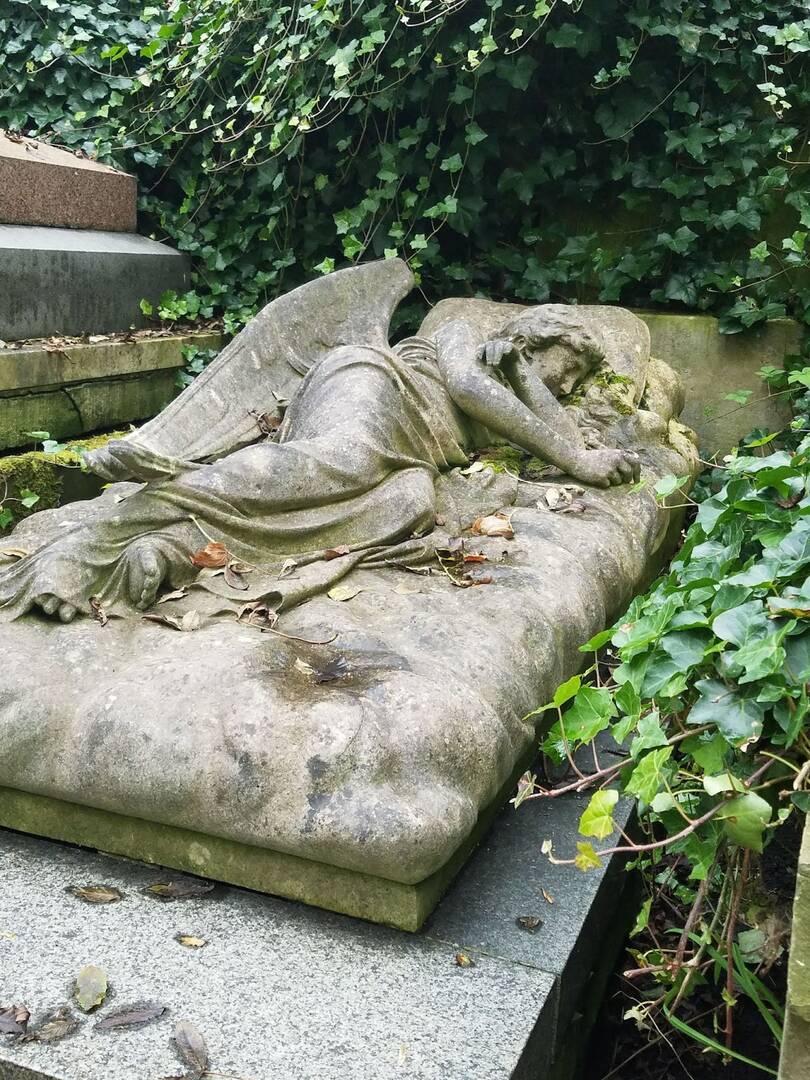 All of this made life so achingly precious. And in many cases, tragic. But for every young child or mother a husband had to bury, there sprang a poetic tribute carved in stone—at least for those able to afford a spot at Highgrave.
This year will mark our second Christmas amid a pandemic, which has claimed so many lives, so many dreams and so many of our most cherished family traditions. And so perhaps this is why I am reminded of Highgate Cemetery and the Victorians that built it. They understood how to make beauty in the face of so much loss.
This romanticism, which is so characteristic of the 19th century, is also why, I believe, they have bequeathed us with a different way to celebrate Advent and Christmas. You don't have to love the ornate or even ostentatious display of bows and garland to appreciate what the Victorians did about Christmas. Look no further than the revival of caroling.
The Victorians certainly did not invent singing at Christmas time—that began as early as 129 A.D. when the bishop of Rome encouraged Christians to sing the Angel's Hymn—but they contributed to its renaissance.
The Victorians certainly did not invent singing at Christmas time—but they contributed to its renaissance.
"As far back as medieval times, there were groups that would go around singing these winter solstice songs or singing these carols to bring joy to people," Rosie Pentreath, a musician and writer for U.K.-based Classic FM, told me in an interview for Hark! "This tradition of going around in groups to bring the music to different households or different public areas, came back with a vengeance again with the Victorians."
Some of the most popular carols we sing today originated, or were given a second life, in the 19th century: "Silent Night," "O Come O Come Emmanuel," "Good King Wenceslas," "It Came Upon a Midnight Clear," "We Three Kings of Orient Are," "Jingle Bells," "O Christmas Tree," "Go Tell It On the Mountain," "O Holy Night," "Angels We Have Heard on High," "Away in a Manger," "O Little Town of Bethlehem."
The reinvention of Christmas can be partially attributed to the marriage of Germany's Prince Albert to England's Queen Victoria. Before then, Pentreath says that "the Puritans and Oliver Cromwell [made] a very concerted effort to actually ban singing at Christmas time." The Puritans considered it "very frivolous and sort of foolish to combine Christianity and a belief in God and Jesus with frivolous feasting of winter."
Was the resurgence of carols a sincerely religious movement or the start of commercial Christmas the Puritans feared?
But with the restoration of the British monarchy and then later, the marriage of Victoria and Albert, who brought German Yuletide celebrations to England, Christmas was back on the map.
Was the resurgence of carols a sincerely religious movement or the start of commercial Christmas the Puritans feared?
This question lingered well into the 19th century. The Oxford Movement (1833-45) in the Anglican church sought to restore some of the ancient texts, hymns, architecture and classical heritage, which was extremely redolent of Roman Catholicism—and therefore deemed highly suspicious by Anglican hierarchy. One notable composer and Anglican clergyman, John Mason Neale, was repeatedly harassed for his retrieval of the dangerously Catholic classics (including "O Come O Come Emmanuel") and was even mauled at the funeral of a religious sister. Even then, religious aesthetics (like whether to sing in Latin or decorate a Christmas tree) were no private matter. They carried a host of political and religious implications.
So how does a person of faith enter the Advent season in a spirit of genuine preparation for the birth of Christ, while also partaking in the wider cultural merriment? She makes a podcast charting the development of Christmas carols, of course! To learn more about the history of our favorite Yuletide jingles be sure to subscribe to Hark! wherever you listen to podcasts. Each episode will unwrap one carol at a time over the next four weeks of Advent.