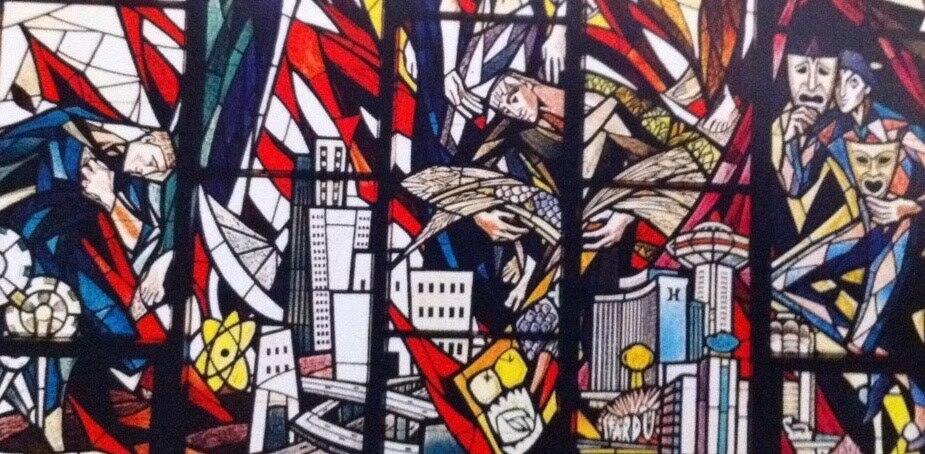 Saints and sinners alike: My Catholic upbringing in Las Vegas
The title above promises probably way more scandal than I can deliver. But still—you're intrigued, right? Growing up Catholic in Las Vegas is a defining characteristic of mine, right next to growing up Italian-American. What if I had been baptized in some Protestant denomination, in some normal city? I shudder to think. But it was also a major reason I became a writer.
What must have it been like, you wonder? To have grown up belting out "On Eagles' Wings" every Friday morning at the school Mass less than a mile away from a stage where a showgirl performed wearing what appeared to be only eagle's wings?
It was fabulous.
My Catholicism was intertwined with my Vegas upbringing right from the beginning. I was baptized at Guardian Angel Cathedral, located just off the Las Vegas strip. Some of the stained glass windows feature distinctly Las Vegas imagery woven into biblical tableaus, the beautiful creations of the artist Isabel Piczek. One window features Judas with his 30 pieces of silver—or is it a man carrying poker chips? The same window shows Roman soldiers casting lots for Jesus's robe—or are they gamblers down on their luck?
One stained glass window in the cathedral features Judas with his 30 pieces of silver—or is it a man carrying poker chips? 
And of course, the lessons taught to me at Catholic school were more than supplemented by the examples in my very Catholic home. My parents were the best examples of forgiveness, of not judging, of loving your neighbor, of giving until it hurts and then giving more. And the fact that we were in Vegas made that all the more important, because what you might think are the terrible parts of being raised in that environment actually benefited me greatly in my development and in my career as a writer and a comic.
Everyone was welcome into our home, saints and sinners alike. We had all kinds of people sitting around our table: pimps and priests, prostitutes and nuns, rich and poor, addicts, gangsters. It was not an antiseptic world, not a world where I interacted only with the "right people." The lessons I gleaned from the love my parents extended to "the sinners" was just as valuable to my spiritual development as my interactions with "the saints."
We had all kinds of people sitting around our table: pimps and priests, prostitutes and nuns, rich and poor, addicts, gangsters.
I have spent my entire career attempting to pay homage to (and in a deeper sense, to keep alive) all the incredible characters of my Catholic-kid-in-Las Vegas life. In the sixth grade, captivated by time travel, my best friend Angela Mullins and I took several cracks at building a time machine. We were unsuccessful in building an actual machine that could go faster than the speed of light. But in my own weird way, my writing career has become my time travel vessel back to the world of my childhood.
My obsession with my parents moving their family from Brooklyn to Vegas, and then raising good Catholic kids right in the middle of Sin City, is the subject of several television projects of mine. It also features prominently in my satirical parenting book, Raising the Perfect Child Through Guilt and Manipulation, which in itself is an entire love letter to my parents. I told you. I am obsessed.
If I take a step back and look at my work, it appears that my primary focus as a writer has always been a desperate attempt to shine a light on my obsessions and hope that the world becomes obsessed with them too. In his autobiography, Born to Run, Bruce Springsteen (my fellow Italian-American Catholic kid!) describes what kind of artists he admired and wanted to emulate when he first started performing: "Songwriters with their own voice, their own story to tell, who could draw you into a world they created and sustain your interest in the things that obsessed them."
So I guess I'm not alone. Bruce gets it. He's a guy who built an entire career writing songs about his hometown, about the colorful characters of his childhood, about the sacred amid the profane. While I haven't earned a moniker as amazing as "The Boss," I'm certainly trying to do the same. And I am grateful to get to time travel to that uniquely outrageous time and place of my life again and again.