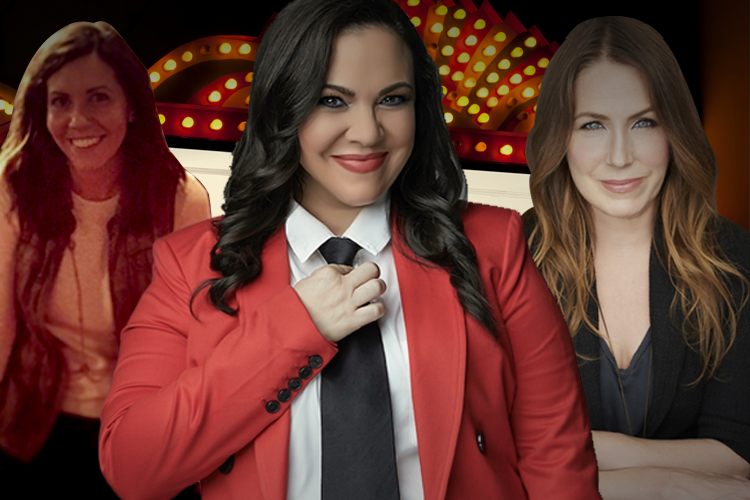 The Catholic Women Who Write Your Favorite TV Shows
Once upon a time in Los Angeles, seemingly everyone on the creative side in "the industry"—from actors and actresses to directors and writers—was either Jewish or Irish Catholic. The phenomenon was obvious well into the late 1970s for sitcoms and variety shows, where the writers shared something else in common: They were almost exclusively men. Later, in the 1990s, it seemed that every writer was a recent (again, male) alum of The Harvard Lampoon, the humor magazine published by students from the Fordham of Boston.
Many women writers can tell horror stories about the things said and done in writers' rooms, but the old guard seems to be passing into the sunset to some degree, and new voices are making themselves heard. The gender disparity has happily decreased a bit in recent decades, and some of the stalwarts of writing for television and the big screen today are women. One still sees more than a fair share of Catholics (though fewer of the Irish variety). Without a doubt, these women are bringing different perspectives to the writers' table.
In a series of interviews over phone and email, America asked Catholic women writers to comment on their experiences writing for film and television.
Most of the time, Catholics in the United States are remarkably similar to non-Catholics, screenwriters included, so connecting a writer's work to his or her faith doesn't always track well. "We're just like anybody else," said Gloria Calderon Kellett, the executive producer, co-creator, co-showrunner, director and actress on the critically acclaimed, Latina-inflected reboot of the classic sitcom "One Day at a Time." "We put our chastity belts on one leg at a time."
The Glass Ceiling
After decades of underrepresentation and exclusion, women in 2019 made up 44 percent of television writers employed in the industry (a 5 percent jump over the previous year), but only 27 percent of screenwriters employed in that same period (a 4 percent jump from the previous year), according to the Writers Guild of America. For showrunners, the numbers also still show significant underrepresentation: Only 30 percent of showrunners were women in 2019. The industry also employs fewer people of color, people with disabilities and older writers—and statistics for these groups in the guild's 2020 Inclusion Report show significant divergence from their representation in the general population.
"I'm hopeful that people in hiring positions are seeing the beauty of having a lot of different voices in a room," Elizabeth Beckwith said.
This is not to say that women (including Catholics) have not written for Hollywood for many years, or that women have not contributed significantly throughout showbiz history. Two prominent examples in television are Karen Hall and Barbara Hall. Karen Hall, who converted to Catholicism while working on her novel Dark Debts, has been writing for television since the late 1970s, garnering multiple Emmy nominations. She worked as a staff writer for shows like "M*A*S*H," "Hill Street Blues," "Moonlighting," "Roseanne" and "Eight is Enough," and has individual writing and producing credits for a number of other dramas and sitcoms. Her sister, Barbara Hall, also a convert to Catholicism, created, produced and wrote for "Joan of Arcadia," "Judging Amy" and "Madam Secretary."
Opportunities and Obstacles
While obstacles remain to full inclusion for any minority group in Hollywood—and expressions of religious faith can be met with a gimlet eye—the changing landscape of the entertainment industry has also offered new opportunities for women writers. Ms. Calderon Kellett, who was profiled in America in 2018, pointed to the increasing fragmentation of the market as a positive—and sometimes a negative. In addition to her reboot of "One Day at a Time," her writing credits include "Devious Maids," "Rules of Engagement" and "How I Met Your Mother." She also recently sold her first script for a feature film, "We Were There Too."
"I think that the good news about there being so many platforms is that it means more people have an opportunity to have a seat at the table. And that is true with women, with Latinos, with Catholics, and more," she said. "And I do feel sad that with so many services, there isn't one show that unites the country like it used to be, when we had four channels, but I do think that it allows for more niche entertainment and the ability for more voices to be heard, which is very important."
Langan Kingsley, who has written for the television shows "Corporate," "Robbie" and "Teachers" and who currently writes for "The Goldbergs" on ABC, said that when she first started out, "women were still considered a quota hire." She recalled visiting friends in the writers' room of a late night show in New York: "Every single person working on that show was a white man wearing a plaid shirt. No exaggeration. They were all wearing plaid shirts that day. And every day, probably."
Now, however, "there's more equality—not just in who's working on a writing staff but in who is actually creating shows. I would say that is the direct result of people fighting hard to make that change and fighting hard to maintain it," she continued. "As this year has revealed, we need more representation across the board. Our work, essentially, is telling stories, and those stories get pretty boring when it's the same people telling them."
"My hope is that the church can use the immense power of its storytelling to move toward more compassion, more kindness," Langan Kingsley said. 
Dorothy Fortenberry, an executive producer on "Extrapolations," a new climate change series from Scott Z. Burns by Apple TV+, noted the changing demographics as well. "I've been on two writing staffs that were either 50 percent women or over 50 percent. I have not had the experience of being the lone woman in the writer's room and am grateful for that. No one is responsible for representing 51 percent of the population as the lone representative." Ms. Fortenberry has worked as a writer and producer on Hulu's adaptation of Margaret Atwood's novel "The Handmaid's Tale" since its first season. Before that, she worked for three seasons as a writer on The CW's "The 100." She has also written numerous plays as well as essays for journals including Real Simple, Commonweal and The Los Angeles Review of Books, among others.
"From my experience, it can still be difficult for women," said Kristen Lange, who started out in the entertainment world as a page on "The Late Show With David Letterman." She has written for HBO's "Divorce" and ABC's "The Goldbergs." "And when you do make it into a writers' room, you often have to work hard to have your ideas heard. That being said, I think there are more women being put into positions of power. And the more women with a say in the hiring process, the more diverse the industry will become—hopefully!"
The industry has definitely trended in recent years toward hiring more women, noted Elizabeth Beckwith, author of the comedic parenting book Raising the Perfect Child Through Guilt and Manipulation. She has written for ABC's "Speechless" and "The Goldbergs." As a stand-up comedian she has performed numerous times on "The Late, Late Show," and has written television pilots for USA, Fox21, Fox and Sony. "Generally speaking, men still outnumber women in comedy rooms, but the ratios are moving in the right direction. I'm hopeful that people in hiring positions are seeing the beauty of having a lot of different voices in a room, and that that trend continues."
Ms. Beckwith also noted the sexism—and ageism—that can still be found in the industry. "I do have concerns about women getting pushed out of the business as they age," she commented. "I've been in writers' rooms with men over 50, but never with a woman over 50, something that—as a woman in my 40s—I can't help but notice."
Melissa Blake got her start in the industry 24 years ago, and remarked on how certain realities in the writing world have shifted. "I have had the experience of going from writing staffs on which I was one of the only women to others that had only one male writer in the room," she wrote. Ms. Blake has worked as a writer and a producer on numerous dramas and comedies, including "Xena: Warrior Princess," "Heroes," "Ghost Whisperer," "Criminal Minds: Suspect Behavior," "Sleepy Hollow," "One Mississippi," and "October Faction." She currently serves as co-executive producer on Amazon's young adult series "The Wilds."
"The best scenario is to have a balance, not only of gender, but of race as well," she added. "I'm proud to be working on a series now whose writing staff is composed of three women and three men, three of whom are white, and three are people of color. That's true representation and what I hope every other staff I work on or run will look like."
A Twitch Upon the Thread
To what degree does the Catholic background of these writers influence their work? Is faith a major factor or a private matter that doesn't enter into the creative process? "Show business is not generally a place where you wear your faith on your sleeve," said Ms. Beckwith. At the same time, "I think having grown up steeped in Catholicism is very helpful for writing comedy. I strongly believe that a culture of guilt and constant self-reflection and criticism (not to mention having a grandmother constantly telling you that if you don't eat her food the Blessed Mother will weep) makes people funnier."
"It's not a coincidence that so many of the greatest comedy minds are Jewish—a culture also known for guilt and self-reflection," Ms. Beckwith continued. "And I have to say, you do get a little buzz of excitement when you are in a writers' room and you discover that a co-worker also went to Catholic school; it feels like an instant bond because being a 'Catholic school kid' is its own little specific American subculture."
"In many of the TV shows I've written and produced, a central theme has been that of good versus evil," said Ms. Blake. "Having formed my principles largely through a Catholic upbringing, I trust in my moral compass to guide me, not only for dramatic purposes, through the exploration of the gray area that can exist between the two extremes, but also in making decisions in challenging moments I sometimes face in either the writers' room or on set."
While her faith background has not been an issue on the contractual or business side of the industry, Ms. Blake continued, "Where my being Catholic has come up has been in the creative process, during discussions with my fellow writers with the goal of building stories. That's where each individual writer on the staff may draw on their unique makeup and set of life experiences to help inform the characters we're creating and the dilemmas they'll face."
"The storytelling component so integral to Catholicism was surely my initial exposure to the power of parables," Melissa Blake shared.
"I don't really experience what I do through the lens of being a Catholic. It's not like there's a Catholic way to write a screenplay. You have to do the craft. The same rules apply to you," said Barbara Nicolosi. "It would be like asking a baseball player that question. There's no Catholic way to hit the ball."
At the same time, she noted, "every so often you become aware of something that might be problematic from a faith standpoint. Most of those things for me have been on the business side, not on the creative side. I've had companies—and very often, Catholic or Christian companies—that ask me to lie to my union" about work regulations, Ms. Nicolosi added. "I find that a lot of religious people, when they approach business, think that they can just step outside their normal morality."
"I'm usually more drawn to comedy that comes from a general silliness or joy," wrote Ms. Lange, who is a graduate of the Jesuit-run College of the Holy Cross in Worcester, Mass. "I tend to write about characters getting in their own way rather than different characters being mean to each other. I've never really considered why, but I wouldn't be surprised if it's at least partially due to all those years of Jesuits and nuns telling (sometimes yelling at) us to consider others before ourselves and to make something of our time on Earth."
Faith can also inform values in the writing process, noted Ms. Kingsley: "Does your comedy punch up or punch down? Are you leaving people more hurt than uplifted? Who, or what, is the target of the joke? How do you treat the people around you? Like many institutions, the entertainment industry can benefit from its members behaving ethically. Not in some grand, holier-than-thou sense, but by common-sense kindness."
"There is certainly a contemporary secular worldview that is focused on self-realization as the highest goal," commented Ms. Fortenberry. "The idea is that if you can understand yourself and articulate yourself and go after what you want, that is like the high point of life. But we exist in relation to each other and have obligations to each other, be that in our relationships, our families or otherwise. I like to focus on obligation and sacrifice in my writing, and I think that probably comes from my religious beliefs."
Words of Advice
What wisdom might these writers impart to the next generation trying to break into the biz? "Humanize your story," said Ms. Calderon Kellet. "There's a lot of misconceptions about Catholics, so write your experience. I think if people see that they're not being represented on television, then they should feel empowered to write that voice, because it's obviously needed if it doesn't exist."
"The blockbuster era in film has had an overemphasis on the beat, on the external action. It seems to me that Catholic screenwriters should not be in the roller coaster game," said Ms. Nicolosi. "A female writer—especially a Christian or a Catholic one—might bring to the table a pastoral desire to help people through the story. The moment of transformation is where our focus should be as Catholic female writers."
"From a Catholic standpoint, what we're doing is showing people that, to paraphrase Flannery O'Connor, before grace can heal, it has to cut. And if we give people enough narrative experiences of that, they won't be so afraid. They'll trust God."
"What we're doing is showing people that, to paraphrase Flannery O'Connor, before grace can heal, it has to cut," Barbara Nicolosi said.
"Find something that sustains you in your personal life that is not movies or television shows," said Ms. Fortenberry. "This is partly to save your sanity and your soul, but it will also give you fresh ideas. Sometimes Hollywood can feel like all the ideas are copies of copies. If you don't have something else in your life other than television and movies, you will draw all your ideas from television and movies. Relying on something else will also give you a way of seeing the world that will be valuable in the writers' room, and also a resource for you when things go sideways. Which they will."
For Ms. Fortenberry, finding a parish that is not located in the heart of the entertainment industry has been helpful. "Hollywood is a hustle culture, and there is a sense of transience and impermanence that can be stressful and exhausting," she said. "My churchgoing life exists entirely outside the industry. I don't see anyone from work at my church, and I don't see anyone from my church at work. It's a part of your life that doesn't interact with the business side of Hollywood. It helps you remain sane."
"Get yourself a little St. Anthony of Padua relic to keep in your work bag," said Ms. Beckwith. "He's not just good at helping you find your keys! I'm not like his agent or anything, but I feel like St. Jude gets so much more attention. (He's amazing, don't get me wrong; but not every case is a 'desperate one.') St. Anthony has a lot of tools in his toolbelt, so next time you're a little nervous before a pitch, shoot him a quick prayer."
Ms. Kingsley had more practical advice: "Go to therapy. Seriously. It helps."
Growing up Catholic
Is there something distinctive about a Catholic childhood that is an asset in Hollywood? Does it goad the imagination in specific ways? Writers and theologians like David Tracy and Andrew Greeley posited decades ago that there was a unique "Catholic imagination" that informed the lives of American Catholics—and the larger cultural scene as well. Does it exist? If you ask these writers, the answer is yes, without question.
"Attending church and catechism classes throughout my youth, the storytelling component so integral to Catholicism was surely my initial exposure to the power of parables," noted Ms. Blake. "So much of what I do as a writer, especially when writing scripts of the supernatural or sci-fi genre, is couch weighty subjects and high concepts in allegory, and there's arguably no better source for that than what can be found in the pages of 'The Good Book.'"
Ms. Kingsley expressed a similar sentiment. "I think the entire ethos of the Catholic Church is storytelling. It's how it has managed to stay in the game so long—the effective stories are the ones that endure," she said. "Prayers are poetry, the lives of the saints are fables, the Mass is a play. The church, for all its failings, values beauty: music, stained glass windows, golden vestments," she added. "I think there's a general sense that there's wonder and magic and value in the temporal gifts on hand. So use them! And then feel bad about it. And then do it again."
"At its most basic, growing up Catholic involves a tremendous amount of not taking the world as it appears literally in front of you as real," Ms. Fortenberry said. "Once you believe in transubstantiation, you are already at the point where you acknowledge there is something beyond the literal and the tangible. Once a cracker isn't just a cracker, a lot of things can be something other than what they appear to be."
"Growing up Catholic involves a tremendous amount of not taking the world as it appears literally in front of you as real," Dorothy Fortenberry said.
"I get my best ideas in front of the Blessed Sacrament," said Ms. Nicolosi. "There will be some times when I'll be writing, and I just don't know what to do. I have written myself into a corner; I don't know the resolution. And then I'll go and and sit there and just pray about other things, and all of a sudden an idea will just pop into my head. It's happened so many times that I've come to count on it."
Experiences of Mass homilies also had their benefits on the imagination. "It was an early lesson in how to be a good entertainer—we all remember the priests that bored us to death and the ones that engaged us," said Ms. Kingsley, who is a graduate of Jesuit High School in Portland, Ore. "One of the Jesuits at my high school became a priest because it was pretty darn close to being an actor. He had a booming voice and a huge presence, and I would say he used his gifts extremely well."
"I've written so many things that have Catholicism woven in," said Ms. Beckwith. "I've written pilots inspired by my teen years as a Catholic school girl in Las Vegas, and a variety of projects that touch on the paradox of my Catholic parents raising their family in 'Sin City.' My book, Raising the Perfect Child Through Guilt and Manipulation, is in many ways a love letter to being raised in an Italian Catholic household."
More Words of Advice
The Catholic Church these women encountered in their formative years and interact with today is not the menacing, moribund one that Hollywood so often gleefully depicts. At the same time, it is not an institution they are afraid to challenge for its faults, including its treatment of women and its engagement with the entertainment industry.
Several of the writers interviewed also expressed gratitude for their experiences of Catholic formation, particularly in education. "I think my Jesuit education serves me well. It's a reminder to focus on the greater good, be a woman for others, and not be satisfied with the world the way it is," Ms. Kingsley said. "I don't always live up to it, but it's a nice goal to constantly be striving toward. And then I can stir up some nice Catholic guilt when I fall short, which in turn fuels better comedy. A great system!"
The Catholic Church these women encountered in their formative years and interact with today is not the menacing, moribund one that Hollywood so often gleefully depicts.
Ms. Fortenberry noted that her work on a new project has been heavily influenced by a recent papal encyclical. "I am currently working on a show for Apple TV+ about climate change. I find myself continually bringing up 'Laudato Si''and the ways it shows us how climate change can be viewed as a religious issue. It can help people conceptualize the global nature of the crisis; you can imagine an entire Earth and care about what happens to it."
Ms. Nicolosi lamented a lack of support from the institutional church for writers. "The only thing the church ever seems to want from us is checks. But we're storytellers," said Ms. Nicolosi. "I lived in Los Angeles for 24 years. I went to a church in North Hollywood that was just down the street from Universal. In all those years, where I would sit in the pews with hundreds of people who were working in the industry, I only ever heard two homilies that even addressed the fact that Hollywood was there."
"There's a real need for pastoral ministry to the creative artistic community. We have very specific needs as storytellers. We have particular sufferings of rejection and instability and the difficulty of the creativity itself," Ms. Nicolosi continued. "The church can also help us with ethical formation. What can or can't you do that will help people or harm them in entertainment? I've had to do a lot of this work myself as a lay woman because nobody else has done it, and I had students that wanted it from me: Christian, Catholic principles in the arts—not only justifying a career in the arts, but also answering the question: How is this a holy profession?"
Ms. Kingsley's experiences as a writer have given her some insights that the Catholic Church might also heed if it seeks to grow and thrive in the future. "My hope is that the church can use the immense power of its storytelling to move toward more compassion, more kindness," she said.
"In our work as writers, we have to prune the things that no longer serve the central narrative. Sometimes we're extremely attached to them, but they don't serve the story. So they fall by the wayside. And I hope, in that way, the church can use its immense power to continue to tell a story that remains relevant, inclusive and progressive."
Erika Rasmussen contributed reporting.