If you've seen Martin Scorsese's latest mafia drama "The Irishman," you were probably struck by the film's meticulous cinematography, somber themes and impeccable, Oscar-worthy performances by Robert De Niro, Al Pacino and Joe Pesci. You may have also spotted a familiar Jesuit priest performing two baptisms early on in the film: America's editor at large, James Martin, S.J.
Advertisement
Father Martin's involvement as a religious consultant for "The Irishman" allowed former O'Hare Fellows—Colleen Dulle, Angelo Jesus Canta and Antonio de Loera-Brust—an opportunity to visit the film's set two years ago, where they saw a small piece of Mr. Scorsese's cinematic vision come to life. Since "The Irishman" production tour happened before I became an O'Hare Fellow (woe is me), I asked Father Martin, Colleen and Angelo to recount their experiences on set for our America readers.
Fr. James Martin, S.J.
I was honored and excited to be asked by Mr. Scorsese to consult on "The Irishman" (mainly for scenes that included the sacraments: baptisms, weddings and funerals) and to appear in a brief cameo role as a priest during the two baptism scenes. Fortunately, I've celebrated dozens of baptisms so I wasn't worried about the actual rite. On the other hand, since the two scenes took place in 1950 and 1955, I had to brush up on my Latin: "Ego te baptizo," etc.
The funniest moment on set happened as we were standing around the baptismal font at St. Matthias Church in Queens, waiting for filming to begin. (An actor friend of mine once described life on a film set as "Hurry up and wait.") Five or six cast members and I were chatting as we waited for the (actual) infant to be brought up for the rite.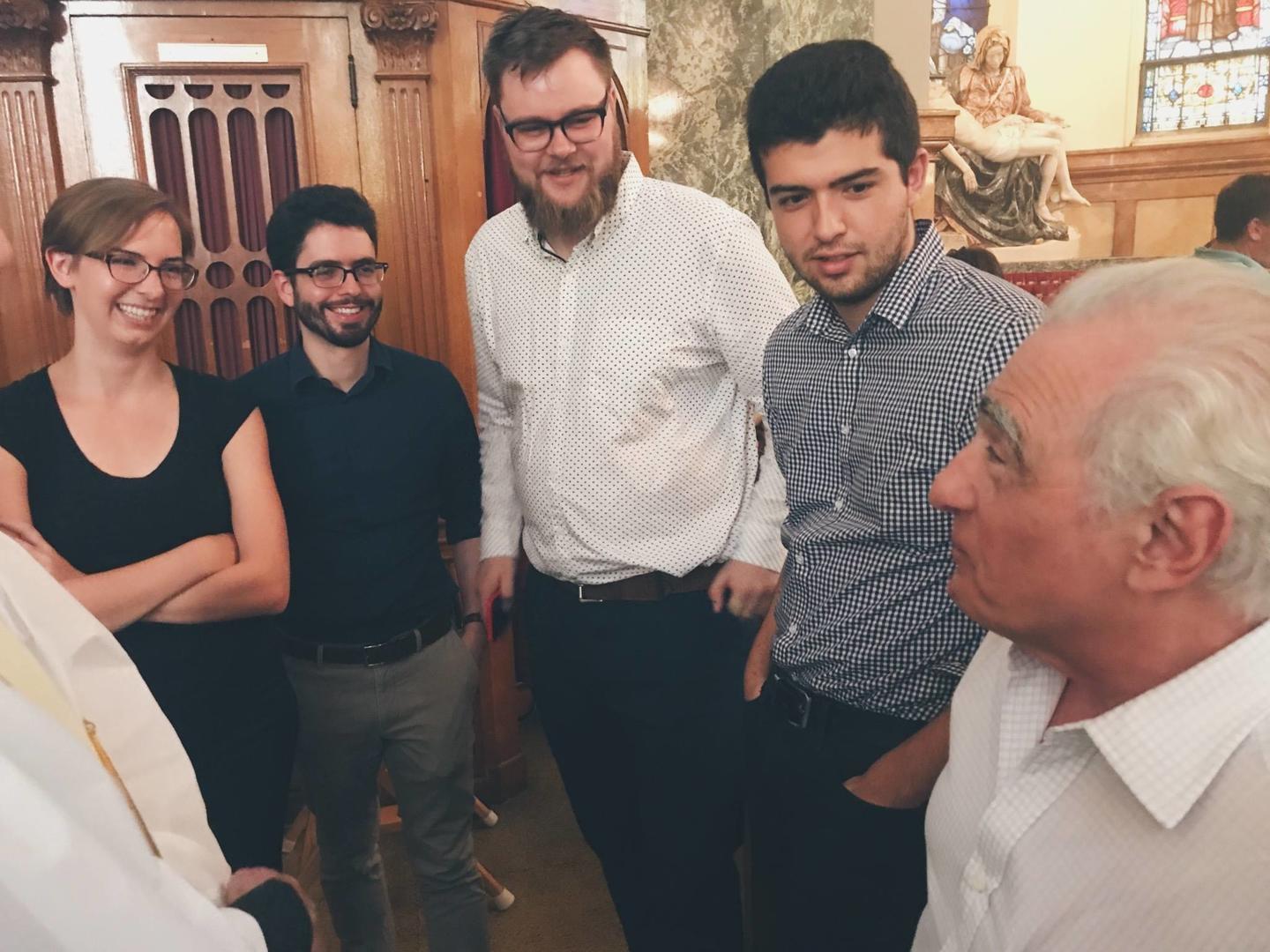 At one point, a young man playing one of the altar servers, who was perhaps 13 or 14 years old, looked up at me and said, "Is there anyone famous in this movie?"
Surprised, I pointed to the man standing a few inches behind me. "Do you know Robert De Niro?" The boy turned, glanced at him and then said to me, "No." De Niro chuckled. "Well, in that case," I said, "Do you know Joe Pesci?" I motioned to Mr. Pesci, inches away. He looked at him briefly. "No," he said.
Mr. Pesci rolled his eyes. "Kid," he said. "Home Alone?" The boy's face lit up. "Home Alone!" Not even a Scorsese film.
Colleen Dulle
In one of my first months at America, Father Martin invited my class of O'Hare Fellows to join him on the set of "The Irishman." The day I went, the cast and crew were shooting the baptism scenes. I remember navigating unfamiliar sidewalks in Queens on the way to the church, hearing the neighbors talk about what film might be in production and smiling to myself that I knew the secret. (In retrospect, a Scorsese film shooting down the block may not have impressed these seasoned New Yorkers.)
I entered quietly through the side door of the church and was immediately struck by the enormous light diffuser that took up most of the sanctuary. Tiptoeing past directors' chairs labeled "ROBERT DE NIRO," "JOE PESCI" and "AL PACINO," I looked about the church, a cavernous space paneled with pink and green marble. The building was filled with smoke that caught the light streaming in lines through the windows. Oh, I thought, so that's how they make the churches look like that in the movies.
For me, the day was an immersive lesson in how films are made. I was shocked at how little time was spent shooting the scenes, and how much was spent positioning body doubles who stood in the places of the actors until just before a take. Also surprising was how few of the hundreds of impeccably costumed extras were actually visible in the final shot. I asked Lisa, Martin Scorsese's assistant, whether this was normal. She said it was to an extent, but that "Marty" was especially detail-oriented. He personally approved every shot from his director's booth in the church sacristy just a few feet away.
A few hours later, after Father Martin had shot his scenes, he brought Mr. Scorsese over to say hello. I stood directly across from him in our circle as he laid out his vision for the film, never breaking his eye contact with me. (Honestly, the eye contact was so intense that I couldn't tell you a thing he said.) In a photo someone snapped while we spoke, Mr. Scorsese stands casually in the foreground while my former colleague Antonio de Loera-Brust, himself a filmmaker once featured at Cannes, stares slack-jawed in awe at his idol. Antonio's excitement remains my favorite memory of that day.
Angelo Jesus Canta
Meeting Martin Scorsese was not a perk of my job advertised on the O'Hare Fellowship flyer. So, when Father Martin took us to the set of "The Irishman," I was floored. We sat quietly in the pews of the church in Queens, afraid to talk or make eye contact with the stars who were sitting just a few feet away from us. I cannot remember much more than feeling starstruck for the whole day.
I was able to visit Mr. Scorsese's set again a few weeks later when Father Martin consulted on a wedding scene set in the 1970s that was filmed at a church in Yonkers, N.Y. This time, I was able to walk around the set a little more. Hundreds of extras decked out in brightly colored attire lined up in the church school as costume designers meticulously compared their outfits to photos from the time. Yet, when they brought the actor who played the priest onto the set, Father Martin and I commented that his costume did not seem to fit the rest of the scene. He was wearing a white robe with delicate lace and a gold embroidered stole over it that looked like it was from the turn of the century. Though beautiful, the costume seemed staid and traditional compared to the trendiness of the other wedding guests. Father Martin spoke briefly with Mr. Scorsese about this predicament and he gave us permission to find something more suitable. I rifled through the church's sacristy closet in search of vestments that some of my theology school peers would sarcastically call "in the spirit of Vatican II."
In the final film, that 1970s chasuble has just about 10 seconds of screentime. In fact, the two full days of shooting I witnessed amounted to less than two minutes of the movie. Mr. Scorsese spared no expense or time on the small details of this film. As a storyteller, he wants to get everything just right to make the world he creates fully immersive—even if it means listening to a lowly O'Hare fellow who cares too much about liturgical vestments.