Bruce Springsteen looks for mercy and deliverance in new album 'Western Stars'
In his speech inducting Roy Orbison into the Rock and Roll Hall of Fame in 1987, Bruce Springsteen confessed that the grand vision behind his breakthrough album "Born to Run" was to sing like Orbison with lyrics like Bob Dylan's and a production worthy of Phil Spector's wall of sound. The result was a tour de force, in which Springsteen seemed to pull out every tool in his toolbox in order to prove he wasn't just another "new Dylan." It defined him as an artist with enormous ambition, a deep knowledge of his craft and an almost religious devotion to the salvific power of rock and roll.
"Born to Run" thrust him onto the world stage and changed his life, but for Springsteen—rock's most ambivalent and self-doubting superstar—it was also disorienting. His subsequent records retreated from the lush production and epic scope of "Born to Run" in favor of a more stripped-down sound. It was as if his elevation into the firmament had exposed how insubstantial the promises of pop music actually were and he needed to ground himself and his music in something more direct and real.
Springsteen's new album marks his full return to the studied pop formalism of his youth.
It is with this backdrop that Springsteen's newest release, "Western Stars," is best considered. It marks his full return to the studied pop formalism of his youth that he had abandoned after "Born to Run." Springsteen began dipping his toes back into these waters over 10 years ago with songs like "Girls in their Summer Clothes,""Your Own Worst Enemy" and "Queen of the Supermarket"—lavishly produced songs with an obvious debt to the chamber pop romanticism of The Beach Boys' "Pet Sounds." With those forays, it seemed as if Springsteen was grudgingly beginning to realize that just because something was a beautiful confection didn't mean it was necessarily false or insubstantial. The hard-won truth and beauty of the characters in his songs were not undermined by pop ornamentation; they were simply enhanced in a different way.
For "Western Stars"—his first collection of entirely new songs since 2012's "Wrecking Ball"—Springsteen teamed up once again with the producer Ron Aniello along with a cast of more than 20 guest musicians including composer Jon Brion, Matt Chamberlain, David Sancious (the original E Street Band piano player) and numerous orchestral musicians. Together they have created a sprawling sonic landscape that, in its best moments, feels like the soundtrack to a film you would love to see. At its weakest moments, it can feel like a movie you have seen before by a beloved director who seems trapped at times by the themes he has explored more convincingly in earlier works.
Springsteen has created a sprawling sonic landscape that, in its best moments, feels like the soundtrack to a film you would love to see.
For several years "Western Stars" was just a rumor, a project of "Western swing" songs Springsteen had reportedly been working on. But when its release was announced in April, Springsteen described it as a "jewel box of a record" that was inspired by the Southern California pop sounds of the late '60s and early '70s—music embodied in the work of songwriters like Jimmy Webb and Burt Bacharach and artists like Glen Campbell and Harry Nilsson.
As unexpected as those influences might initially seem, they have a thematic and emotional through line to Springsteen's own work. Much of his most powerful material is cinematic in scale. The artists who influence "Western Stars" created indelible AM radio hits in the late '60s that have lived on as miniature Americana movies for the ears. Campbell's versions of Webb's "By the Time I Get to Phoenix,""Wichita Lineman" and "Galveston", in particular, have the DNA of John Ford's classic western films—a Springsteen touchstone—coursing through them.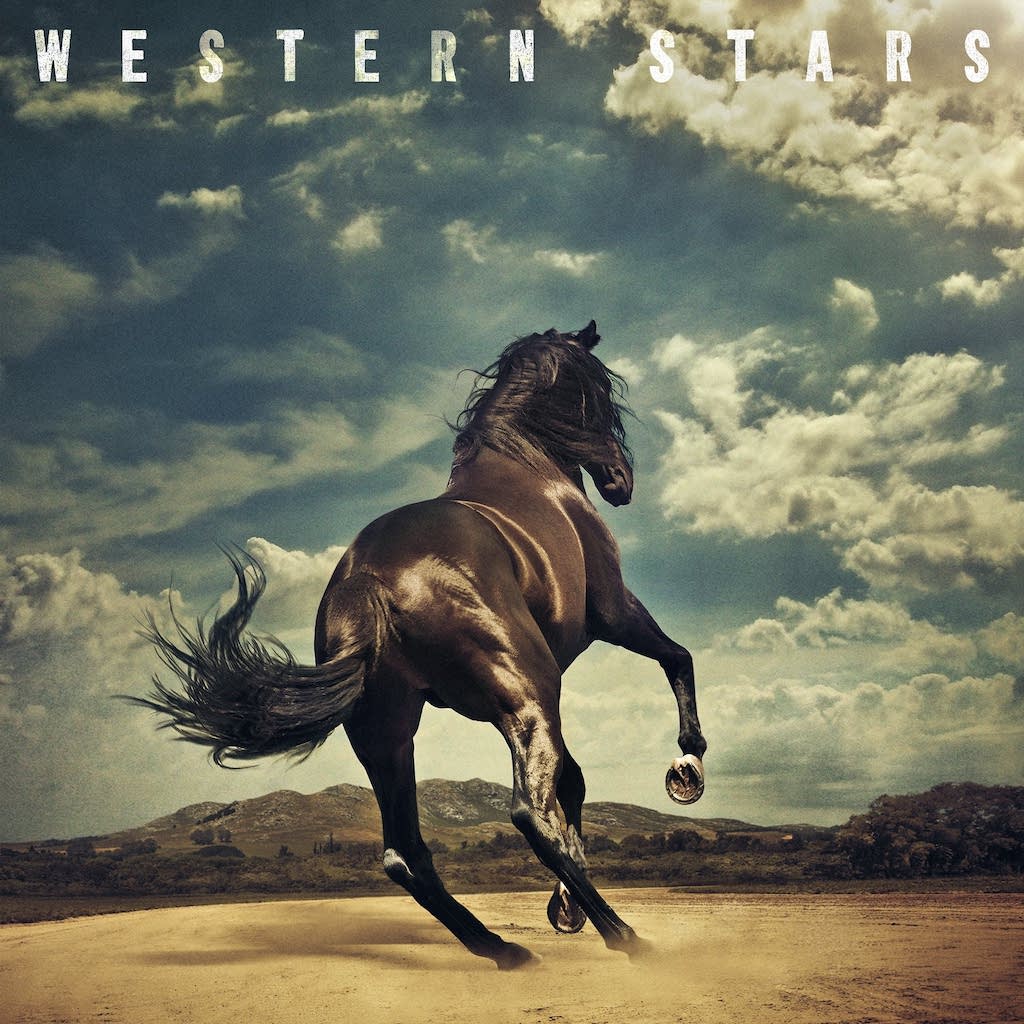 Around that same time, Bacharach and Nilsson notched their biggest successes with songs for films. Nilsson's "Everybody's Talkin'" won a Grammy in 1969 after it appeared in the Oscar-winning film "Midnight Cowboy." That same year Burt Bacharach and Hal David won the Oscar for their song "Raindrops Keep Fallin' on my Head" from the film "Butch Cassidy and the Sundance Kid."
Webb and Bacharach are each masters at distilling their own particular brands of sophisticated sadness. There is a sense of elegant aloneness in their finely wrought pop gems. In much of his previous work Springsteen tends to eschew that elegance in favor of a far more existential aloneness, but with "Western Stars" the load seems lighter somehow.
"Had enough of heartbreak and pain," he sings in "Hello Sunshine" over a loping train beat à la "Everybody's Talkin.'" "I had a little sweet spot for the rain/ For the rain and skies of grey/ Hello sunshine, won't you stay?"
Given Springsteen's own struggles with serious depression, these songs feels like meditations on alienation and prayers for deliverance.
Given Springsteen's own struggles with serious depression, this song, along with the album's other high points—"There Goes My Miracle," "Chasin' Wild Horses," "Sundown" and the redemptive "Tucson Train"—feel like meditations on alienation and prayers for deliverance. The characters from his stark and masterful "Nebraska" (1982) travel similar roads, but they look up into a sky that is a blank and unforgiving; in "Western Stars" that same sky may be blank but it is not without mercy.
"I'm waitin' down at the station," he sings in "Tucson Train. "Just prayin' to the five-fifteen/ I'll wait all God's creation/ Just to show her a man can change/ Now my baby's coming in on the Tucson train."
It is difficult not to wonder what "Western Stars" would have sounded like if Springsteen had paired up with Bacharach to see what his deft melodic touch and chord choices could have yielded. It is even more tantalizing to imagine what a song co-written by Springsteen and Webb might sound like.
In a 2012 interview, Webb recalled what Billy Joel had said about his masterful "Wichita Lineman," which has been covered by everyone from Glen Campbell, Johnny Cash and Robert Goulet to Ray Charles and R.E.M. Joel commented that Wichita Lineman is "a simple song about an ordinary man thinking extraordinary thoughts."
"That got to me," Webb told his interviewer. "It actually brought tears to my eyes. I had never really told anybody how close to the truth that was."
Simple lives imbued with profound depth have been Springsteen's stock in trade—his North Star—for decades. "Western Stars" sets his new course in a promising direction. I just wonder how much farther he could have gone with some additional traveling companions.
Correction, June 24: This review initially misidentified Matt Chamberlain as member of Smashing Pumpkins. He is a drummer who has played with Pearl Jam and Soundgarden among other bands.