In "If Beale Street Could Talk," Barry Jenkins writes a love letter to blackness
In "If Beale Street Could Talk," the director Barry Jenkins follows up his Academy Award-winning best picture "Moonlight" with another masterful meditation on race in America. This time he adapts James Baldwin's novel of the same name for the screen.
On its surface "Beale Street" is a love story set in New York in the early 1970s. Our protagonist, Tish Rivers—played by a commanding Kiki Layne—is in love with her childhood sweetheart, Alfonso, affectionately known as Fonny (Stephen James). The two are soulmates, their connection captured brilliantly on film. Flashing back to their early youth, the two play innocently and lovingly together in a bubble bath. Throughout the film, their interior connection is expressed visually through carefully curated clothing in matching colors. We hold our breath when they are on screen together.
In adapting Baldwin for the screen, Jenkins produces an ode to black literature.
Yet even from the first few frames we know that is too good to last. We hear Tish tell us, "I hope that nobody has ever had to look at anybody they love through glass," and the camera pans to Fonny behind the window of a prison visitation room. Tish is there to tell him that she is pregnant with his child. As these conflicts present themselves our story begins to unfold naturally, flashing forwards and backwards like the very function of memory itself. The film that follows is a celebration of black joy and a representation of black pain: a holistic portrait of black life in the United States.
In adapting Baldwin for the screen, Jenkins produces an ode to black literature, a love letter to one of America's finest writers. Nicholas Britell's score takes the lush emotions of Baldwin's words, balancing pain and joy, and turns them into music, effortlessly interspersing Nina Simone, John Coltrane and Miles Davis into the mix. Yet what is most surprising—and impressive—is the way that Jenkins took visual cues from America's finest black artists.
Alfonso is a sculptor. In dreamlike flashbacks he moves around his bare bones New York studio, where he lives and works, creating three-dimensional forms out of wood and stone using his hands. The images of him at work, laboring in the studio, harken back to the 20th-century African-American painter Jacob Lawrence. Lawrence is known for his stylized images depicting black life in Harlem during the postwar period. With Fonny in the studio, Jenkins captures the dignity of work in much the same way that Lawrence does in his representation of shoe makers, carpenters and seamstresses. These scenes feel like a Jacob Lawrence painting coming to life, stripping away its stylization but keeping the prophetic declaration of human dignity at its core.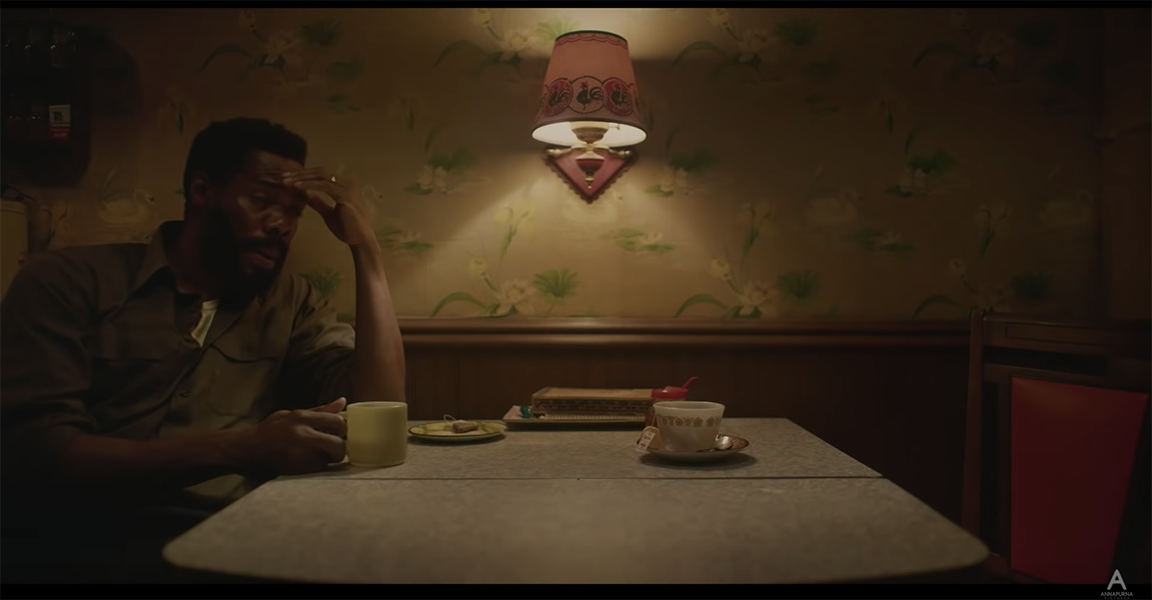 The movie is at its most captivating when it highlights the bond of the family unit. Tish receives unwavering support from her sister, father and mother. She leans on them as she wades into the uncertain waters of parenthood all the while challenging the injustice of Fonny's incarceration. In order to capture this bond Jenkins visually pays homage to the work of photographer Carrie Mae Weems, compositionally recreating her iconic 1990 "Kitchen Table Series." In that series, Weems creates an intimate relationship between herself and the viewer by inviting them to a seat at her kitchen table. Moving from frame to frame she keeps the table and hanging light constant while highlighting the ordinary aspects of her everyday life. She smokes while her husband reads a paper, has her hair brushed by another woman, puts her makeup on with her daughter, reads, studies, plays solitaire and laughs with friends. She places the kitchen table at the center of the home, the family unit, and life in general.
These scenes of black domestic life challenge stereotypes that pervade the American consciousness. Weems does through photography the same thing that Baldwin does through literature. In composing a scene of Tish's father at the kitchen table with a singular light source above his head, Jenkins deliberately channels Weems. He honors her and the influence she has on him and art at large.
In a Q. and A. after the screening I attended in New York City, Jenkins emphasized the importance of the family unit in "Beale Street." Responding to a question about why he changed Baldwin's ending—a major character dies in the original story—Jenkins said he could not bring himself to kill another black patriarch. At the screening, he also left the audience with a thought to reflect on: How would the lives of the protagonists in "Moonlight" and "Beale Street" have changed had their mothers swapped places?
America | Catholic Movie Club
Facebook Group · 343 members
Chat with other smart, funny, spiritual people about movies.
"If Beale Street Could Talk" is a meditation on race in America. It is joyful and painful—and deeply intimate. A number of times the characters stare directly into the camera, the frame closely cropped to their face. We feel for them. We feel the weight of the world on their shoulders. Jenkins holds the shot, giving time for this empathy to set in. As a period piece adapted from a novel published in 1974, it is sadly far too applicable to our nation's current climate. Yet in this deep sadness, Jenkins finds a way to write a love letter to black writers, black musicians and black artists: a love letter to blackness itself. And it is beautiful.