Atticus Finch and Howard Beale finally get their Broadway moment
"Show, don't tell" is an axiom dramatists do well to observe, not just in film but onstage. As the playwright Kenneth Lonergan memorably put it in a recent interview, "If I have something to say that's a declarative sentence, I'm better off saying it than spending two hours pretending some other people are."
But two starry new Broadway productions, adapted from well-known properties, have no qualms about speaking their mind. In "Network," based on the 1976 Paddy Chayefsky screenplay, a TV newsman snaps on the air and turns prophet, inveighing against his own medium and the decadent culture that has elevated him. In "To Kill a Mockingbird," based on Harper Lee's 1960 novel, a gentlemanly lawyer gambles that his small, Alabama town will see reason in the trial of an innocent black man, because after all, there is good in all of us. And not only these two lead characters but nearly everyone onstage in both plays has a lot to say about the meaning of what we are watching.
Two starry new Broadway productions, adapted from well-known properties, have no qualms about speaking their mind.
In both cases what narrowly saves the productions from being mere hectoring sermons is that they are also impressive spectacles; they both show and tell. "Network" is directed within an inch of its life by the Belgian auteur Ivo van Hove, best known for a series of bold stagings of American classics, including "The Crucible" and "The Little Foxes," and it stars the mesmeric Bryan Cranston as the unhinged broadcaster, Howard Beale, who frets and struts across every inch of Jan Versweyveld's bright multimedia set, his movements captured on live video. Indeed, cameras follow the actors everywhere, even to a scene played on the street outside the Belasco Theatre. An onstage bistro serves a handful of lucky theatergoers, opposite a glassed-in hive full of TV workers.
This bustle of activity almost serves to distract us from the emptiness of the show's critique and the bumpy melodrama of its plotting. In adapting Chayefsky's tendentious gonzo satire, the playwright Lee Hall has kept many of the beats of the original, but the play peaks early with Beale's famous live TV breakdown, in which he encourages viewers to join him in shouting, "I'm mad as hell...and I'm not going to take it anymore!" His prescription—to unleash anger without purpose, then figure out next steps—galvanizes a pop-culture revolution.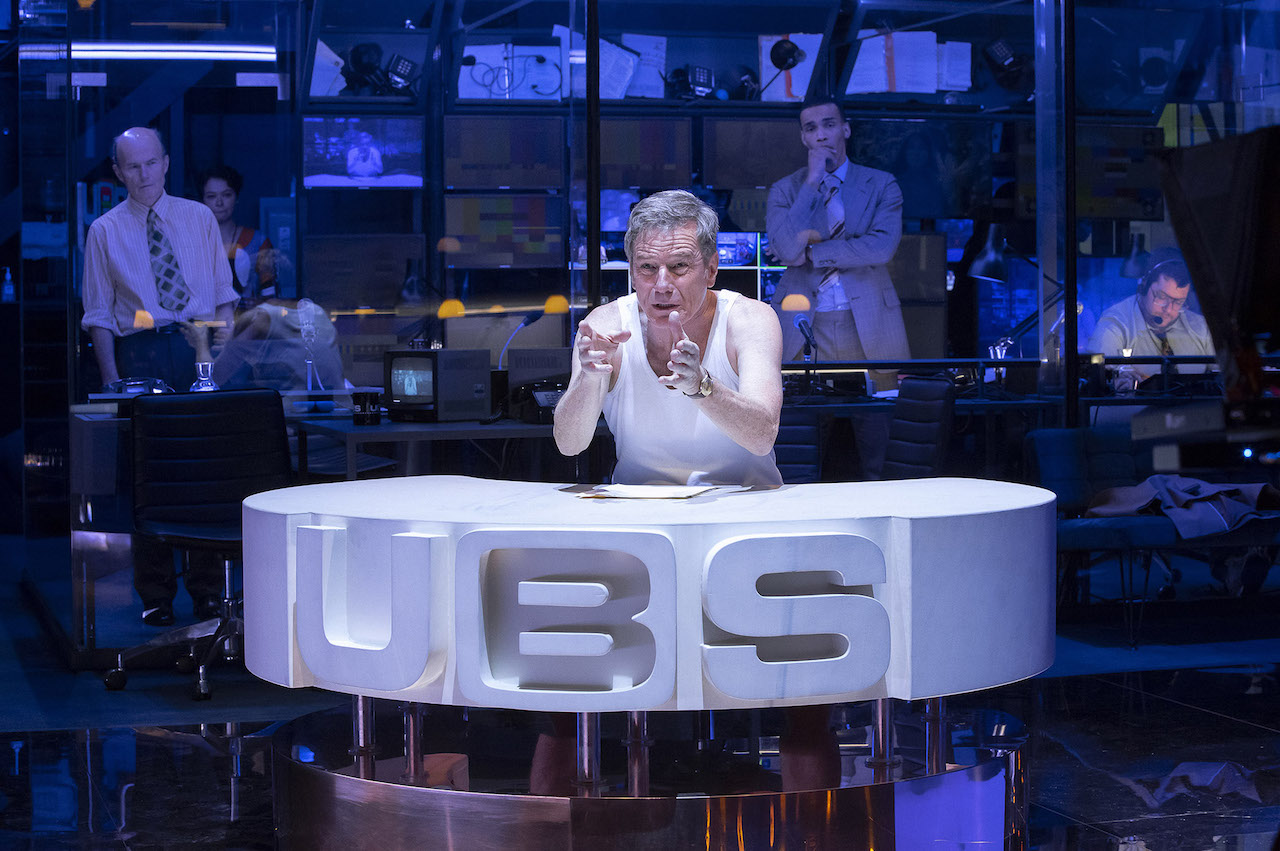 For a fleeting moment the show maps with eerie prescience our current cable-and-social-media-fueled diet of endorphins and bile—on the unfocused rage that has us all at each other's throats rather than organized against powerful interests who are all too happy to have us stewing in our own juices and throwing up our hands in despair at "the system." Beale, perhaps unwittingly, becomes an avatar of this shallow, bread-and-circuses populism, and the network, egged on by an ambitious young producer, Diana (Tatiana Maslany), is only too eager to have him ride the ratings.
'Network' seems to believe that Howard Beale actually is some kind of martyred prophet.
But the play, following Chayefsky's original script, seems to believe that Beale actually is some kind of martyred prophet, and so we get long, unfiltered homilies about the evils of television and stateless corporations. This is the "show, don't tell" dilemma in a nutshell: The action of the drama was on its way to making all these points before Beale spelled them out for us. At best this "Network" is a slam-bang star vehicle for the versatile Cranston.
To its credit but also its detriment, "To Kill a Mockingbird" is not a star vehicle for Jeff Daniels, who has the thankless job of stepping into the iconic role of Atticus Finch, flinty idealist and perfect dad, so definitively etched by Gregory Peck in the 1961 film. Daniels projects an innate decency, no question, and delivers his lawyerly speeches with aplomb, but in Aaron Sorkin's tricky new adaptation, Finch is less the play's center of gravity than the straw man for a new argument about civility and political change.
Into Scout's mouth Sorkin puts a question that could come from our current discourse: Do we really owe racists our respect?
As Finch insists, tragically, on making a case for the obvious innocence of Tom Robinson (Gbenga Akinnagbe) against charges that he raped a young white woman, Mayella Ewell (Erin Wilhelmi), Atticus faces questions from daughter Scout (Celia Keenan-Bolger), open challenges from woke son Jem (Will Pullen), and, most strikingly, pushback from his household's longtime maid, Calpurnia (LaTanya Richardson Jackson). Into her mouth Sorkin puts a question that could come from our current discourse: Do we really owe racists our respect? When Atticus explains to Scout that he is "100 percent right" and the townsfolk arrayed against him are wrong, but remember, they are all still good people, our "friends and neighbors," the cognitive dissonance is so pronounced it makes Atticus sound positively clueless.
The director Bartlett Sher, best known for a series of sumptuous musical revivals at Lincoln Center Theater ("The King and I," "My Fair Lady"), does his best to open up a drama mostly set in a courtroom or on a front porch. The show's secret weapon is Keenan-Bolger's Scout. The ages of the grade-school kids in the show are never stated, and they are all played by adults, but it is the wide-eyed Keenan-Bolger above all who nails the tightrope walk of memory-play narration and in-the-moment childlike wonder. Her voice has a musical cadence and pitch that makes even Sorkin's most overstated homilies—some lifted from Lee's novel, some of his own invention—sound homespun.
Still, Scout's key takeaway, that "trying to do the right thing is the right thing," is hardly rousing. And it exposes a seam at the heart of this material: Good intentions and an appeal to the conscience were never going to save Tom Robinson, or Mayella Ewell, both of them expendable victims of white patriarchy. If we didn't know it in the '60s, or whenever we were assigned to read Lee's novel in school, we should certainly know by now that the struggle for true restorative justice will take more than fine speeches, or even a lovely show.