An interview with Jim Gavin, creator of whimsical, offbeat "Lodge 49"
Jim Gavin is the creator and executive producer of "Lodge 49," which recently began its debut season on the AMC Network. Mr. Gavin spoke to America over email about the show. This conversation has been edited. [Editor's note: I have known Jim Gavin for 20 years, and we worked together on the Los Angeles Loyolan in college at Loyola Marymount University.]
"Lodge 49" would be a familiar name to anyone who grew up in suburban villages where fraternal lodges like the Elks, Moose, Shriners and Masons had their heyday—but the literary editor in me suspects you're dog-whistling nerds with the title of this show. Thomas Pynchon's novel The Crying of Lot 49 was a seminal text for many Gen-X readers. Was Pynchon an influence on "Lodge 49"?
I can't say that I had Pynchon in mind when I wrote the pilot. Originally, I was going to call the show "The Lodge," but it sounded too vague and abstract. Since most lodges have a number, I thought I'd give it a number. Forty-nine came immediately to mind, and suddenly I could see that it had to be that—because Pynchon's influence was there whether I intended it or not. He was an author I devoured in my 20s. In a way, I got a whole education reading him because I would go off and read all these other authors to understand his books: Henry Adams, Rilke and more. So the "49" was a loving homage. I knew it would be a bat signal to some. And it was to the first people who read the script—our executive producers Dan Carey and Paul Giamatti. Both are huge Pynchon fans.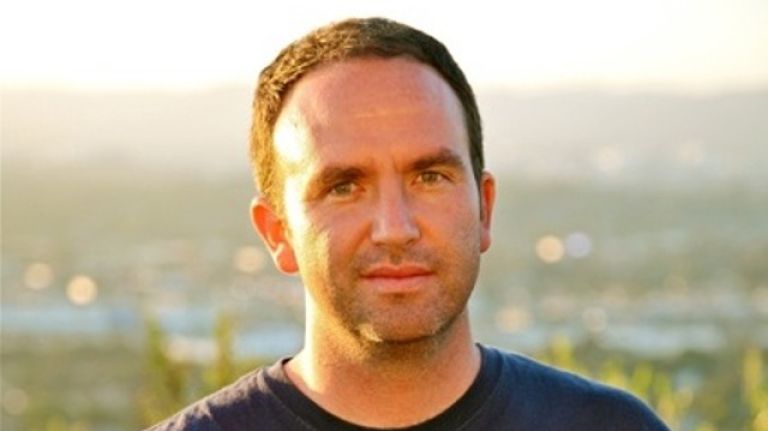 "Lodge 49" is a very personal story. It's about losing a parent and losing everything you worked for as a family. My family, like so many after the 2008 crash, went through bankruptcy and foreclosure. So it's a world populated with people and situations that I know very well from my own life. (I was a plumbing salesman for a couple of years.) But there is another layer to it, a literary and historical layer, playing on the history of Western esoterica and literary treatments therein. Pynchon is the obvious reference, but authors like Evan S. Connell and Muriel Spark play just as big a role in terms of texture and tone.
Jim Gavin: "Ten years ago, no one would have touched 'Lodge 49,' which has a unique tone."
Viewers (and reviewers) are in love with the soundtrack to this show. Did you get to pick the music?
I'm a music geek, with a particular taste for garage, surf and dreamy psychedelic weirdness, and this infused the writing in some mysterious way. I wanted to capture that feeling and knew there was only one person for the job of music supervisor: my old pal, Tom Patterson, a music journalist whose vast record collection I had been stealing from for years. He's an encyclopedia of all things strange, wonderful and obscure, and he provided an unreal library of tracks to draw from. Often these were dusty 45s he had unearthed in secondhand shops, and to track down the rights he would go to great and absurd lengths, such as hiring a private detective. He knocked it out of the park. Our show feels unique in many ways, and a huge part of that is the music.
Television is often criticized as a genre that reworks the same things time and again, but reviews of "Lodge 49" have called it a refreshing departure from the norm.
I feel like there's a range of shows now, beyond "Network Doctor/Lawyer" land, that bleed the edge of half-hour comedy and hour-long drama. Ten years ago, no one would have touched "Lodge 49," which has a unique tone. I consider it a comedy—it takes place in a comic universe—but it's an hour long and therefore has the expectation of a drama. I think the writers naturally subvert the tropes of standard drama but also don't write toward punchlines like a half-hour comedy. We're atmospheric in tone and intent. It's all about character. The best word I know to describe the show comes from Schopenhauer, who coined the term, "Bummerfarce." We are a bummerfarce for sure.
What are your own favorite television shows?
"Cheers" is a big one for me. I was in third or fourth grade when my parents started letting my older sister and me stay up to watch the 9 o'clock comedies. I remember not always getting the joke but loving the feeling of being with my parents as they cracked up. I wanted to know what was so funny; it was a passage to maturity in a way. Then I devoured "The Simpsons" and "The X-Files." The British version of "The Office" destroyed me—parts of it felt like Chekhov. I also loved "Lost" and "Deadwood." Then there's "Peep Show," which might be the funniest human document.
Jim Gavin on "Lodge 49": "Pynchon's influence was there whether I intended it or not. He was an author I devoured in my 20s."
From "Thirtysomething" through every reboot of the last decade, it's fair to say the Baby Boomers have dominated the small screen for decades and won't die. And there's plenty of glossy fare for a younger generation that television is trying to capture in an increasingly online market. How on earth did you get this paean to a generation of sullen Gen-Xers made?
The best part about this experience has been working with our showrunner, Peter Ocko. He articulates this far better than I. He feels like so much of television these days feels like homework, a grind, but our goal was to offer up a joyride, with characters you want to hang out with and with them feel a sense of kindness and optimism in the face of catastrophe. I actually think that's what AMC responded to—how different it felt and that there might actually be an audience who craved the same thing.
You used to be a short story writer and a novelist. You were published in The New Yorker! You had a book deal! When and why did you sell out?
I was surprised how fast I became America's greatest living author. In a way, I grew bored. Like Alexander, I required a new world to conquer. The funny thing is writing is just a lark to me. It all comes so easy. I'll bang out 3,000 pages of crystalline prose in a couple hours, and then I'll spend the rest of the day marlin fishing. Scripts are even easier. Writing is the easiest thing I can imagine doing.
So what you're saying is we shouldn't call this a comeback, as you've been here for years?
...
You and I both attended Loyola Marymount University in Los Angeles. Did it have any impact on your writing or your literary imagination?
I had a great experience at Loyola Marymount, both in the classroom and beyond. I worked at the campus radio station and newspaper, and I was lucky to meet other people who shared my curiosity about music, books and movies. I learned a lot from my English lit professors, but in many ways, I learned just as much from friends, who were always introducing me to crazy new things.
At Loyola Marymount, I developed a voracious appetite for books both classical and obscure, and some of my fondest memories are the hours I spent lost in the stacks of library, being drawn mysteriously to some dusty tome and diving in while I should have been working on a paper.