An Irish monk breathes new life into liturgical art in Toronto
"This character, there was a real sense of intimidation. I thought, can I make this guy look more friendly?" says Brother Emmaus O'Herlihy, an Irish Benedictine monk known for his vivid liturgical paintings, as he draws his hands across the canvas of a striking image of St. John the Baptist. "And no matter what I did, he just wasn't budging, like he was saying, 'I don't need to smile, thanks.' I couldn't force it.
"I thought, 'No, no, I'm the one who's alive here, you're just a painting!' But there was none of that. This guy was in control."
Brother O'Herlihy says his paintings, which are not intended for galleries but for spaces of worship, are meant to inspire a prayerful dialogue with viewers. But the dialogue starts from the moment he stretches the canvas, working not just with gesso, paints and primer, but with the spiritual themes and figures he wants to depict.
"That's the thing about that face. That's a face that's fearless and sensitive. But also, 'You're going to get your head chopped off because you're such a pain in the ass,'" he tells the painting.
When Brother O'Herlihy left his abbey in Ireland to study theology at the University of St. Michael's College in Toronto, he had already been a successful cartoonist at The Irish Times and had spent a decade as an artist in the United States. After a dedicated time of meditation and exploration led him to Glenstal Abbey in Ireland, it was painting, he says, that brought him to theology.
Theological reflection is not just something we do about art, he says. The art itself is theology. He mentions the work of the theologian Bernard Lonergan, S.J., who spent part of his career in Toronto and left a palpable mark there in seminary education. "Lonergan's definition of theology as mediating between a cultural matrix and the significance of religion in that matrix: That to me is what art does."
Brother O'Herlihy says his paintings, which are not intended for galleries but for spaces of worship, are meant to inspire a prayerful dialogue with viewers.
Beyond mediating symbols and culture, however, Brother O'Herlihy describes an almost mystical quality to the images he channels. "It's got to come from something—either a concern or an attraction, or something that comes from an emotion that's informed by a religious or spiritual drive, a hunger. So these images suggest themselves in the paint, and then later on I'll try to understand them so I can speak about and also learn from them."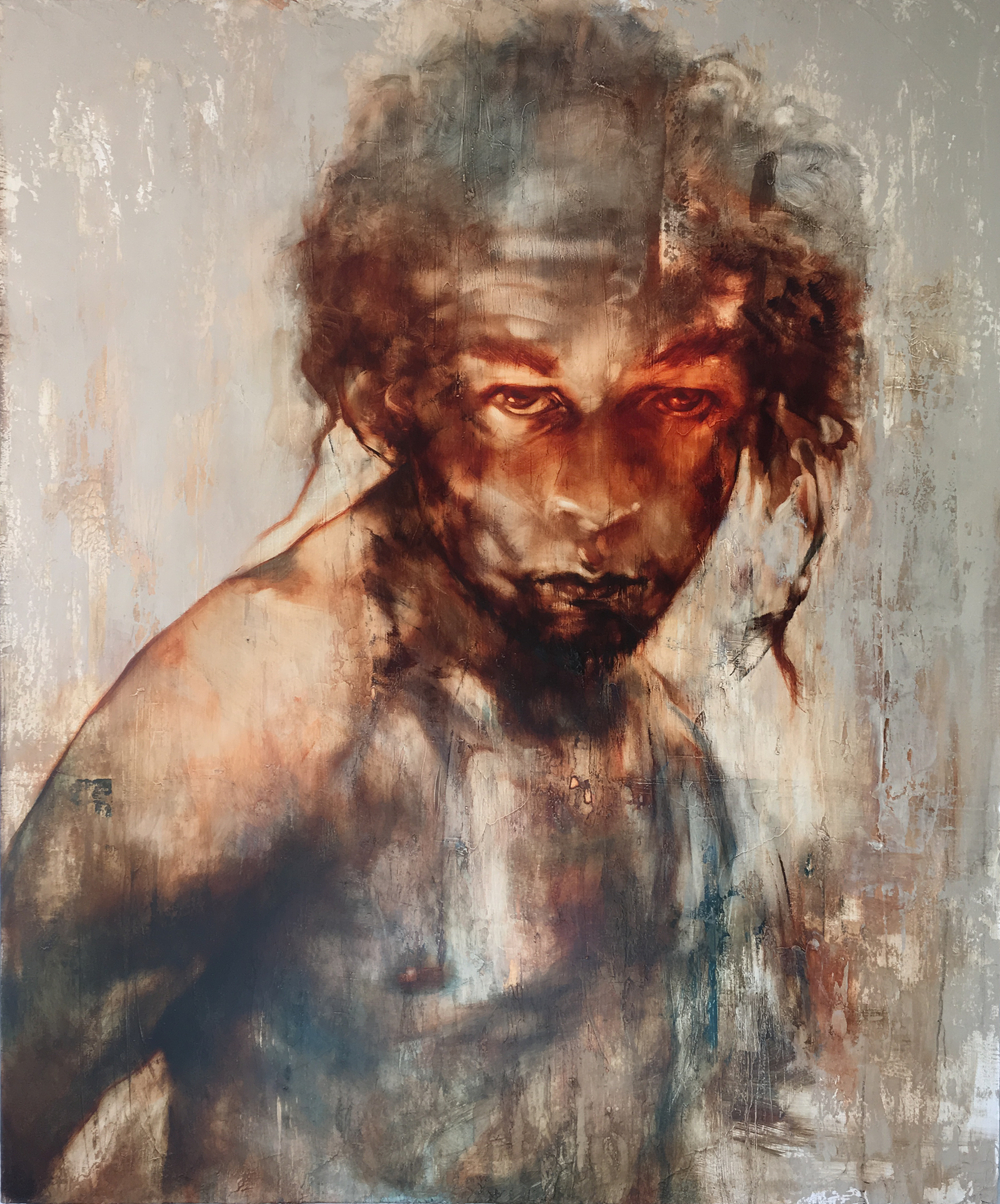 Part of the challenge of making religious art, he says, is contending with what he calls "postmodern" trends in the art world, like using humor, irony and critique to make a bold statement about religion. Though he thinks these statements can be important and necessary, he says people also need to see religious feelings and ideas expressed with authenticity and sincerity.
Leading with sincerity, however, does not mean that Brother O'Herlihy's paintings cannot make bold statements of their own. His color palette—"burnt sienna, dark, burnt on burnt, a bit of blue now"—rarely includes those colors, heavy with symbolic meaning, traditionally used in older paintings and iconography. Before painting on the canvas, the artist piles on layers of gesso to hide the teeth of the fabric, and he roughs up the surface with sandpaper and a palette knife. A figure emerges through "big dobs of paint" rather than brush strokes; Brother O'Herlihy believes the finished painting merges with the canvas, the whole thing appearing "like a worn skin that's lived in."
Part of his approach is an insistence on incarnation and the bodily side of human life, which he says gets lost for some people surrounded by idealized human bodies in churches. "I grew up with a tradition of porcelain saints, believing I could identify what's holy with good-looking, pure characters," he says. But the beautiful saintly bodies he encountered made him feel like holiness was unattainable since their bodies were unlike anyone he actually knew.
"I think working against that tradition is something these paintings also represent for me," Brother O'Herlihy says. "It tries to bring you back to something true of a Catholic or Christian tradition. This sense of being nudus nudum christum sequi, 'naked to find the naked Christ,' or that our salvation comes from the flesh."
In our "cultural matrix," Brother O'Herlihy says, we need to have a "visual fluency" that allows us to be able to speak comfortably with images that say something to our time today. He recalls one man who said seeing images like the ones he created made him feel "empowered" because he could identify himself in images meant for liturgical use.
"Our tradition keeps talking about the one who's ignored, the one who's ostracized, the disempowered, the poor, the girl who's pregnant."
"I'm not afraid of this image," Brother O'Herlihy remembers him saying. "I'm not afraid to think differently about my religious tradition because of this." The man had felt excluded from religious spaces throughout his life.
If they were evaluated based on traditional criteria, Brother O'Herlihy says, the figures he paints would not be identified as iconographic images of holiness. "But because of that, I think they speak to a present-day generation that doesn't need that; that needs something that says, 'Yes, you could be this person.'"
Though he wants to challenge how we think about saints, ourselves and God, Brother O'Herlihy also wants to draw Christians closer to parts of the faith that comfort the afflicted and afflict the comfortable. "Our tradition keeps talking about the one who's ignored, the one who's ostracized, the disempowered, the poor, the girl who's pregnant," he says.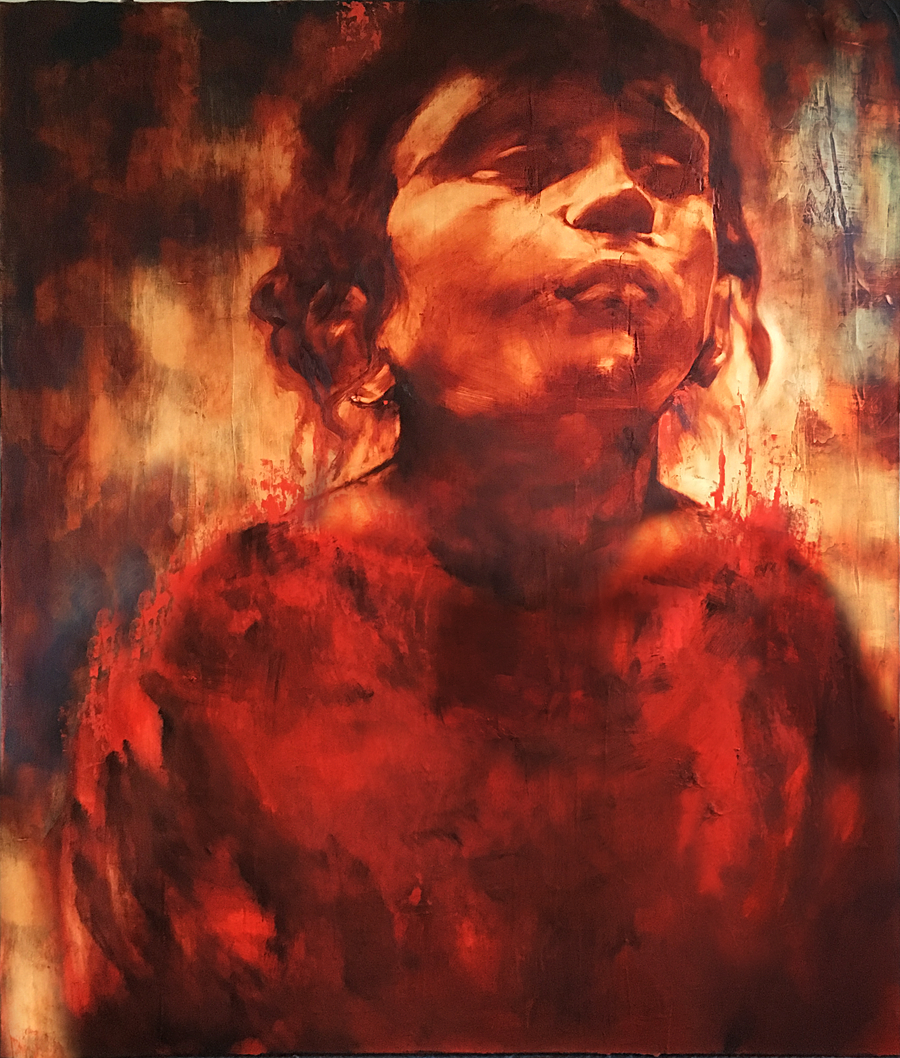 "The girl who's pregnant," by which Brother O'Herlihy means the Virgin Mary, is the subject of another of his recent paintings, "The Red Magnificat," which he describes as a culmination of his education and artistic practice in Canada. The painting started to form while he was reflecting on the idea, popular among biblical scholars, that Mary would have been between 12 and 14 years old at the Annunciation. During a Magnificat chant in the monastery, he thought it was strange that images of the Annunciation are often "cozy" and miss the scandalous side of the story—an unmarried girl whom, today, many would see as a failure or a disappointment.
As he continued to think about the challenge of depicting Mary as a young girl, he encountered an art installation called "The REDress Project," by Métis-heritage artist Jaime Black. The exhibition displays empty red dresses floating on hangers to represent the over 1,000 missing and murdered indigenous women and girls in Canada over the last 30 years, an issue that sparked a government inquiry fraught with internal conflicts. The inquiry was supposed to conclude at the end of 2018 but is now seeking an extension.
"I thought, 'Oh my God, this is really harrowing.' It was amazing to see how this artist had combined this image of absence and presence as a reminder, but also to bring attention to an injustice," Brother O'Herlihy says. He had been reading about colonialism in Canada, a process in which the Catholic Church played a significant role, and about the challenges of reconciliation with indigenous people.
Reflecting on the young women who have been forgotten and ignored by much of Canada, he thought of the song of Mary, the Magnificat, and its themes of social justice. "There must be some way we can bring that into a liturgical setting, into a prayerful place," he thought, leading him to paint Mary as an indigenous girl in a red dress.
"These indigenous women and girls are not forgotten by God. They're as sacred in memory as Our Lady is.... That is very hard to articulate, but when you see a painting I think it does something." He hopes the painting will hang where people can remember the missing and murdered indigenous women and girls in prayer.
"My doctoral work is to find how liturgical art today can help a faith assembly engage in an active, full participation in the liturgy," he says. For Brother O'Herlihy, the liturgy is a prayerful space, but a prayerful space that is porous to the world.
From reimagining the artistic tradition of Christianity to bringing the injustices of the world into prayer, Brother O'Herlihy's painting encourages new possibilities for liturgical life, where participants might meet the saints like neighbors, in all their flesh and blood. Whether called by the gaze of John the Baptist or stopped by Our Lady as a young indigenous girl in a red dress, his paintings suggest perhaps we, too, might become saintly through challenging, prayerful dialogue.