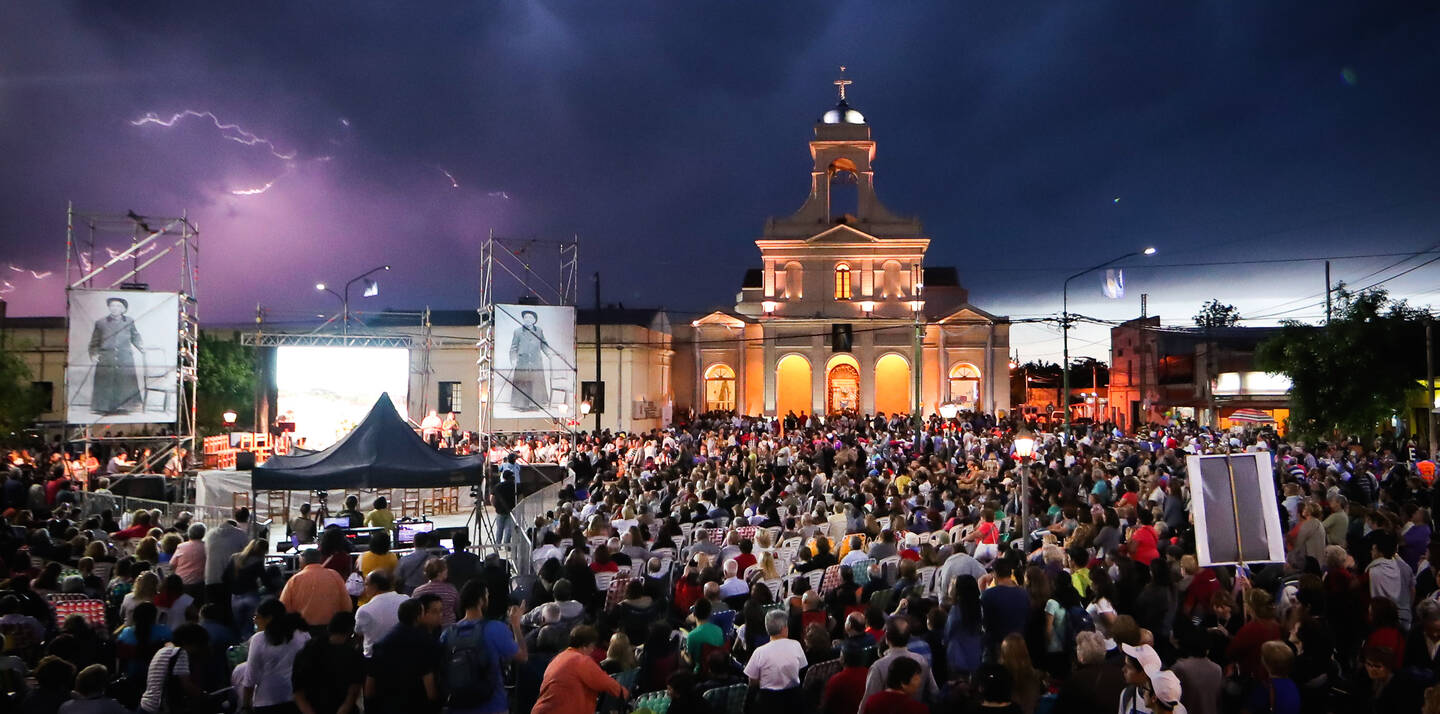 Cowboy, Engineer, Saint: On the Trail of St. José Brochero
It was the highways that drew me to Villa Cura Brochero. I wanted to see these roads that a saint built through the Sierras Grandes mountains—some overgrown trails, others paved and proud. They are completely ordinary, which is precisely why they are so striking. These were not highways that arose steadily out of zoning permits and construction budgets, those everyday miracles. No, these were handmade by a priest and his parish.
The poncho-wearing, cheroot-smoking José Gabriel del Rosario Brochero is often reduced to his nickname: the gaucho (cowboy) priest. In his native Argentina, however, Brochero is known for much more than his admittedly charming aesthetic. He manages to be celebrated as both civic hero and spiritual giant, apostle of the Spiritual Exercises (though not a Jesuit) and builder of highways, leper and aqueduct designer. He set out to be a pastor, and in the process also became the public servant par excellence—and as of last year, a canonized saint.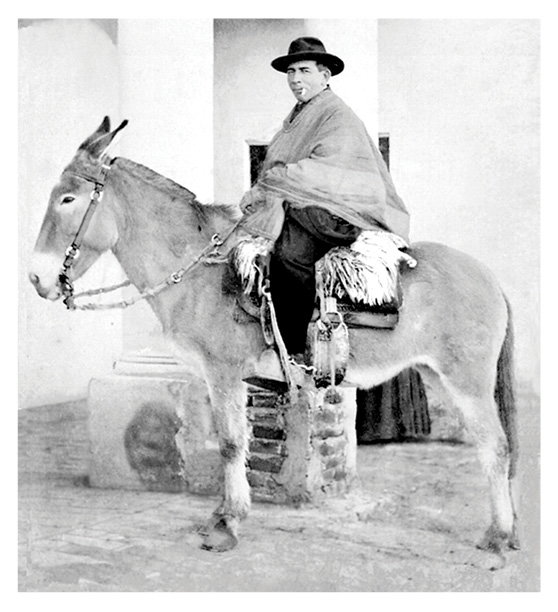 Born in 1840, Brochero grew up in the city of Córdoba at the tail end of the country's civil war. For the intellectuals in Buenos Aires, this was a time of prosperity and progress, a new beginning. But Córdoba, suffering from vestigial civil-war strife and a cholera epidemic, struggled to adjust. Though beleaguered, the city retained its reputation as a center for learning. As a young priest, Brochero was based at the cathedral while studying at the university and teaching at Our Lady of Loreto Seminary. Progress slowly arrived to the region in the form of the Central Argentine Railway, the first line to connect two provinces. The railway, a collaboration between British investors and the Argentine government, brought jobs and a corresponding economic boost to the rural areas between the cities of Córdoba and Rosario. Brochero's experiences in Córdoba evidently had a great impact on him, as he went on to focus his ministry precisely on education and infrastructure.
Brochero set out to be a pastor, and in the process became the public servant par excellence.
At the age of 29, Brochero was entrusted with the extensive parish of San Alberto and its 10,000 residents. The shift from wealthy Córdoba, gilded even in its suffering, could not have been more stark. His post was in the central village of Villa del Tránsito, founded just five years earlier. The region's poor residents were cut off from the rest of the country and from one another by the Sierras Grandes. As Brochero saw it, he was tasked not only with their spiritual care, but with incorporating them as citizens and extending to them all the privileges and resources thereof.
For instance, when he lacked the space and staff to provide the Spiritual Exercises in Tránsito, he personally led hundreds to the closest available retreat—125 miles away in Córdoba, where he had first encountered and become so enamored of the Exercises during his Jesuit education. It was a three-day journey by mule, caravan and foot, through heavy snow and with no access to roads. He led such groups for years until Tránsito's own House of Exercises (a building of significant proportions, no small feat for Brochero and his parishioners to construct with few materials and no way to import more) was inaugurated in 1877. For Brochero, the experience highlighted the parish's isolation and how it deprived residents not only of spiritual resources but educational and economic ones. He got to work.
Today, the House of Exercises is a museum dedicated to the saint, attached to the parish. The complex is austere, yellowed and plain, though it dominates the town square. On the winter day when I visited, in June 2017, a spare pilgrims' market and a single boom box murmured underneath a billowing Argentine flag. A small iron gate, papered with church bulletins and holy cards, directed visitors through the gift shop into a bright courtyard. Here a single white rose popped out of the tame greenery, and a hollow bronze statue of a donkey peeked out from the corner. It was quiet, cold and empty, and being there felt strange, like a school out of session, which was exactly the case.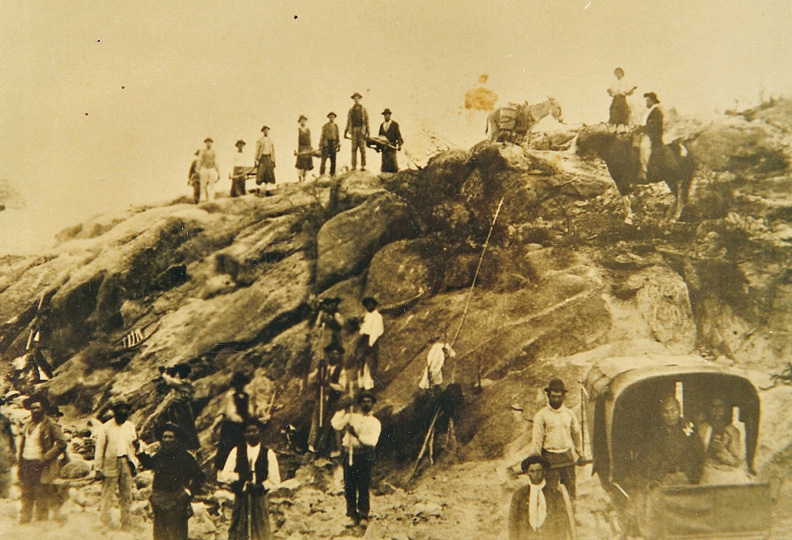 Brochero's early focus was on education, and he founded a school for girls here in 1880. That project also included constructing an aqueduct from nearby Río Panaholma, designs for which he included in letters to benefactors and cooperators, and a convent for the teachers. Not content with that, he became president of the neighborhood association for another local school and served on the district school commission twice.
The rooms in the House of Exercises that once boarded young girls, their nun teachers and the retreatants they hosted are now home to a hodgepodge of exhibitions about Brochero and the parish he led. In one room, school desks; in another, saddles and hats; another room is crammed with dilapidated religious art, paper flowers stuffed into the hands of a burnished Jesus. The altar where Brochero celebrated daily Mass has been moved from its original chapel into a little alcove. Lovingly framed altar cards—a gift from his parishioners, imported from Spain—lean against the wooden tabernacle, above which the souls in Purgatory leap out in bright red relief.
His confessional has been installed in the refectory, of all places. The flaps of wood that seal it hang open, as if paused in conversation. His bedroom is left much as it once was: metal frame, black crosses, a short desk, a thin rosary hanging from a nail on the wall. That last item is a prop; his own rosary is kept in a display case nearby. It is bulky, honey-colored, a gift in his old age from two parishioners who saw he was struggling to keep the delicate beads in his trembling hands. Next to it, his ponchos hang with his biretta.
Brochero built over 125 miles of roads, always with the help of his parishioners.
None of this would have been possible without those highways. Brochero conceived of them originally as a way to address the economic struggles in the parish. He took to infrastructure in order to connect the villages with nearby cities and open up trade and job opportunities. He built over 125 miles of roads, always with the help of his parishioners and often with support from the government as well. Roads in place, he was able to secure mail, messenger and telegraph services for the parish. The "Brocheriano" roads, as the system is called today, remain in vigorous use, though they transport substantially fewer ponchos and birettas these days.
The project dearest to Brochero, however, was bringing rail to the parish, perhaps inspired by the revitalization it brought to Córdoba. His letters from the summer of 1904 are jubilant about his proposed route, which he assured officials would be "free for the Nation" in that his parishioners were willing to buy the necessary land. It was approved the next year by the Legislature, though the Senate's minutes refer to the project as "inconvenient," "very difficult" and "very high cost." Such were Brochero's powers of persuasion.
His involvement was remarkable even to his contemporaries. A journalist at the time wrote of him in a Córdoba paper:
He is an exception: he practices the Gospel.… Lack for a laborer? He is a laborer. He rolls up his cassock as needed, takes the spade or the hoe and opens a public road in 15 days, helped by his parishioners, over whom he has absolute influence and to whom he sets an example and motivates with his personal effort.
That relationship with his parishioners was what made him exceptional as both a pastor and a public servant. Brochero kept close to all members of his community, from the poorest of his parishioners to the well-to-do patrons. In his old age, he was particularly close to the sick, to whom he ministered on the outskirts of Tránsito.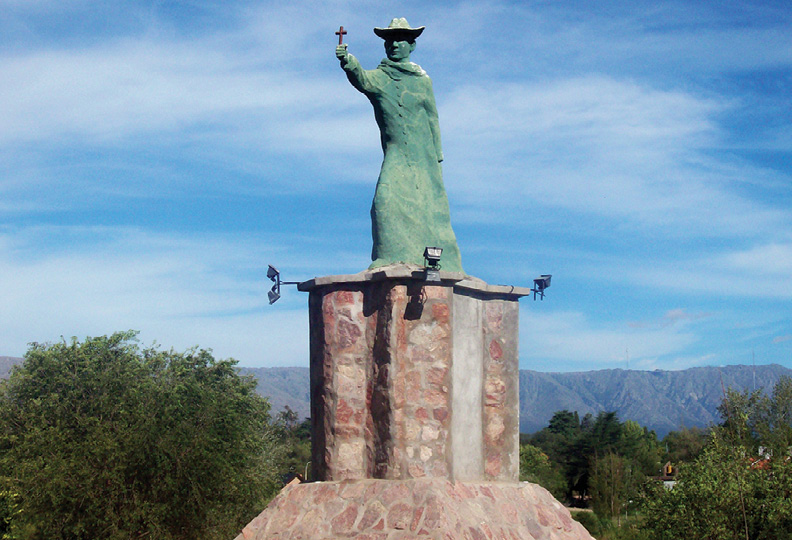 After visiting with and embracing a leper he met on the road, he contracted leprosy and began to go blind, which forced him to retire to his hometown of Santa Rosa del Río Primero. While there, he received some money in the mail from a well-to-do friend, Nicolás Castellano Piñedo. In his thank-you letter, dying from leprosy and too blind to write the letter himself, Brochero recounted having consulted with his sisters, friends and fellow priests before finally accepting the money. He made many promises of prayers and Masses in return, before confessing himself a little bemused:
I would also say to you all that I have always considered myself very rich. Because a person's wealth does not consist in the multitude of thousands of pesos he possesses but in his lack of needs, and I have so few. And those God himself satisfies, and others through the means of other people.
Two years after Brochero's death in Tránsito in 1914, the town was renamed in his honor. Today, Villa Cura Brochero remains an extraordinary monument to Christian public service, and his parish a lasting testament to its fruits.
The walls of the parish, now a shrine, are covered in fading gold plaques that thank Brochero for miracles and favors received through his intercession. His statue welcomes pilgrims near the door. On the day I visited, an elderly priest wearing a woven kaleidoscopic stole and jeans waited to hear confessions. A braid of flowers surrounded the saint's relics, which are encased by glass panes so that they are visible from both the shrine and the chapel of the House of Exercises next door. On the shrine side, parents raised their children up to the glass to kiss it, touched their foreheads to the ground and left flowers.
The chapel side is empty, silent, freezing, though a bit of bright yellow light seeps in from the courtyard. It is outfitted exactly to Brochero's taste: wooden pews; stone floors; a sooty but immaculately stitched Our Lady of the Rosary in the back; and a dark, beloved Christ Crucified placed over the altar. Whatever he did for Tránsito, he did for him.