Sick of "It's a Wonderful Life"? Try these other Christmas films
Christmas is a time for reflection. And that includes reflection on what we are watching at Christmas. Why am I sitting down to "It's a Wonderful Life" for the 27th time? What would Charles Dickens have thought of "Mickey's Christmas Carol"? Where can I buy a table lamp shaped like a woman's leg in a black-lace stocking?
What do we really want from a Christmas movie? The obvious answer would be Christmas spirit—and right away, the issue gets sticky like fruitcake.
A more salient question would be: What do we really want from a Christmas movie? The obvious answer would be Christmas spirit—and right away, the issue gets sticky like fruitcake: What exactly does Christmas spirit in a movie mean? Cheer? Merriment? If all you want are good tidings, watch "Duck Soup" (which, come to think of it, wouldn't be a bad antiwar-themed holiday choice). If we are looking for a film that communicates a purely Christian message, or translates in some way the meaning of Jesus' life on earth, then we need not limit ourselves to anything overtly seasonal. Conversely, there are movies famously set at Christmas time—"Die Hard" comes immediately to mind—that certainly seem antithetical to the whole peace-on-earth idea. Still, people will watch them annually and call them Christmas movies.
But like the smell of fresh-cut balsam, or the first belt of grocery-store eggnog (with its Proustian-madeleine afterburn), movies can trigger a rush of holiday recall, even sense memory. Which may be why we gravitate to the same films each year, the ones that awaken our dormant holiday emotions and help us relive, perhaps, the better Christmases of our lives.
But like the smell of fresh-cut balsam, movies can trigger a rush of holiday recall, even sense memory.
Granted, Christmases past can, like Ebenezer Scrooge's fitful night, be very personal and singular, but the holiday is ultimately about coming together. And the act of watching a film can be, in and of itself, a way of communing with our fellow celebrants, the ones we know are out there watching too.
They are certainly always watching "It's a Wonderful life," which has become the Old King Wenceslas of classic films, and it is a phenomenon this reviewer has always resisted. It's not that Frank Capra's 1946 classic isn't a tremendous movie. It is. But the reason its conclusion is so exhilarating and inspiring is that Capra has spent the previous 120 or so minutes painting an utterly despairing portrait of American life and the American soul. Without George Bailey (James Stewart), Bedford Falls is Potterville; children die; people go mad; alcoholism is rampant. Like several of Capra's more famous films, ("Meet John Doe," "Mr. Smith Goes to Washington"), the only thing that provides redemption from corruption is some kind of divine intervention—literally, in the case of "It's a Wonderful Life." What is bothersome about the film's status as a Christmas staple is the way the happy ending obliterates everything else Capra was trying to say.
Not to scare anyone away from "Life" (which bombed, not surprisingly, at the postwar box office), but a possible old-movie alternative is "The Shop Around the Corner," also starring James Stewart in one of the more delightful entries in the always delightful filmography of the director Ernst Lubitsch. The 1940 romantic comedy (the basis for the much-updated "You've Got Mail" of 1998), stars Stewart and Margaret Sullavan as gift-shop co-workers who can't get along on the job, but are in fact the "dear friends" with whom each has been conducting a secret correspondence, and they have fallen in long-distance love. The script is wonderful, the direction is deft, the actors are endearing, and there is a Christmas Eve denouement that hits the spot.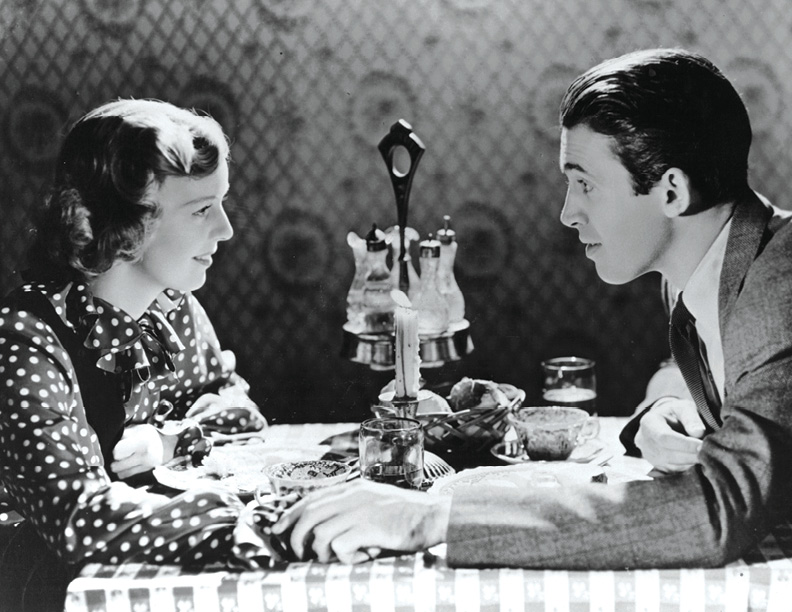 There is no shortage of musicals movies that play well at Christmas, some of which we don't necessarily think of as Yuletide fare—"Meet Me in St. Louis," for instance, whence sprang "Have Yourself a Merry Little Christmas." The one that gets the most airplay at this time of year is, of course, "White Christmas," which—I know, it's blasphemy—contains some of the lamest music ever composed by Irving Berlin, as well as his classic title song, which was first heard in "Holiday Inn," starring Bing Crosby and Fred Astaire, which around here is much preferable to Bing and Danny Kaye.
But the one that grows on me more and more with each passing year is 1993's "The Nutcracker" (a.k.a. "George Balanchine's The Nutcracker"), which got a lot of mileage back in the day because of the participation of Macaulay Culkin, whose 1990 megahit "Home Alone" is also thought of as a Christmas movie. The real star attraction, though, aside from Peter Martins's staging and the dancing of superstars like Darci Kistler, is Kevin Kline's narration, which is delivered in something approaching a whisper and does perfect justice to the awe inherent in Balanchine's ballet and the exhilaration of Tchaikovsky's music. Culkin is almost comically ill-used, but the production overall is a joy.
At the risk of playing it safe with this list—a list that indicates how durable these films are— the 1951 Alastair Sim version of "A Christmas Carol," sometimes known as "Scrooge," has never been topped, despite what seems like 101 versions of the Dickens tale made available every December (and starring everyone from George C. Scott to Mr. Magoo). Sim, a marvelous physical actor with a face made for radio, brings genuine dread to the role of Ebenezer Scrooge; the visuals are velvety blacks and grays; and the director Brian Desmond-Hurst, who had an otherwise unsung career, comes very close to making a psychological horror movie out of Dickens's oft-told tale. Sim walks along an edge of hysteria; the poverty that Scrooge finds so easy to ignore is made a very tangible thing.
About a half-century after Sim delivered his indelible nightmare before Christmas (also not a bad title), Will Ferrell made what is arguably the only real holiday classic of the last 30 years: "Elf," a movie so endearingly silly and gleefully human it should be watched by everyone, together, under the Rockefeller Center Christmas tree. As an infant, Ferrell's character, Buddy, crawled into Santa Claus's sack and was taken to the North Pole, where he was raised as an elf. Papa Elf (the great Bob Newhart) made allowances for Buddy's non-elfish size (Ferrell is 6'3") but when Buddy learns he is actually a standard-issue human, he travels to Manhattan and drives his biological dad, Walter (James Caan), to distraction.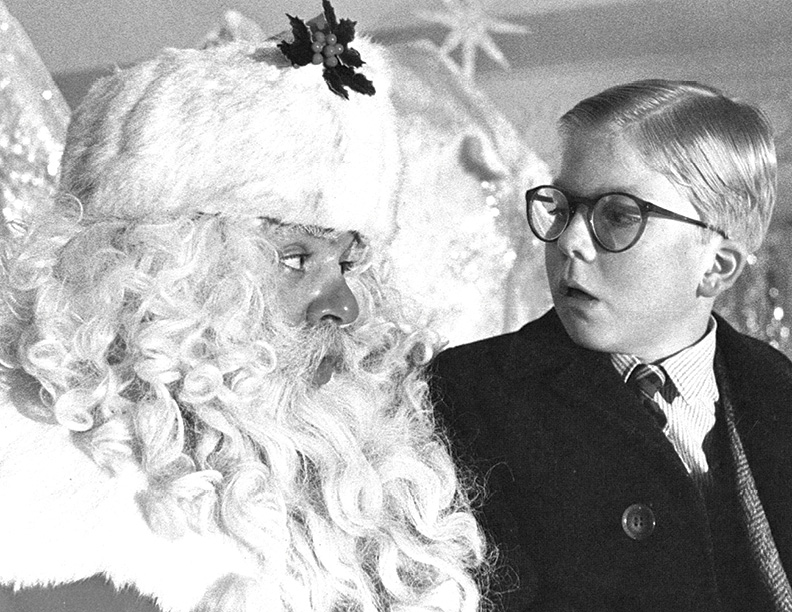 The director Jon Favreau makes great use of New York, which has been—from 1947's "Miracle on 34th Street" to 1960's "The Apartment" (yes) to 1988's "Scrooged"—the nexus of Christmas movie-making. And we say "almost" because of the glaring, brilliant, cannot-be-denied Midwestern exception: "A Christmas Story" (1984), the very thought of which brings happiness, dreams of a "Red Ryder Carbine Action 200-shot Range Model air rifle with a compass in the stock" and not-quite-painful memories of post-midnight gift-wrapping during Turner Broadcasting's annual marathon of director Bob Clark's comedy.
Set on the brink of World War II, the film stars Peter Billingsley, Melinda Dillon and Darren McGavin in what may well be his greatest role and was based on the radio memoirist Jean Shepherd's recollections of growing up in northern Indiana—where a lamp shaped like a woman's leg placed in a parlor window would certainly have caused an uproar.
But that's one of the things we look for in a Christmas movie. No, not a leg lamp: a world still innocent enough for such things to cause a scandal. It's refreshing. Reassuring. And, these days, as elusive as reindeer on one's roof.