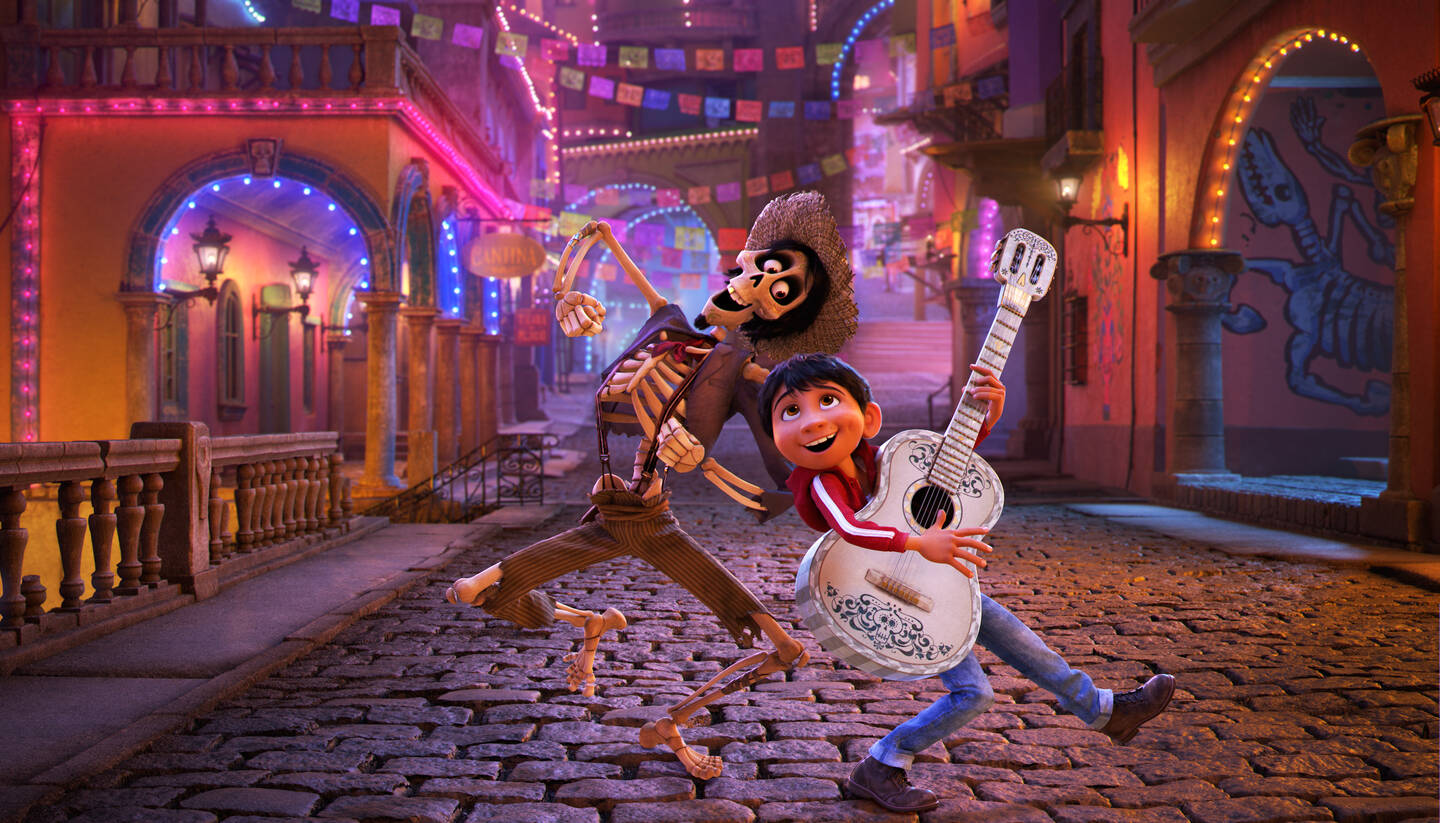 Disney tried to trademark 'Day of the Dead.' They make up for it with Pixar's 'Coco'
"Coco," the new film from Disney's Pixar Animation Studios and the first Pixar film to feature a Latino protagonist, is the story of Miguel Rivera, a 12-year-old boy living in the fictional town of Santa Cecilia, Mexico.
On the three-day Mexican holiday known as Día de Los Muertos, or the Day of the Dead, we watch as Miguel, an aspiring musician played by Anthony Gonzalez, struggles to balance his love of music, which has been banned by his Abuelita, and his family's desire for him to go into the shoemaking industry, a Rivera tradition. After stealing a guitar that belonged to his favorite musician, Ernesto de la Cruz, the young boy is transported to the Land of the Dead. Here he meets some of his dead relatives, who want to send him back to the Land of the Living—if he agrees to never play music again. Miguel refuses.
Against the backdrops of beautiful colors, musical numbers and poignant dialogue, we watch our young protagonist go on a journey to discover the truth about his own heritage and history. With an all-Latino cast featuring well-known names like Benjamin Bratt and Gael García Bernal, "Coco" is—despite its otherworldly elements—a realistic look into love, family and tradition.
"Coco" is—despite its otherworldly elements—a realistic look into love, family and tradition.
For co-director and writer Adrian Molina, "Coco" is personal. "I'm Mexican-American myself," Mr. Molina said in an interview with America. "A lot of my personal investment in telling this story is wanting to see a family on screen whose struggles and journey, and sacrifices that they make for each other, reflect the things I love and value about my own family, and about their journey."
Mr. Molina's mother was raised in western Mexico, in the city of Jalisco. In Jalisco, he says, Día de los Muertos is celebrated differently from what he saw in places like Oaxaca, Guanajuato or Michoacán, cities he visited as part of his research for the film. "Going down and experiencing the tradition as it's passed down in the household from generation to generation, that was kind of new and enlightening, and eye-opening for me," Mr. Molina says.
Día de Los Muertos is a day dedicated to praying for and remembering individuals who have died—it is also a holiday with roots in Catholic ritual and belief. "The dead who are celebrated in Day of the Dead familial gatherings are not abstractions," writes Gina Franco. "They are departed loved ones, actual people in actual graves, all of whom are recognized as part of the mystical body of the communion of saints." Mr. Molina describes it as a mix of Catholicism and indigenous practices.
"The tradition of Día de Muertos itself, it's beautiful in that it annualizes this moment for us to talk to each other, to relive these memories, to keep these stories alive," Mr. Molina says. "I think we forget to ask, and we forget the importance of knowing our own stories."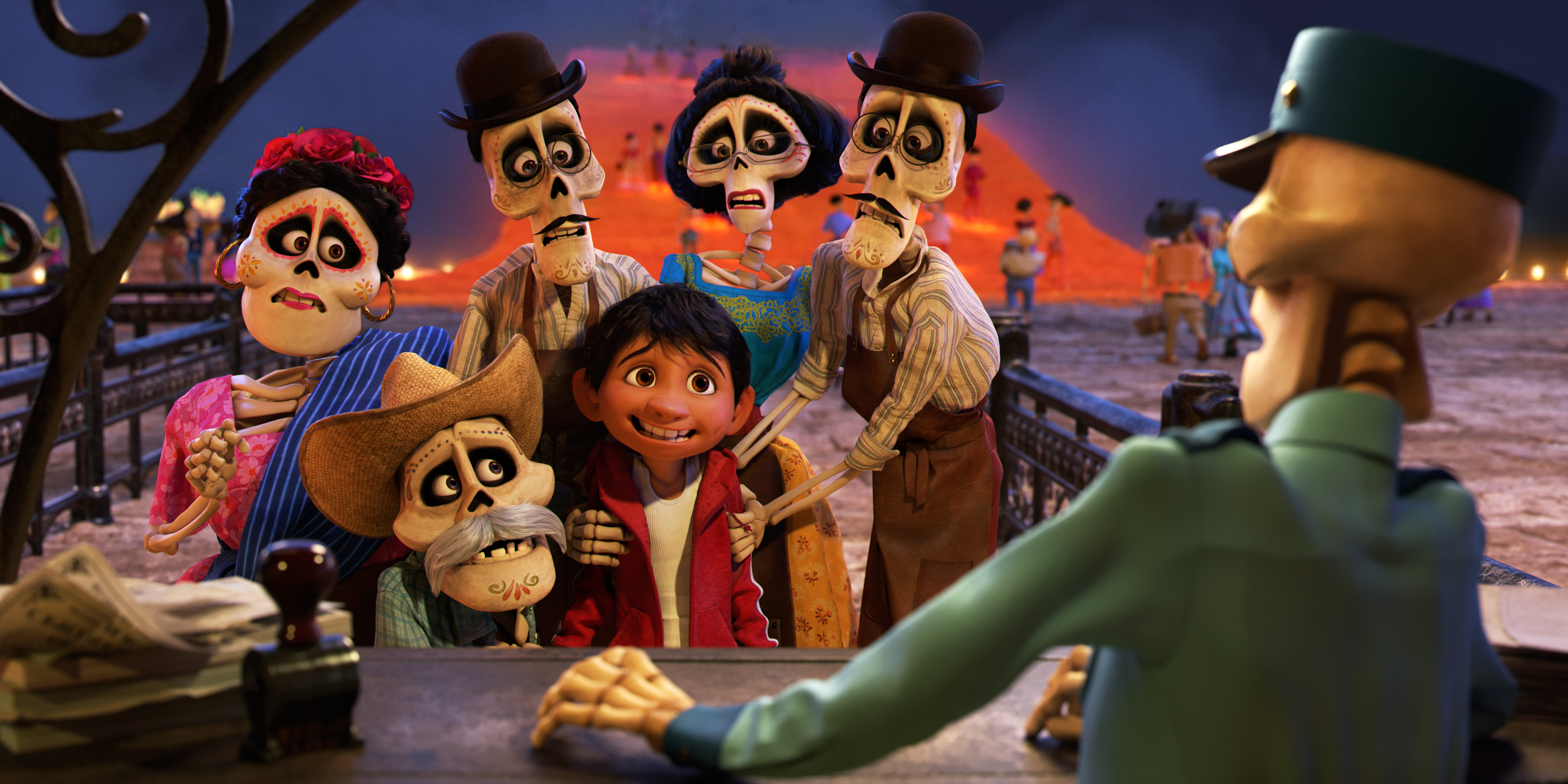 Research for the film began in 2011, when the filmmakers traveled to Mexico City, Oaxaca and Morelia. In 2013, Disney attempted to trademark Día de Los Muertos, a decision which was met with criticism from the Mexican-American community, including political cartoonist Lalo Alcaraz. "How could Disney allow such a blunder?" Mr. Alcaraz asked at the time. "I couldn't believe they would let someone in their legal department let this happen. On the surface, it looks like Disney is trying to copyright the holiday." The trademark case led Mr. Alcaraz to create "Muerto Mouse," a play on Disney's Mickey Mouse. The cartoon featured the slogan, "It's coming to trademark your cultura!"
Mr. Molina describes the trademark case, which Disney eventually dropped, as regrettable. However, it led Disney to hire Mr. Alcaraz, the playwright Octavio Solis and Marcela Davison Avilés, president and C.E.O. of the Mexican Heritage Corporation in San Jose, Calif., as consultants. This decision was crucial for the film. The consultants were able to view "Coco" during the early development stages, and each provided a unique perspective to their advising.
Mr. Alcaraz also advocated for the film's bilingual dialogue. "I looked to include more Mexican elements in the film when possible, like additional Spanish in the dialogue," the cartoonist said in an interview with the website Mitu. "I listened for pronunciations of Spanish words to make sure they didn't sound off."
Pixar traditionally does not invite advisors or members of a particular community to early screenings. But Mr. Molina tells me that "it was important from the earliest stage to get their eyes on it, and establish a relationship where we had a core group that could watch the film over and over, see the progression, and help guide the representation within the storytelling to a place where it felt like it was a faithful representation of both cultures and practices."
Mr. Alcaraz believes "Coco" has done just that. "The beauty of Mexico comes across clearly here," Mr. Alcaraz says. Since its release in Mexico, "Coco" has become the country's highest-grossing film of all time. "I want audiences, when they leave the theater, to pick up their phone, buy a plane ticket, go find the oldest person in their family, and record their stories," Mr. Molina says. The director's hope is that "Coco" inspires audiences to tell "their own family stories, and live in the memories of all the people we love."
The film opens in the United States on Nov. 22.