"BoJack Horseman" is a comedy about living in a long-broken world
My mother is a fish.

—William Faulkner, As I Lay Dying
Last week was the Memorial of Our Lady of Sorrows, and in his homily, the priest exhorted us to imagine our own mother suffering. "Who wouldn't long to console their mother?" he asked. And I thought of my mom and did in fact agree that I'd want terribly to console her if she were suffering. But I also thought, You know, homilies like this are why some people dread going to church on Mother's Day. And then I thought about a depressed, alcoholic celebrity horse.
"BoJack Horseman" is a Netflix cartoon created by Raphael Bob-Waksberg. The title character was once the star of a hit 1990s sitcom but has fallen into obscurity and misery. He's also an anthropomorphic horse: horse head, person hands and body. He lives in a world full of walking pink cats and roller-skating owls—as well as some 100 percent humans, like his long-suffering friend Todd.
"BoJack" is a comedy, albeit a comedy about sheer, unrelieved self-loathing. Season 3 found BoJack careening toward catastrophe, which hit in the genuinely heartbreaking penultimate episode. In Season 4, which Netflix released on Sept. 8, BoJack is picking up the pieces of his life while the usual chaos swirls around him: His canine friend Mr. Peanutbutter is running for governor of California against an incumbent woodchuck; hapless Todd is trying to train dentists to be clowns and vice versa; and Diane, the show's voice of relative normalcy, is writing for a shallow feminist blog with articles like "These Soups Will Enrage You."
The absurdity of "BoJack Horseman" offers an unrelenting, often devastating look into our own humanity. 
Season 3 was the show's most intently thematic season, centering on parenting versus killing—and parenting as killing. (Once that theme emerged, the preachy abortion episode seemed like protesting too much.) BoJack believes he's being framed for murder when graffiti reading, "BOJACK KILLS" begin to appear around town. He becomes a father figure for a lost guppy, and—in a much more disturbing way—for a former child star who once played his adoptive daughter. BoJack can't seem to stop accumulating young girl sidekicks. And he's never, ever good for them. He's the father figure you call when you want to go on an especially Electra-complex bender.
Season 3 also heightened the show's artistry. "BoJack" is a joy to watch. The candy-colored wackiness is the perfect foil for the show's bleakness, and there is always some weird detail to catch, like the doctor's-office diagram, which includes not only standard reproductive anatomy but "the inimitable SIDE BUTT." In Season 3 the animators also gave us an unexpected taste of wonder, in the show's surreal, nearly-silent underwater episode.
In the new season, BoJack has yet another girl by his side—another half-horse, Hollyhock, turns up at his door claiming to be his biological daughter. And for once he actually tries to do right by her. The animation not only offers some glorious moments, like Meryl Streep's lush rose garden, decked out with topiary busts of Meryl Streep. It also incorporates new styles, courtesy of director Anne Walker Farrell and cartoonist Lisa Hanawalt: We go inside BoJack's head, hearing his paralyzing inner monologue of self-hatred (the episode is called "Stupid Piece of S***" so you can imagine how this goes) and watching 1960s-style, scratchy cartoon-of-a-cartoon versions of BoJack.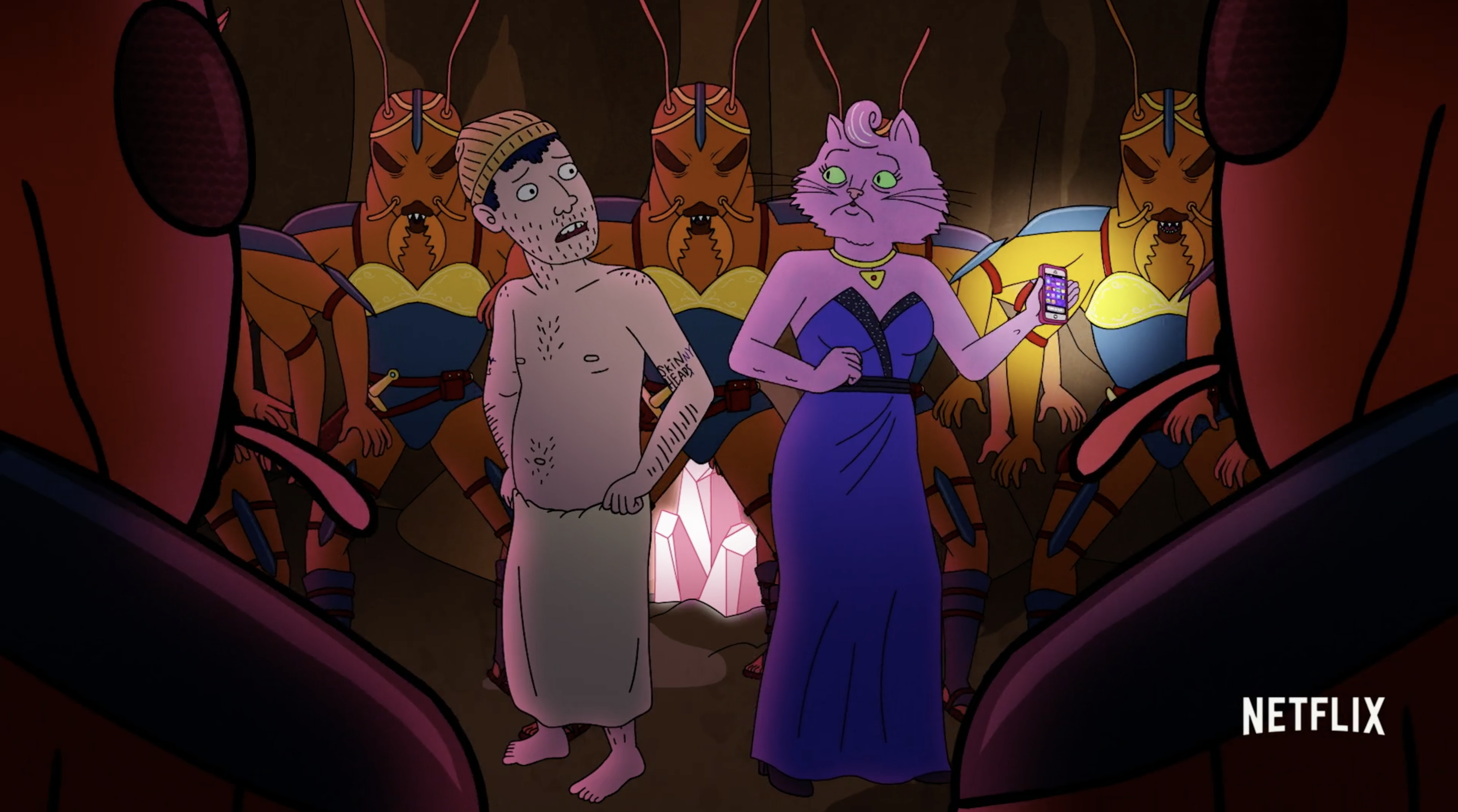 And as the season progresses, we go inside his mother's head. Beatrice Sugarman Horseman is suffering from dementia, and the scenes in her mind sway into horror imagery. She's surrounded by faceless people, and one significant woman whose face is replaced by a harsh black scribble. A painting's scenes shift eerily among different moments of her past. As we slowly learn more of Beatrice's history, she becomes something more than the nightmare mommy we have seen in previous seasons. We see how cruelty and despair have been passed down for generations—I'm surprised we didn't get an episode titled, "This Be the Horse."
Beatrice was a harrowing parent. In her fillyhood she was brash; her razor tongue and gimlet eye were captivating before they became merely habitually cruel. In the first season I was not fond of the flashback scenes where she berated or criticized little BoJack; I thought they displayed the contemporary mania for explanations. People don't always have reasons for what they do! It's okay to have characters who are just depressed alcoholics and it isn't Mommy's fault! But in this season the long shadow of family trauma gets a full artistic exploration, and now I can't imagine BoJack without Beatrice—or without Beatrice's own mother, the haunting silhouette with a lobotomy scar.
The comedy in Season 4 is uneven. There are still terrific lines: "You said offices have corners, and corners are the patriarchy." Diane's boss, offering praise: "Hi Diane, loved your depressing refugee story. We do so many stories that people care about. It's supes refreshing to see something that doesn't make you click, but does make you think." Todd, after an actual competent human being has asked if he can handle a simple task: "I never know if I can handle anything! That's what makes my life so exciting." BoJack, completely sincere, commiserating with Hollyhock on her Pop-Tart microwave fire: "Making food is impossible."
But the show's occasional preachiness rears its preaching head, in sophomoric attempts to address gun violence, asexuality and circumcision.
But the show's occasional preachiness rears its preaching head, in sophomoric attempts to address gun violence, asexuality and circumcision. The show's evils-of-demagoguery subplot is surprisingly fun, largely because although it's Trump-inspired it stays away from anything resembling actual U.S. politics. At its climax, celebrities trapped underground due to fracking form a cult led by Jessica Biel: "The rule of man is over! Now begins the rule of fire!" It's a glorious, wiggy twist, and isn't trying too hard.
Still, when I think about this season, I don't think first of the Biel fire cult. Instead I think of Princess Carolyn the cat, weaving a fairy tale to console herself after a terrible personal loss. Or little Beatrice Sugarman watching the shadows of her parents fight. Or a pot of coffee that represents every misguided attack your family has ever made on you in the name of love.
In Season 1 I assumed the characters were half-animal in order to distance us from their devastating emotions, and also because it is funny. And it is funny: an oily lawyer-rabbit who slicks his ears back; an ant union whose sole demand is sex with the drones. But in this season I started to wonder.
Faulkner's famous one-line chapter in As I Lay Dying, his fishy punchline, is spoken by Vardaman Bundren, a little boy trying to understand why his violent mother has been boxed up in a coffin. The Bundren children also imagine that their mother was a horse, that she "foaled" them. Her children's attempts to sort through the impossible, nightmare logic of the adult world produces absurdities much like the surreal creatures who populate BoJack's "Hollywoo"—nonsensical fragments of a long-broken order. BoJack's world is a gallows-humor parody of our own. But our own world is a gallows-humor parody of itself, and the only mother's son who was fully human is the Son of Our Lady of Sorrows.