'The Good Catholic' isn't the Hollywood redemption story we all want.
The theory here at America has long been that those movies deemed "classic"—the ones Hollywood uses to advertise itself—have always had unhappy endings. Rick and Ilsa part ways in "Casablanca." Rhett and Scarlett part ways in "Gone With the Wind." Blanche Dubois parts ways with her sanity in "A Streetcar Named Desire." "Citizen Kane" ends in a puff of disturbing smoke, and in "Titanic"—spoiler alert—the ship sinks.
Of course, what differentiates happy from unhappy will often depend on the viewer. I have always found the end of "The Wizard of Oz" to be morbidly depressing, given the contrast between the Emerald City and 1939 Kansas. Some, obviously, see it the other way. Some movies, in fact, try to have it both ways. But it is a rare movie that has its cake while eating it as brazenly as "The Good Catholic."
Written and directed by Paul Shoulberg, the film concerns an idealistic young priest, Daniel (Zachary Spicer), who is happy in his work, unhappy in his faith. He has always had a vocation, he says, though he admits his late father more or less pushed him into the priesthood. He senses that he has never had the same relationship with God as the one enjoyed by his superior, the traditionalist Father Victor (Danny Glover), or his more liberated colleague, Father Ollie (John C. McGinley), a Franciscan with a weakness for tobacco, carbohydrates and Hoosier basketball. (The film's production company, Pigasus Pictures, was founded by Spicer and co-producer John Robert Armstrong to promote Indiana filmmaking.)
A reviewer should never assess a movie for what it is not, but this viewer was not sure for a long time what exactly "The Good Catholic" was.
Daniel is hearing confessions one late Friday night when a woman rushes in and blithely delivers the claim that she has never been to confession before, does not know how it works and oh, by the way, she is dying.
We see where this is going, if not entirely how or, certainly, why. The young woman, Jane (Wrenn Schmidt) is brash, sexy, opinionated—everything the uncertain Father Daniel is not. (Spicer's guileless look is perfect for a questioning priest.) She also lies. But she gives him something to grasp hold of, the way Father Ollie grasps hold of a mini muffin, or the remote during a basketball game. "You have to find something of your own," Ollie says, explaining his sports mania to Daniel. "Something selfish and stupid and human." Jane is, in a sense, Daniel's March Madness.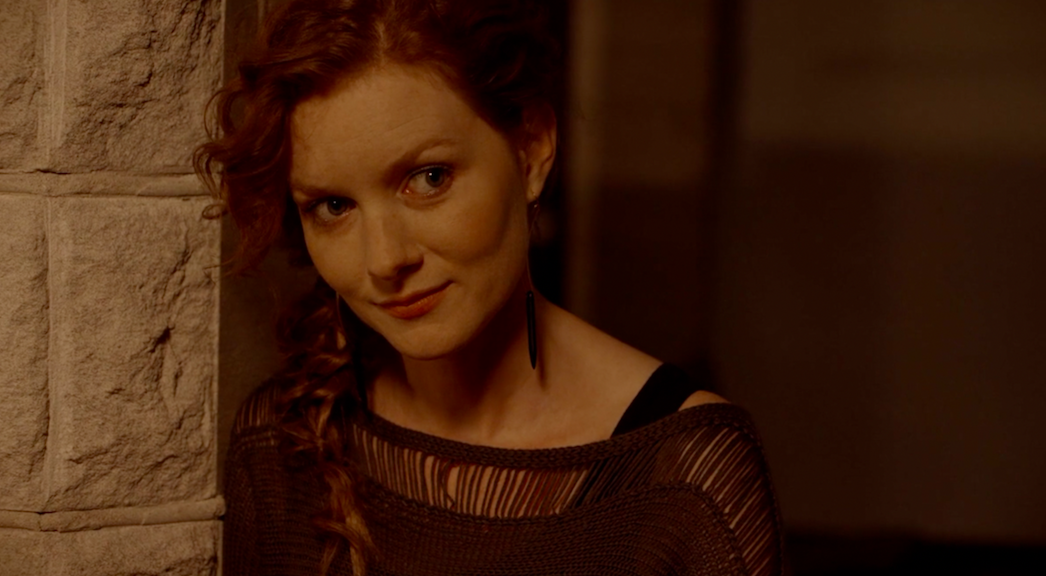 Or not. A reviewer should never assess a movie for what it is not, but this viewer was not sure for a long time what exactly "The Good Catholic" was. I had what I thought was a critical revelation—that Jane was intended as Satan personified: She invades Daniel's life and sanctuary in his hour of doubt, scattering sexual temptation in his path. She is brassy to the point of abrasiveness, the kind of person who puts others on edge while saying "relax." She expresses no remorse at any time for what she is doing, for the rupture she is bringing to the life of a young priest suffering a crisis of faith. She is almost mocking in her regard of Daniel's torment. So yes, we were hoping for allegory.
And while "The Good Catholic" lacks much visual elegance, the acting is first rate.
The best scene in the film, in fact, is a casting out of the devil, from the dining room of the rectory where Daniel has invited Jane to eat with Ollie and Victor, the latter being wise to what is afoot. (Spoiler: the Jane-Daniel relationship is chaste, right up to the closing credits.) Victor's demand, that Daniel face up to the decision he is about to make—or not—is Glover at his best, and the clearest moment in the film regarding the priestly vows and the spiritual issues inherent in Daniel's crisis. It is a deliberate dismissal of Jane, her motives and whatever Daniel thinks she offers. It is a bit thrilling, to be honest.
And while "The Good Catholic" lacks much visual elegance, the acting is first rate: McGinley ("Scrubs") is hilarious as the unorthodox priest; Glover is formidable, as is Schmidt, though she suffers from the wobbly intentions of Shoulberg's script.
So here is a real spoiler: In the advance materials for the film, it is disclosed that the director dedicated the film to his father, a former priest who married a former nun, Shoulberg's mother. Certainly a tip-off for what is coming, and the intent of the movie at large. There is a mollifying message delivered by Victor, via his homily during the movie-ending Mass (a lot of the film's spirituality is delivered via homily rehearsals among the three priests). But what we were looking for, frankly, was one of those Hollywood unhappy endings that would have been brutally honest, yet redemptive.