There is nothing particularly infectious about "The Big Sick," directed by Michael Showalter and, more important, produced by Judd Apatow, whose influence across the comedy landscape is invasive bordering on pestilential. It is a rom-com in the heartiest sense of that overused term. It doesn't make anyone feel the least bit queasy about living in a country where banning Muslims is actually the subject of debate. But let's look at what it does right.
Relying on the hoary but reliable Old World-versus-New conflict, "The Big Sick" is based on the real-life romance of the comedian Kumail Nanjiani (HBO's "Silicon Valley") and his wife, Emily V. Gordon, who wrote the script together and apparently know something about clashing cultures. Nanjiani's character, also called Kumail, is an aspiring stand-up comedian and Chicagoan whose parents are what one might call hard-line Pakistani. They are devout believers in Islam and in the idea that Kumail should marry a Pakistani woman, become a doctor or lawyer and shut up about it. And stop disgracing the family with his comedy. But at the very least get married.
Advertisement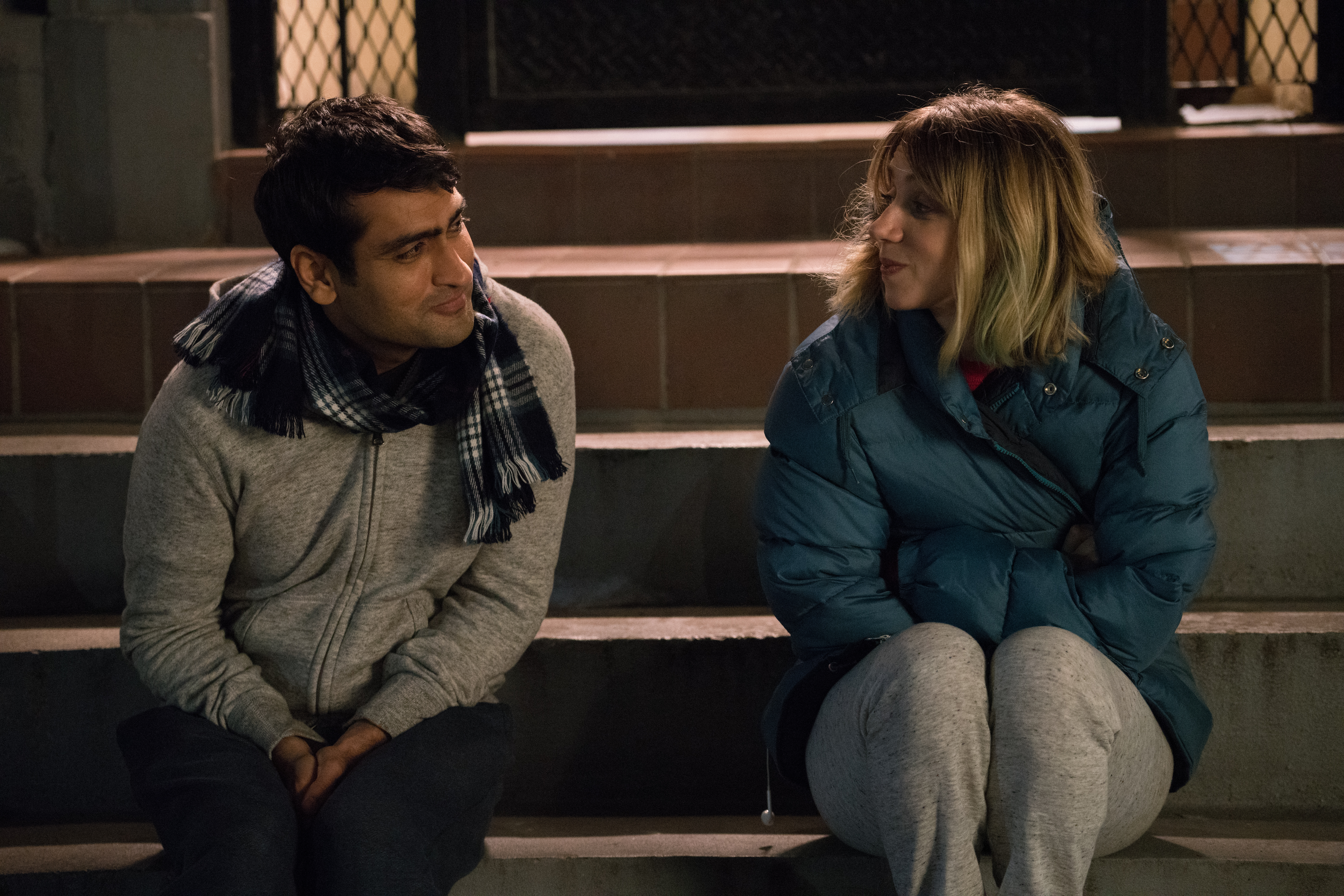 He will, of course, fall in love with a "white" girl, named Emily (of course), played by a really quite delightful Zoe Kazan. They meet cute at a comedy club, sleep with each other right away—and then she declares she doesn't really want to date anyone right now, she is so busy studying at the University of Chicago, etc., etc. Kumail, however, is ensnared by her obvious charms and, little by little, inveigles his way into her heart. The problems-to-be loom as large as the Faisal Mosque in Islamabad.
The problems-to-be loom as large as the Faisal Mosque in Islamabad.
What "The Big Sick" gets at, in its obvious but necessary manner, is how America undermines traditions from other countries, and always has. It is America's job. "Why did we come here if you didn't want me to have an American life?" Kumail asks his mother and father (Zenobia Shroff and Anupam Kher), echoing what have probably been millions of second-generation Americans, be they Irish or German or Italian or Chinese. Which is the movie's other valuable point, which should be obvious but maybe is not: that the Muslim/Pakistani-American experience is not all that different from, say, that of the Swedish-American.
Is the title of "The Big Sick" referring to the difficulties of assimilation or the elders' resistance to it, or perhaps even to the abandonment of a young man's ethnic culture for the amorphous benefits of Americanism? Sure. Why not? In more concrete terms, though, it refers to the infection Emily contracts sometime after she and Kumail have broken up (in a torrential emotional meltdown that, frankly, feels totally calculated) and toward which Kumail is drawn after one of Emily's classmates calls in the middle of the night to tell him he has to go to the hospital because no one else can—since they all have finals. Eh? This makes even less sense than the Kumail-Emily breakup, which occurs after she finds in his room a cigar box full of pictures of prospective Pakistani "brides" that Kumail's mother would like him to choose among, and which prompts Emily's realization that she is the Archduke Ferdinand in Mom's Great War.
Can't Kumail and Emily work it all out and be together? Isn't that what is going to happen in the end anyway? Oh, sorry, spoiler alert.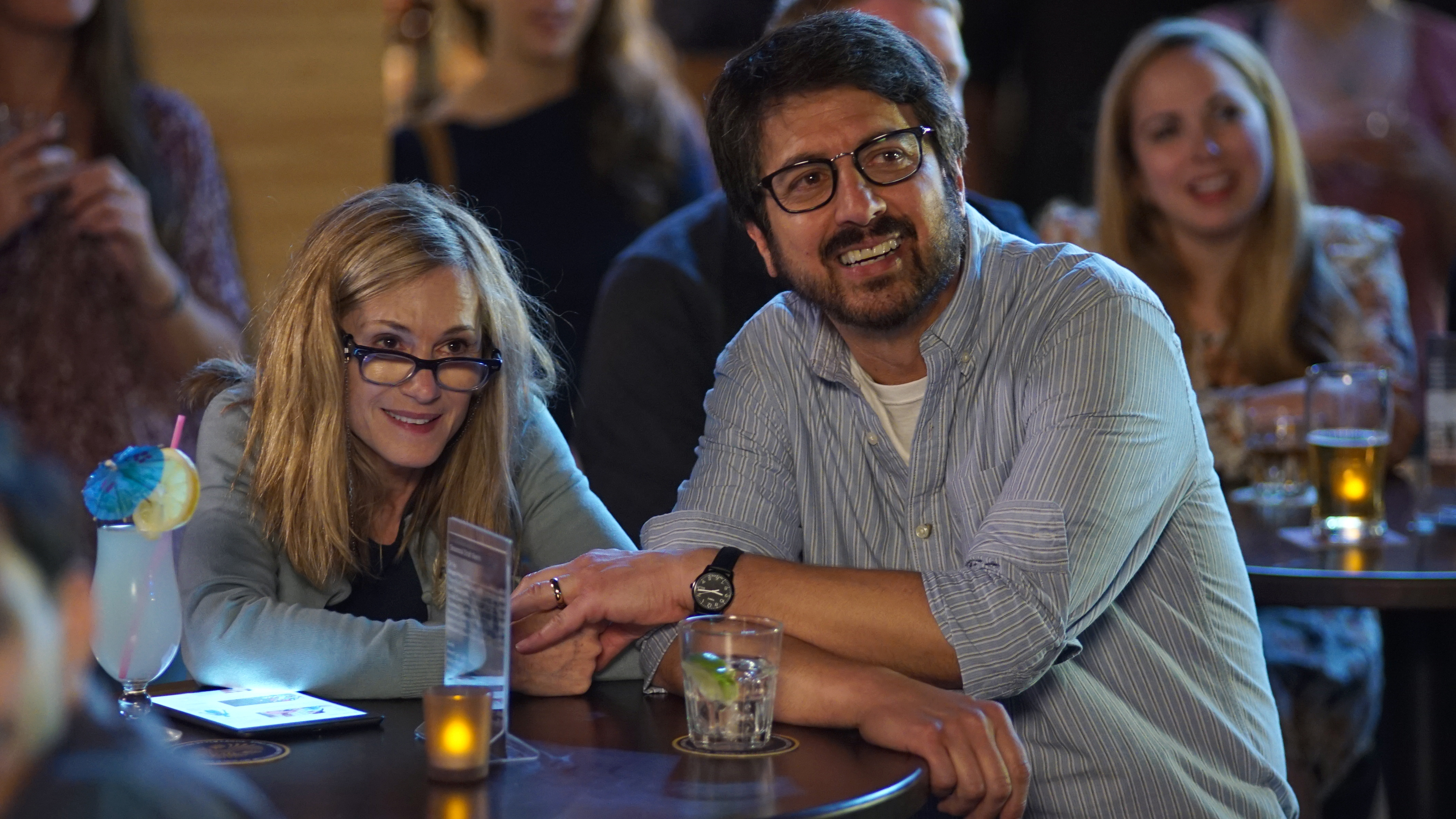 But first—in a vague echo of the quasi-classic comedy "While You Were Sleeping"—Emily will be put in a medically induced coma so her infection can be treated. All around her inert self are heart monitors, bewildered doctors, Kumail falling more firmly in love, and his and Emily's parents clashing, bonding and becoming almost a family unto themselves. Holly Hunter, as Emily's mother, Beth, is something of a marvel. The role is a perfect fit for the actress's native spunk and snarl. Ray Romano, as her husband, Terry, is also good, and far more understanding of Kumail, the man Beth thinks done her daughter wrong.
Emily, meanwhile, checks out for much of the rest of the movie. When she awakes, it is to a world she does not quite recognize.
It is her own immigration experience, in a way, back to the world of the living and breathing, in a movie not quite prepared for such gravity.
It is her own immigration experience, in a way, back to the world of the living and breathing, in a movie not quite prepared for such gravity. I mention Judd Apatow at the beginning of this review because "The Big Sick" features several hallmarks of the Apatow movie, which always somewhere, somehow, makes its way to the bathroom to score comedic points (see "Bridesmaids") and where the storyline is subservient to setups for gags. Many scenes are included for no other reason than to allow two or more characters to deliver jokes. Threads of storylines appear and disappear with no explanation. Kumail, for instance, is an Uber driver, but only for the first 15 minutes of the movie (perhaps someone thought better of stereotyping a Pakistani as a cab driver); his fixation on B horror movies is a big deal, then it is not. The lovely young women whom his mother is always telling him "just dropped in" during dinner time are seen too little—except for the terrific Vella Lovell, last seen in TV's "Crazy Ex-Girlfriend," who really is too good for Kumail, who is himself too low-key and reactive to be the centerpiece of a mainstream romantic movie. At the same time, the value in having any Pakistani-born star carry a movie that will play in malls across America can hardly be overstated.