One of the most appealing aspects of this splendid new production of Tom Stoppard's breakthrough work, "Rosencrantz and Guildenstern Are Dead," now running in London, is also its only disadvantage. There are moments when the title actors, played by Daniel Radcliffe and Joshua McGuire, working as a duo and onstage together for almost the entire play, just have too much fun with Stoppard's deft, witty dialogue.
First performed 50 years ago in London's Old Vic Theatre, the play made Mr. Stoppard an overnight sensation. His playwriting is nimble and funny, and demanding of philosophy. The tone was set for a writing career of plot-twisting, word-bending and high wit. Mr. Stoppard invites his audience to explore something we thought we knew but from a different perspective. Actors need to engage the clever comedy as well as the existential confusion.
Advertisement
That's what happens in this play. Hamlet's "excellent good friends" don't really understand what is happening in the original Shakespearean narrative that Stoppard takes and twists. The genuine action goes on around them but just out of their reach; they can see it but cannot influence it. They become the unintended central characters, understanding even less about what's going on around them and their place in it all, while Shakespeare's main characters are sent to the wings. The splendid interplay between them has to be sarcastic, even bleak, yet simultaneously playful for this to work, but this production occasionally lessens this tension. For example, the two characters are unsure about their own identities, introducing themselves by name as each other in the first act; this should allow for a moment of irony, but in this production it is played only for the laugh and a chance is missed.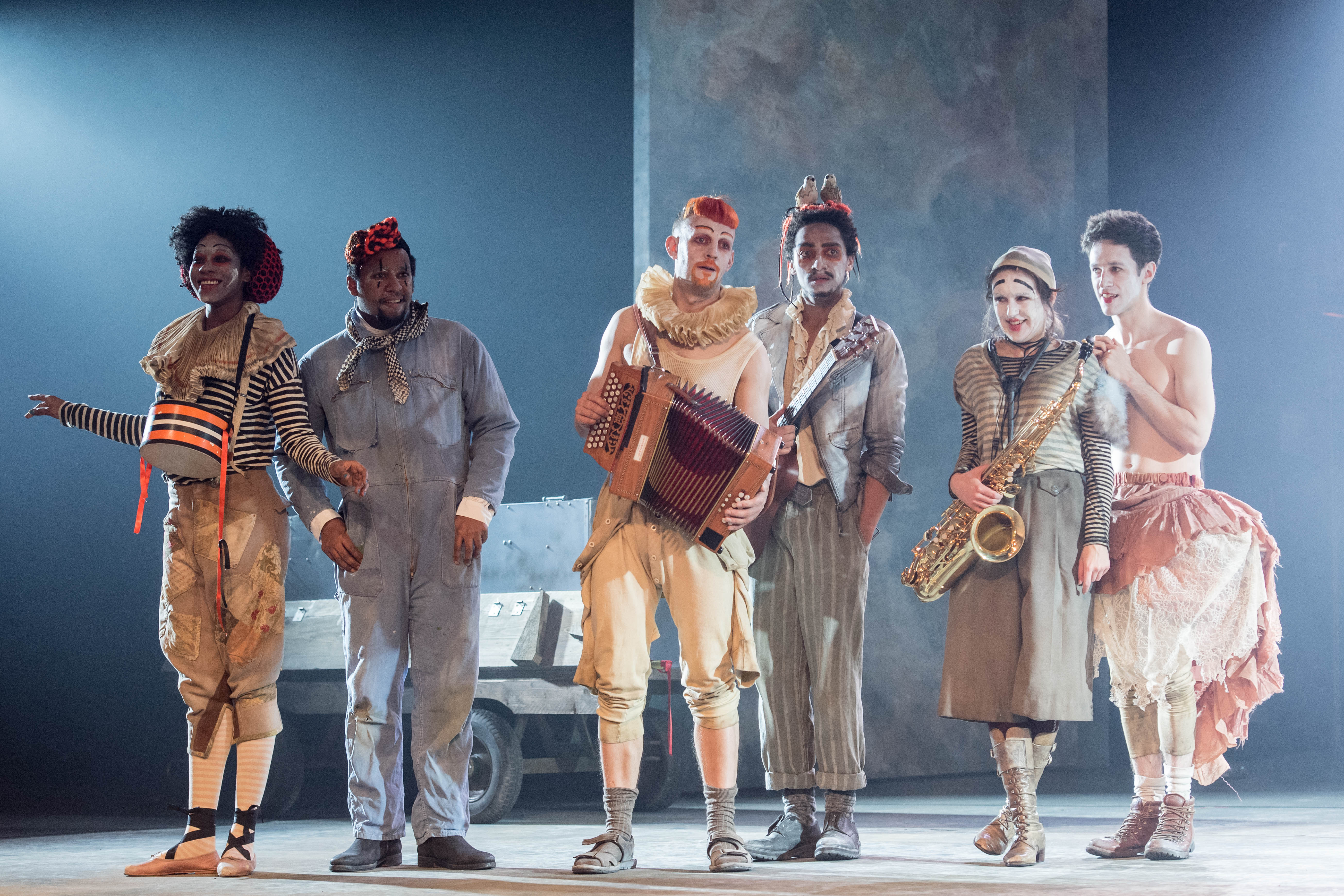 Mr. Stoppard weaves their plot-line in and around the main and subsidiary narratives of "Hamlet"; the prince himself appears on stage, as do the king and queen and, prominently, the troupe of players. Hamlet's debate with himself about his own death—"to be or not to be"—happens in the background as our pair discusses whether to engage him in a casual conversation. Thus they entirely miss, yet again, what is really happening in Hamlet's mind. The audience recognizes it, of course, and so the dramatic irony should fuel the comedy.
Ros and Guil are shown most often at centerstage—each is illuminated in this production by a tongue-in-cheek follow-spot—yet they are really from the wings, subsidiary characters who are thrust uncomprehendingly to the center. The script brilliantly interweaves its own narrative with Shakespeare's. We see the drama through Ros and Guil's experience, but they don't know what's going on. Bewildered, they hilariously try to make sense of their situation, frequently deciding to take the initiative to make something happen, but then failing entirely to see it through. They are entirely unfree, at the mercy of events and of a larger narrative that they cannot understand. The play's famous opening scene, when the pair toss coins that repeatedly defy any laws of probability ("heads … heads … heads…") owes more than a passing nod to Beckett and his similarly lost pair of protagonists, Vladimir and Estragon, in "Waiting for Godot." Mr. Stoppard has never denied the Irishman's influence on this work.
Mr. Stoppard weaves their plot-line in and around the main and subsidiary narratives of "Hamlet."
The humor needs to be handled with care. The wordplay is brilliant, just as fresh and delightful as those reviews of 50 years ago tell us it was then, but it could undermine the existential questions that these two experience; there are frequent references to death, and not only in the play's title, and to freedom, autonomy. This is far from being a comedy. It will work only if there is a fine balance struck between the many funny lines and the existential angst. That Daniel Radcliffe and Joshua McGuire display impeccable comic timing is beyond doubt. They are a great double act. Their parts demand sustained, quickfire exchanges as well as soliloquies, each of which they achieve wonderfully well. Their characters are meant to become more rounded as the plot unfolds; in these actors this also worked well. Rosencrantz (Radcliffe) is cheery yet despairing and Guildenstern (McGuire) apprehensive, even panicky, under an optimistic surface. Rosencrantz's dread grows before our eyes while Guildenstern begins to show raging disappointment. Mr. Radcliffe's Rosencrantz skillfully ends a comic moment with one of Stoppard's most resounding lines, "Whatever became of the moment when one first knew about death?"
Many eyes in the audience must have been on Mr. Radcliffe, as he copes with no longer being Harry Potter, but he deals with it well. His performance is restrained, not drawing excessive attention to himself, but his projection needs work. At times his lines sound reedy, thin, which suggests a lack of power rather than a visibly diminishing character. This may have been the directorial intention; if so, it does not quite come off. And as exceptional as the leading actors are, the show is stolen by David Haig's marvelous Player King, flamboyant and sinister, with his seedy, hermaphroditic troupe.
Here, then, is a revival that fizzes and sparkles every bit as much as the original's fabled breakthrough of half a century ago. It has lasted. "What's it about?" enquired a reporter of Mr. Stoppard at the play's first opening night. "It's about to make me very rich," he famously replied. It did, and he has not needed to toss a coin since.